Welcome to your Free Keto Meal Plan, Week 1!
Before you get started, remember that I'm not a doctor or nutritionist. I'm sharing my meal plans with you as a convenience to help you live your best life.
You should always check with your doctor before starting any new diet, including keto.
How To Use This Free Keto Meal Plan
Using these keto meal plans is easy!
Bookmark this page and look for the week's meal plan – and be sure to sign up for my newsletter to get the 7 day keto meal plan link delivered right to your inbox. There's a signup popup if you click on ABOUT KCW in the top menu.
Scan through the list of recipes and adjust the serving sizes to fix your macros (see below about portion size). Then print off the recipes, or bookmark them to come back to later.
Make your grocery list, go shopping, and then get cooking!
Keto Meal Prepping
It's easy to meal prep the keto meal plan. Get all your groceries and then spend a few hours on the weekend prepping each recipe.
Store your prepared food in these amazing meal prep containers. I love using glass meal prep containers because they're so much more Earth friendly and hold up so much better.
Portion Sizes
But Jenn, I'm the only one eating keto in my house and I don't want a recipe that's got 6 servings in it!
Never fear!
Each recipe card has a slider that will let you adjust the serving size. The recipe card ingredients will be adjusted based on the number of servings you are looking for.
Simply hover over the number of servings, and wait until the slider pops up.
Adjust the slider to show the number of servings you'd like, then print the recipe.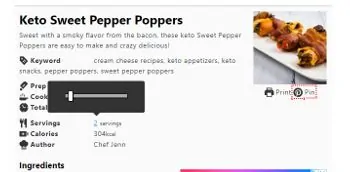 7-Day Keto Meal Plan Organization
I like to keep all my printed recipes in a binder, divided by week.
I make notes right on the recipe for things I changed or would have done differently.
I also put a sticky tab on the keto recipes I like the best, so I can come back to them again and again.
Questions about this Free Meal Plan?
If you've got questions about the meal plan including how to use it, please check out this Keto Meal Plan FAQ!
Ready To Start Your Keto Meal Plan?