Sheet Pan Salmon & Asparagus is a remarkably easy meal that's so impressive looking, everyone will think you've been slaving away in the kitchen for hours. Follow me, Chef Jenn, as I show you all my tips and tricks to make this keto salmon recipe perfectly every time!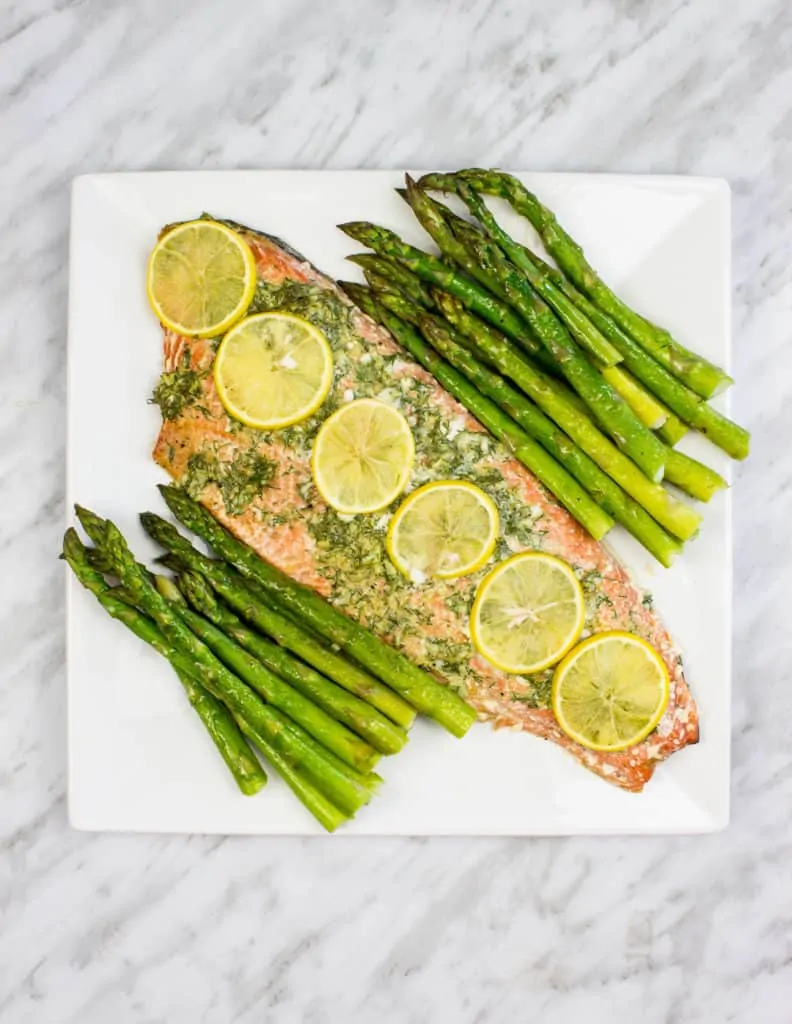 Quick and easy dinners are a must for most of us, but how do you balance something that's easy with minimal cleanup, while still trying to be healthy and stick to your keto diet? A keto Sheet Pan Salmon & Asparagus meal is what you need.
In reality, there are just a handful of ingredients, and about 20 minutes total cook time (depending on the amount of salmon and asparagus) to make this stunning dish.
This post may contain affiliate links. As an Amazon Associate, I earn from qualifying purchases. See Disclosures.
What You Need to Make Keto Sheet Pan Salmon & Asparagus
A large commercial-grade sheet pan – This is the #285239th time I've recommended these pans. Don't have them yet? Do yourself a favor and buy them today.

Parchment paper – Clean up is soooo much easier with parchment paper. Do NOT use wax paper.

Small bowl – you're going to mix all the ingredients in a small bowl. These stainless steel bowls are indestructible, dishwasher safe, and will last a lifetime.

Salmon – You want the whole filet. Make sure it is deboned, but having the skin on is fine. There's more info on salmon below.

Asparagus – You need to start with about 1.5 pounds to feed a family of four.

Dill – Fresh dill is preferable, but you can use 1 tsp dried dill if you don't have fresh.

Dijon Mustard – Go for the good stuff. The flavor makes all the difference!

Garlic – A few cloves of fresh garlic chopped finely.

Oil – I use olive oil but you can use your favorite oil.

Lemons – I used a whole lemon for this dish. Half sliced thinly, the other half left whole.
How to Choose Salmon
There are so many kinds of salmon available today, and in so many different cuts. Navigating them can be difficult, but here's a bit of a primer to help you find the perfect salmon.
Choose wild-caught Pacific salmon if available, or if not, choose responsibly-farmed salmon.
Pinker is not always better! Super-pink farmed salmon has been fed a diet rich in carotene, or worse, fed a chemical to make the flesh a darker color1.
Look for a filet, the whole side of salmon, as opposed to cut up pieces. Cut portions will overcook in this dish.
De-boned salmon is much easier to work with – ask the fish counter for de-boned salmon.
It should already be de-scaled, but you can ask to make sure. If it's not de-scaled, ask the fish counter to de-scale it.
Skin on! Leaving the skin on helps the salmon stay moist.
If you're asking for a portion of a filet, ask for it from the "head" end. The tail end, the narrow part of the filet, is always tougher and drier.
The kind of salmon doesn't matter too much. Sockeye salmon is affordable and readily available.
Buy it when it goes on sale, and freeze it (if it wasn't previously frozen). I will often ask the fish counter for a still-frozen filet if it's on sale and I know I'm going to freeze it.
Final tip – ask for it to be packaged on ice. Salmon is notoriously perishable and will start to lose quality as soon as it is removed from refrigeration. Your fish counter might grumble at you, but they'll pack it on shaved ice if you ask.
How Much Salmon Do You Need?
I like buying a 1.5-2 pound filet, that way I've got leftover salmon. But, for a reasonable portion, you'll want about 4 ounces per person. So for four people, you'd need a pound of salmon.
How to Make KETO SHEET PAN SALMON & ASPARAGUS
Snap and thoroughly wash the asparagus. Asparagus grows up from underground and can be very sandy in the brushy tips, so wash them well under cold, running water.
Rinse the salmon, removing any loose scales.
Mix the Dijon, oil, dill, and garlic in a small bowl.
Lay the salmon on a parchment paper-lined sheet tray.
Salt and pepper the salmon.
Spread the dill mixture over the top of the salmon. Don't worry about the skin side.
Top with lemon slices.
Arrange the asparagus beside the salmon and drizzle with oil and salt and pepper.
Bake!
That's it!
What to Serve With Keto Sheet Pan Salmon & Asparagus
Your favorite salad will go nicely with this dish, or add even more vegetable love to this meal with Beans with Bacon, or Braised Kale with Garlic. You don't want big, competing flavors – let the salmon and asparagus be the star of the show! Keto Hollandaise Asparagus is another tasty option!
Is This Dish Freezer Friendly?
I'm known as the Freezer Queen, but to be honest, this dish won't do well in the freezer. You can freeze it, but it is going to suffer.
Asparagus has a high water content so it's going to lose its crunch and snap when you freeze and thaw it. And, with no sauce, there's nothing to protect the salmon.
It's best to enjoy this dish freshly-cooked, but it will keep fine in the fridge for 3-4 days.
Like This? Also Try: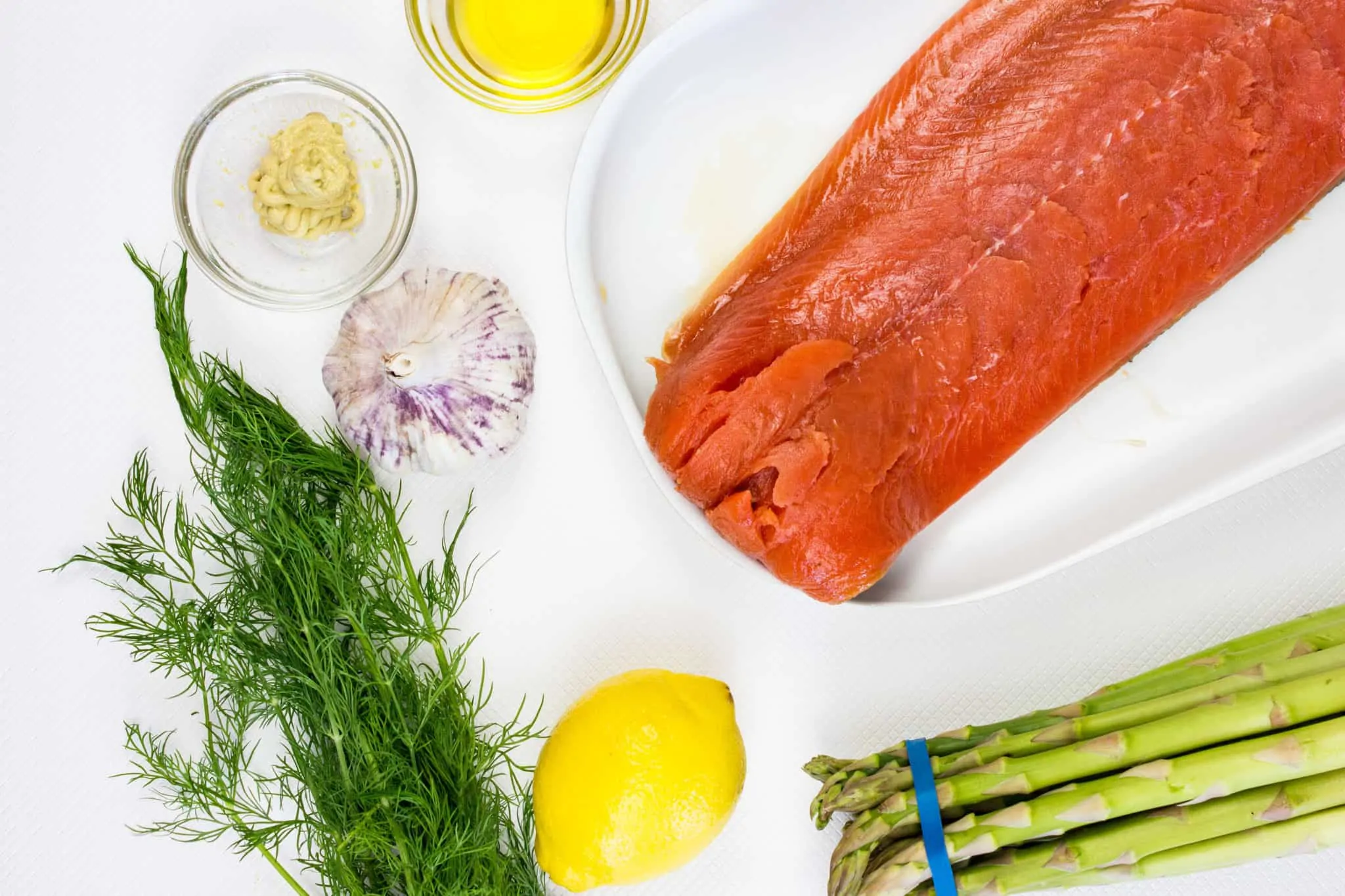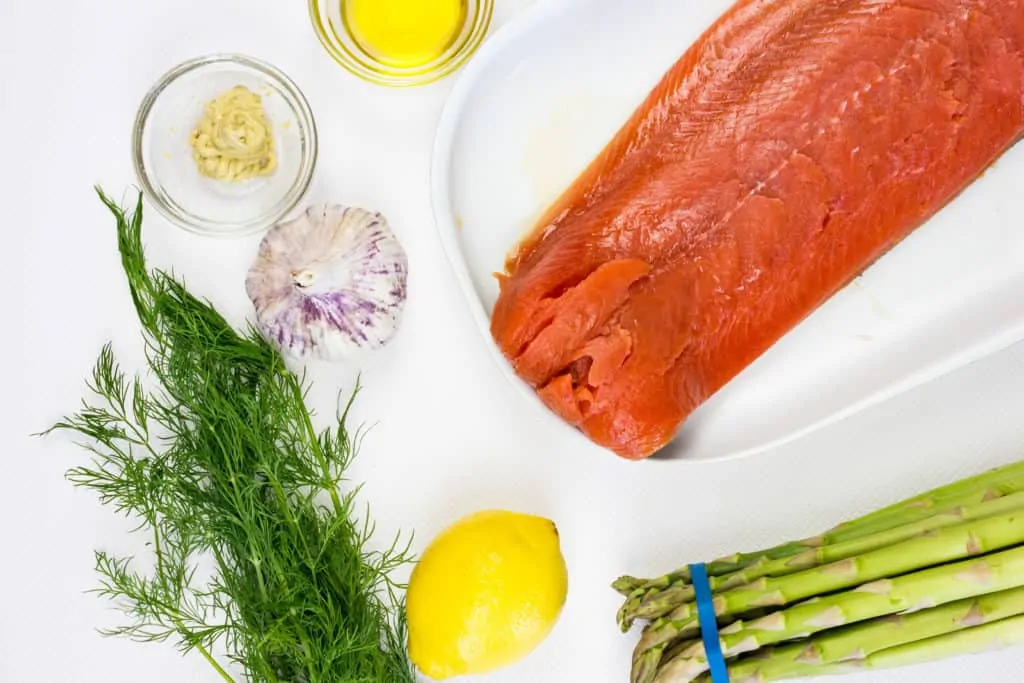 Keto Sheet Pan Salmon & Asparagus
Easy, impressive, and super-tasty, this one-dish Sheet Pan Salmon & Asparagus recipe is so good, you'll be adding it to your cooking rotation!
Ingredients
1.5

pounds

salmon filet

1.5

pounds

asparagus

3

tbsp

fresh dill

chopped

2

cloves

garlic

finely chopped

4

tbsp

olive oil

2

tbsp

Dijon mustard

1/2

tsp

salt

1/4

tsp

pepper

5-6

thin lemon slices
Instructions
1. Trim and wash the asparagus.

2. Rinse the salmon, checking for (and removing) pin bones.

3. Mix the dill, Dijon, 2 tbsp of oil, and minced garlic into a paste.

4. Lay the salmon in the center of a sheet pan. Sprinkle it with salt and pepper.

5. Cover the salmon with the dill mixture. Don't worry about the underside.

6. Top with slices of lemon.

7. Arrange the asparagus on either side of the salmon. Drizzle with the remaining oil and season with salt and pepper.

8. Bake in preheated 350-F oven for about 8 minutes, then remove from oven and toss the asparagus around. Cook for another 4-5 minutes or until the internal temperature of the salmon is about 145-F.

9. Serve and enjoy!
Notes
The lemon was not added to the nutritional info because you're not eating the lemon. The amount of lemon per serving you're eating is negligible.
Nutrition
Serving:
4
ounce portion of salmon and asparagus
|
Calories:
271
kcal
|
Carbohydrates:
5
g
|
Protein:
25
g
|
Fat:
17
g
|
Saturated Fat:
2
g
|
Cholesterol:
62
mg
|
Sodium:
303
mg
|
Potassium:
792
mg
|
Fiber:
3
g
|
Sugar:
2
g
|
Vitamin A:
918
IU
|
Vitamin C:
7
mg
|
Calcium:
46
mg
|
Iron:
3
mg
|
Net Carbohydrates:
2
g
A Note on Nutritional Information
Nutritional information for this recipe is provided as a courtesy and is calculated based on available online ingredient information. It is only an approximate value. The accuracy of the nutritional information for any recipe on this site cannot be guaranteed. Erythritol carbs (sugar substitutes) are not included in the carbohydrate counts as they have been shown not to impact blood sugar, and they have zero calories and zero carbs. Net carbs are the total carbs minus fiber.
1Salmon: How Do Farmers Turn Their Salmon Pink?
Mahita Gajanan – https://time.com/4790794/farmed-salmon-pink/