You might think that you're sick of cauliflower or have tried it all, but this keto Crack Cauliflower is so good that you'll fall in love with it all over again! Easy and delicious, this keto cauliflower recipe has it all!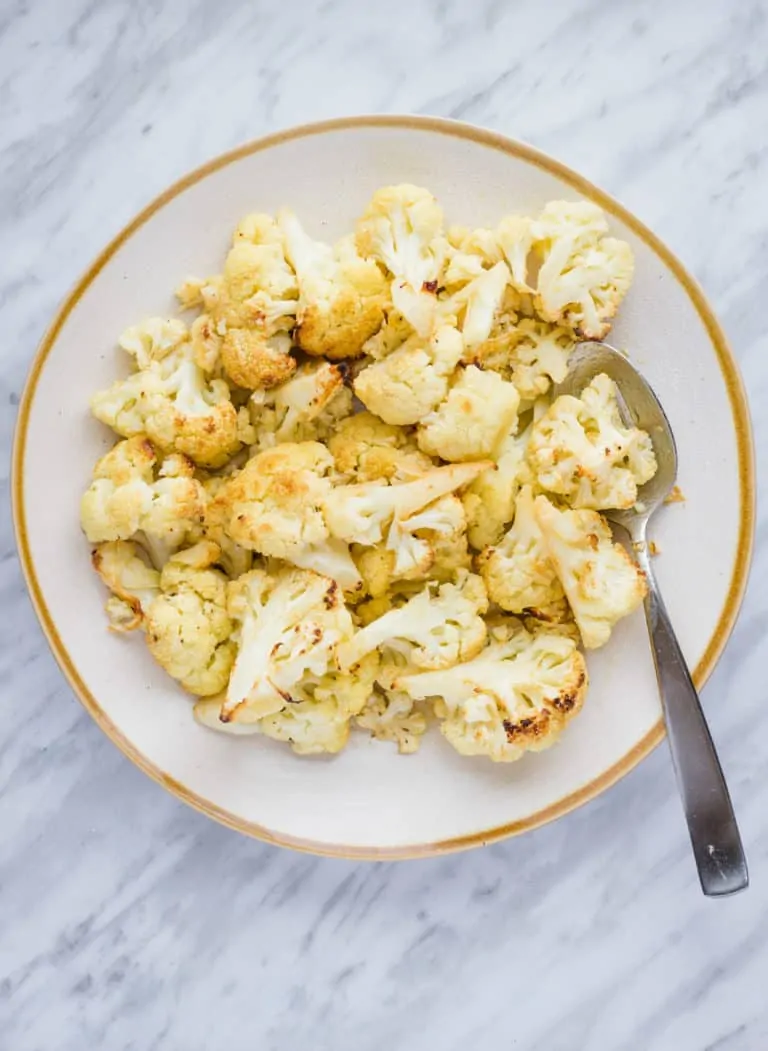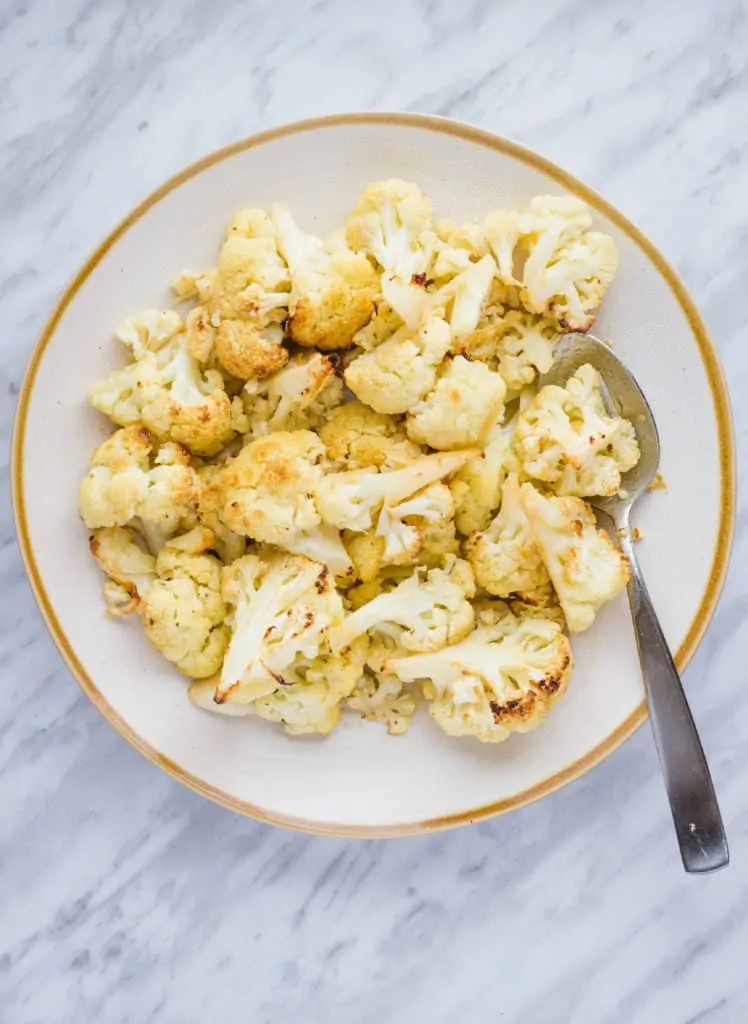 Super yummy and easy to make, this is a delicious way to prepare cauliflower, and we've been eating it this way long before cauliflower became so popular. I love this recipe. I love how easy it is to make, and when you roast cauliflower, it gets such a nutty, deep buttery flavor that's simply delicious.
You can prep this recipe ahead of time, too, so all you have to do is pop it into the oven! Double it if you need more, and then blitz the leftovers into a creamy soup! Yummers!
This post may contain affiliate links. As an Amazon Associate, I earn from qualifying purchases. See Disclosures.
Ingredients
Cauliflower – You'll need a whole cauliflower. Fresh, not frozen. Frozen cauliflower won't work in this recipe as it is too watery.
Butter – I use salted butter and plenty of it.
Mustard – Dijon mustard is my first pick for this dish, but regular mustard will work, too.
White wine – This is optional, but the big flavor is the payoff for the few carbs it adds.
Garlic – Fresh cloves.
Lemon juice – Just a wee bit.
Salt and pepper – To taste.
HOw to Make Keto Crack CAuliflower
For a full list of ingredients and instructions, please scroll down to the recipe at the bottom of this page.
Preheat your oven to 425-F.
Cut the cauliflower into bite-sized florets. It's OK if some are larger than others. Discard the hard cauliflower core.
Mix the melted butter, mustard, white wine, and minced garlic in a bowl big enough to hold all the cauliflower.
Add the cauliflower to the bowl and mix well to coat the cauliflower.
Transfer the cauliflower to the baking sheet, and drizzle any remaining liquid in the bowl on top of the cauliflower.
Bake for about 20 minutes until roasty and toasty. Stir the cauliflower around about halfway through the cooking time.
Sprinkle the lemon juice over the top of the hot cauliflower before serving, and serve with any sauce from the baking sheet.
Is White Wine Keto?
No, white wine isn't keto. It has a fair number of carbs in it, making it a poor choice as a beverage. However, for cooking, a small amount is well worth the extra few carbs. If you don't want those few carbs, omit the wine to make this a strict keto recipe.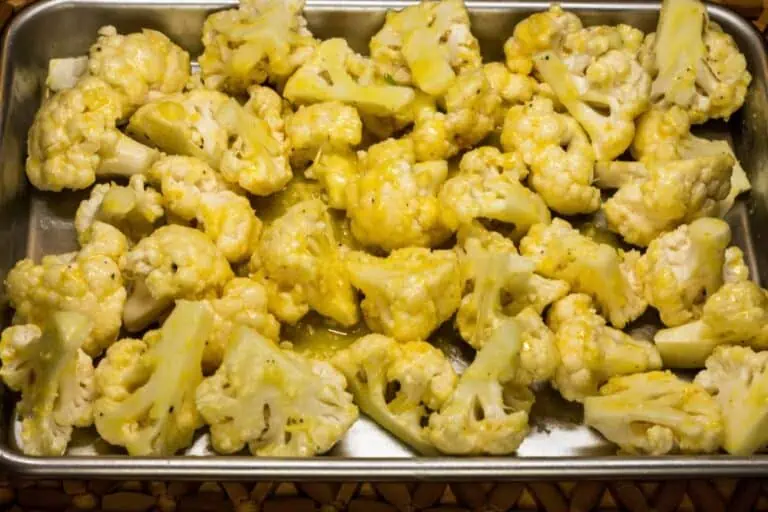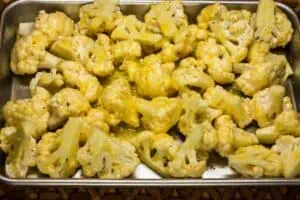 Variations
There's so much you can do with this easy keto cauliflower recipe, with just a few add-ins you can add even more flavor! Here are some of my favorite ingredients to add:
Capers – Drained and chopped.
Parmesan cheese – Add it when the cauliflower is finished cooking for even more yum factor!
Pork Panko – A sprinkle of pork panko to the finished dish adds a bit of crunch!
Green onions – A few sliced green onions will add a pop of freshness and flavor.
Make It A Meal
I've served this keto Crack Cauliflower dish with all sorts of meats and sides. But, this is a flavor-heavy dish, so you don't want to serve it with other big flavors. Bacon-wrapped pork tenderloin, sausage, Beef Kefta Kabobs, and even fish will go swimmingly with low-carb Crack Cauliflower. I wouldn't serve it with anything else saucy, or the flavors could clash.
Chef Jenn's Tips
Fresh garlic can go green in the presence of an acid like lemon juice or white wine, so don't be freaked out! It'll still taste great.
Use fresh, not frozen, cauliflower for this recipe.
Don't have Dijon? Use regular mustard.
If you use unsalted butter, you will have to add a touch more salt to the recipe.
Recommended
Storage
To store any roasted cauliflower leftovers, pop them into an airtight container and refrigerate for 3-4 days. Heat your leftovers up in the oven or microwave.
You can also freeze this keto side dish recipe. However, it won't come out quite as good as eating it fresh from the oven. To freeze it, wrap it tightly in a freezer-friendly plastic bag, squeezing out as much of the air as possible. Freeze it for up to three months.
Thaw it in the fridge overnight or in the microwave if you're pressed for time. Heat it in a microwave-safe dish until warm, or roast it in a 425-F oven for just a few minutes until it is warmed through.
Frozen and thawed cauliflower will give off some extra liquid, so don't be alarmed if this seems a bit watery when you thaw and reheat it.
Crack Cauliflower
I've been gobbling Crack Cauliflower long before cauliflower became a Keto dieter's best friend, and when you make it like this, with gobs of butter, garlic, wine, and lemon, it is soooo easy to indulge!
Ingredients
whole head of cauliflower

broken into pieces

1/2

cup

salted butter

melted

2

tbsp

Dijon or yellow mustard

2

tbsp

white wine

2

each cloves of garlic

minced fine

1

tbsp

lemon juice

salt and pepper
Instructions
Preheat the oven to 425-F.

Prepare the Crack Cauliflower by removing the leaves and cutting away most of the stem. Break the cauliflower into florets, then cut each floret into large bite-size pieces. Put the cauliflower into a large bowl for mixing.

Melt the butter in the microwave in a microwave safe container (watch it doesn't foam over). Add the mustard, white wine, and garlic. Stir well to combine.

Toss the cauliflower with the butter sauce. Then, spread the cauliflower out onto a sheet pan and sprinkle with salt and pepper. Make sure to scrape out all the yummy butter sauce from the bowl.

Bake at 425-F for about 20 minutes, or until the cauliflower is fork-tender but still crisp, and brown around some edges. Stir it once about halfway through the cooking time.

Sprinkle the lemon juice over the top before serving Crack Cauliflower, and top it with any remaining sauce from the pan. Yum!
Nutrition
Serving:
1
cup
|
Calories:
168
kcal
|
Carbohydrates:
5
g
|
Protein:
2
g
|
Fat:
16
g
|
Saturated Fat:
10
g
|
Polyunsaturated Fat:
5
g
|
Trans Fat:
1
g
|
Cholesterol:
41
mg
|
Sodium:
332
mg
|
Fiber:
3
g
|
Sugar:
2
g
|
Net Carbohydrates:
2
g
A Note on Nutritional Information
Nutritional information for this recipe is provided as a courtesy and is calculated based on available online ingredient information. It is only an approximate value. The accuracy of the nutritional information for any recipe on this site cannot be guaranteed. Erythritol carbs (sugar substitutes) are not included in the carbohydrate counts as they have been shown not to impact blood sugar, and they have zero calories and zero carbs. Net carbs are the total carbs minus fiber.
WANT EVEN MORE EASY KETO DIET RECIPES?
I'm always in the kitchen creating new recipes, and while some of them are big hits, I get some misses, too. But these are some of my favorite all-time recipes: