I haven't met an avocado lover who hasn't also loved a delish Easy Keto Guacamole, and this recipe is loaded with flavor! This tasty dip is packed with good-for-you ingredients and it's a quick and easy fix that pairs well with all your favorite dippers!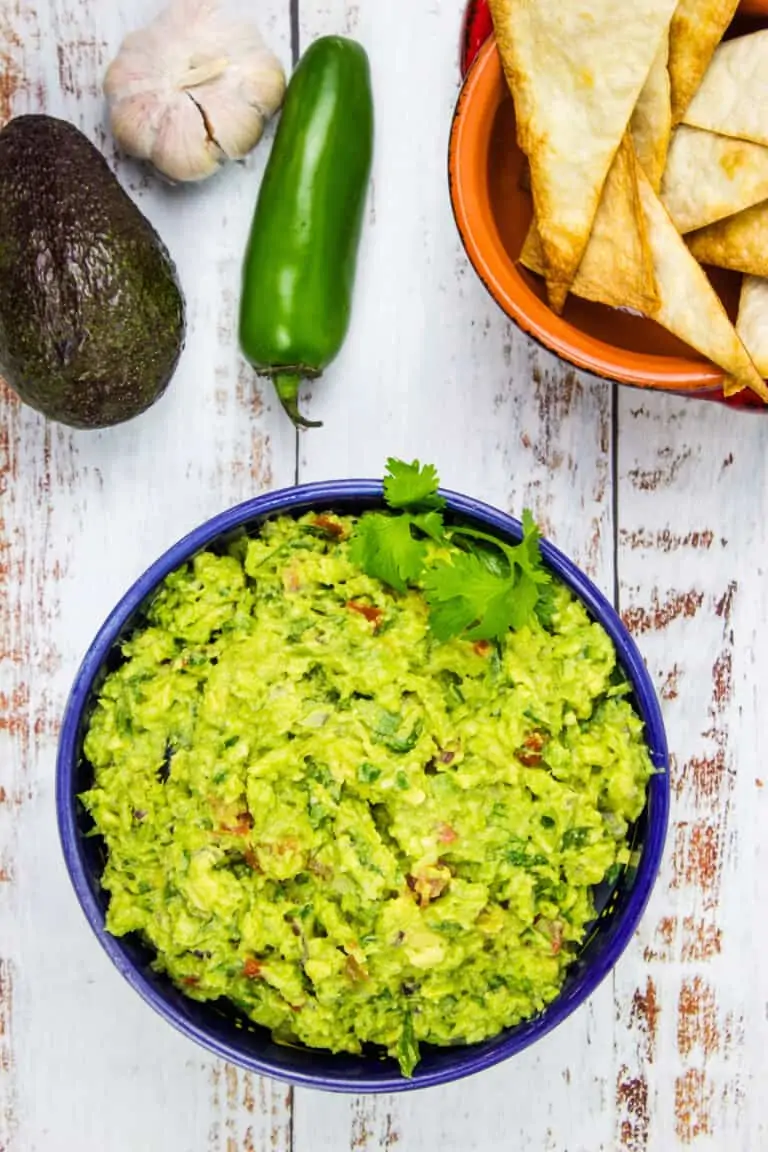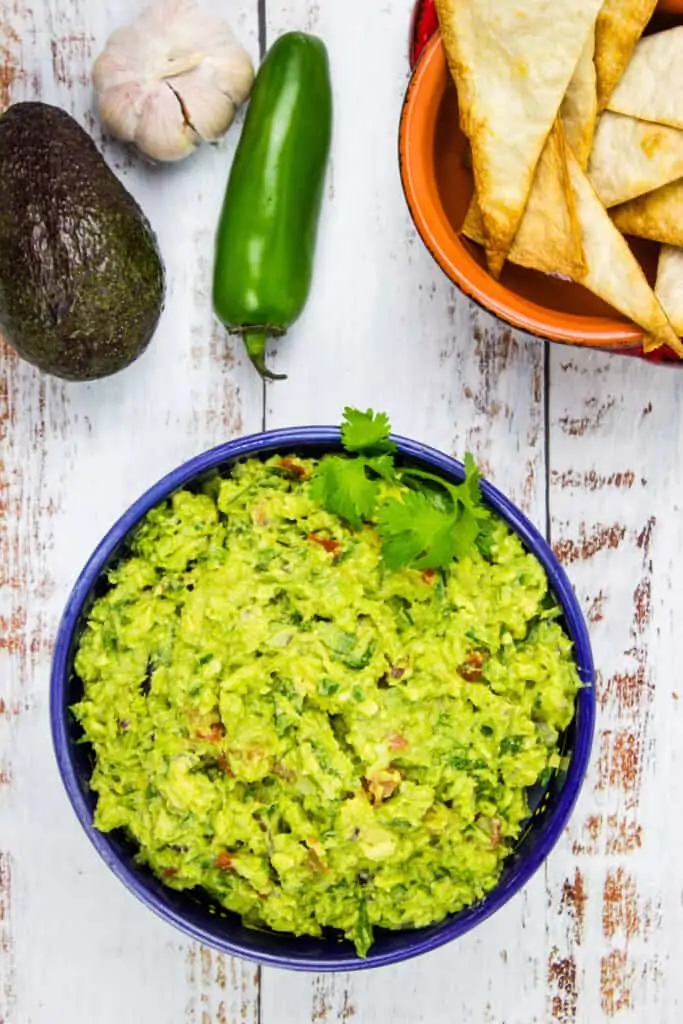 If you're used to the convenience of something like Trader Joe's Guacamole, save your dollars and spend them instead on this amazing keto guacamole recipe.
Just a handful of ingredients and a few minutes is all it takes to make this creamy, slightly spicy, and loaded with goodness easy guacamole dip.
Hungry? Let's get started!
Ingredients to Make Easy Keto Guacamole
Avocados
Garlic
Cilantro
Tomato
Red Onion
Lime
Salt and pepper
How To Make Creamy Guacamole Dip
Start with a few good-quality avocados. See my tips below for picking great avocados. Cut them open and pop out the seed. Scoop the flesh into a bowl and mash it up with a fork.
Dice the tomato and red onion, chop the cilantro and mince the garlic.
Mix it all together and get the lime juice in there, and add the salt and pepper to taste.
How To Buy Avocados
Not only are avocados crazy high in nutrition, but they're readily available these days. Here's how to pick the best avocadoes:
Avocados do not ripen on the tree, so you'll almost always find them hard and green in the store.
If you find black, soft avocados, don't buy them – they've been sitting there for days.
It can take 3-4 days for green avocados to ripen on your counter. To slow down the process, you can put them in the fridge.
Use avocados when they are very dark green, almost black, and when there's some softness when you press on the skin.
Don't buy the nice round fat looking avocados! Those ones are likely to have huge seeds in them. Instead, look for slightly longer and more narrow avocados. Those ones have a better chance of yielding more flesh.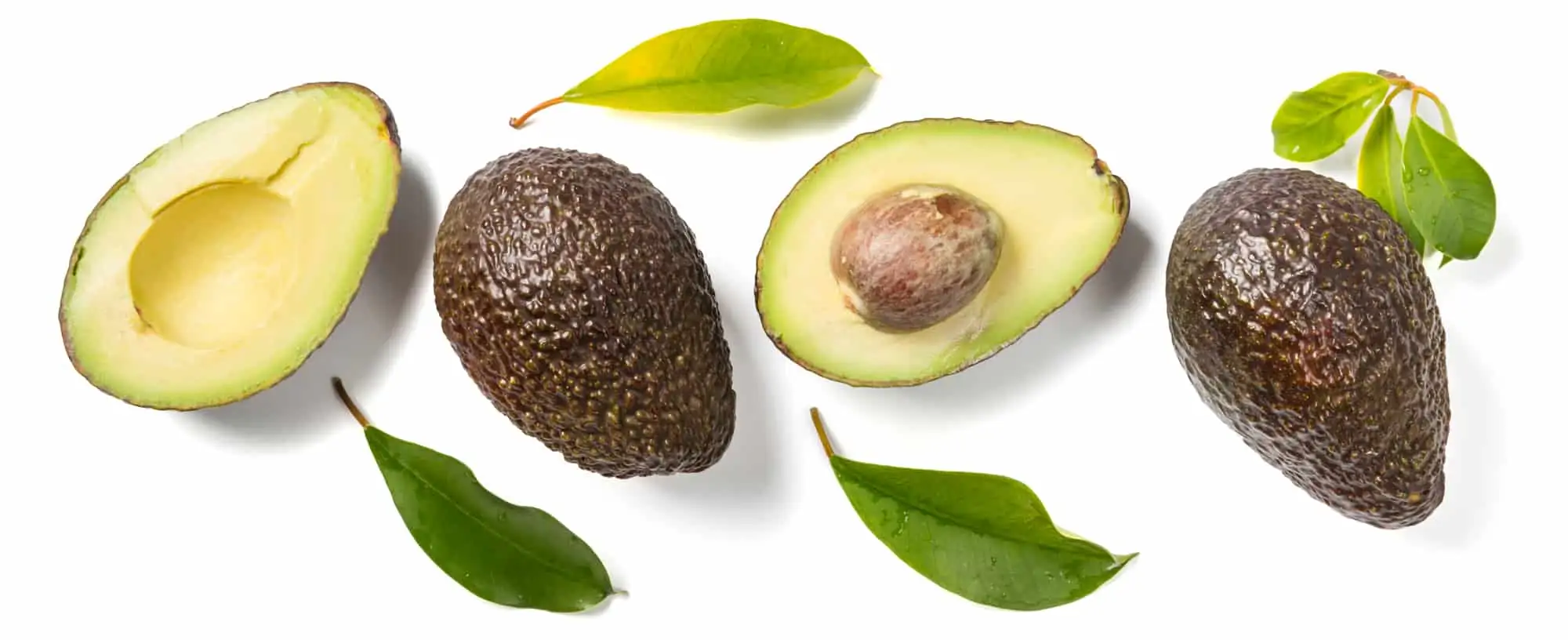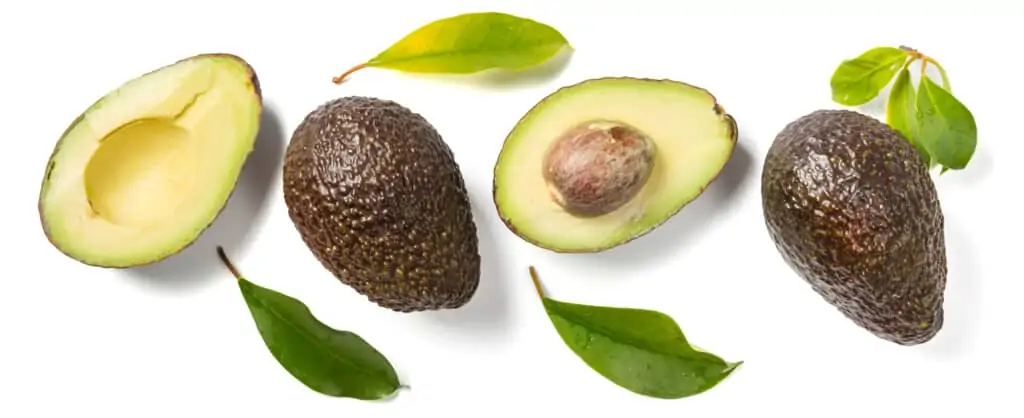 Chef Jenn's Tips for Making The BEST Guacamole Dip
Use fresh avocados, not frozen. And use them when they're perfectly ripe.
Make sure to use enough lime – lime not only enhances the flavor of the avocados but it helps to keep the guacamole from turning brown.
You can use lemon juice instead of lime, in a pinch, but it just doesn't taste as good.
Plan to eat the guacamole soon after making it.
Knock the seeds and some of the juicier bits out of the tomato before adding it to the guacamole to keep it from getting too thin.
De-seed the jalapeno and remove the white ribs to keep the heat under control.
What To Serve With Easy Keto Guacamole
Of course tortilla chips are the usual dipper of choice for guac fans, but to keep the carbs under control, here are some alternatives:
Low-carb tortillas brushed with butter and then toasted in the oven
Bell pepper slices
Pork rinds
Any other veggie sticks
How To Store Guacamole Dip
Guacamole is best enjoyed as soon as you make it, but you can squeeze a bit more time out of keeping it fresh if you:
Use enough lime that you can taste the tangy lime flavor in the background
Put the guacamole into a container with a narrow top. Press plastic wrap down and directly onto the surface of the guac, pressing out any air bubbles.
Store it in the fridge where it is dark and cool.
If the top of the guacamole does discolor, just scrape that layer off. The rest should be fine underneath.
Can you freeze guacamole?
Surprisingly, yes, you can! To keep it is fresh as possible, freeze it in a container or a baggie where you can wrap it as tightly as possible. Press plastic wrap right onto the surface of th e guac, and freeze it for up to 3 months.
Can dogs eat guacamole?
No! As tempting as it might seem to share your bowl of guacamole with Fido, don't! Avocados have a toxin in them that dogs can't tolerate.
How long is guacamole good for?
Just a few hours, if it's got lime or lemon in it! Be sure to eat it while it's still bright green and fresh!
Like This Easy Keto Guacamole? Also Try:
Step By Step Process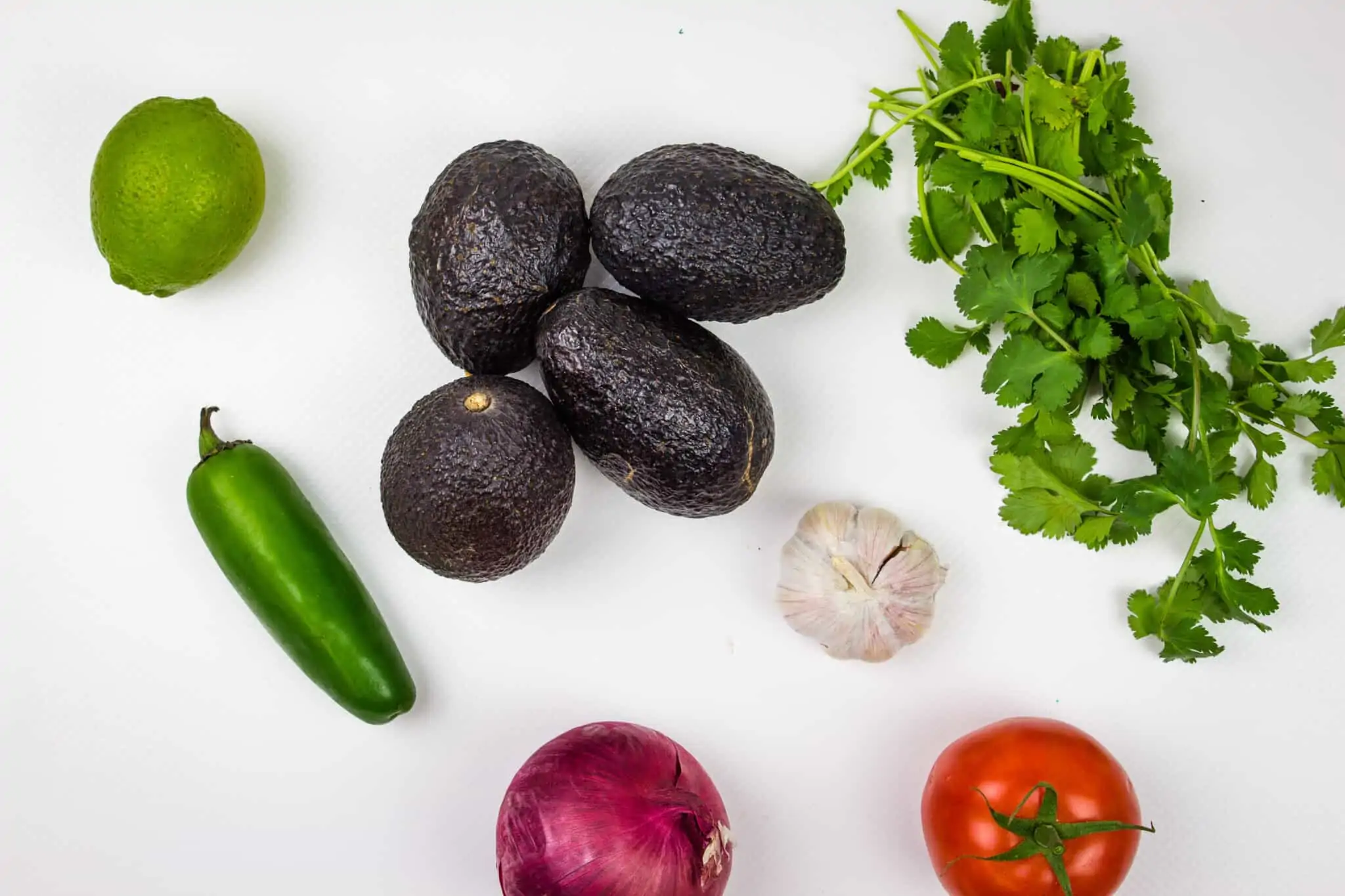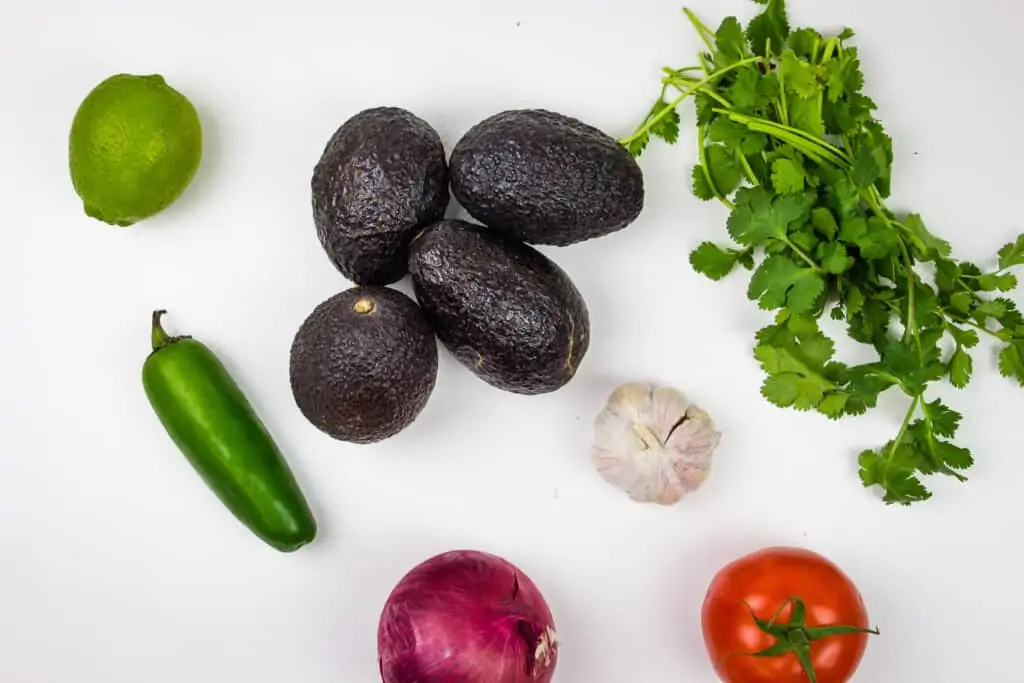 Easy Keto Guacamole
Just a handful of ingredients is all it takes to make this totally tasty and dip-worthy easy Keto Guacamole!
Ingredients
4

avocados

2

tbsp

red onion

diced

2

tbsp

jalapeno

diced

2

tbsp

tomato

diced

2

tbsp

cilantro

chopped finely

1

tbsp

lime juice

or to taste

1

pinch

salt
Instructions
Cut the avocados and remove the seed. Scoop the flesh into a bowl.

Mash the avocado with the back side of a fork.

Add the finely diced jalapeno, onion, tomato, cilantro and lime juice. Mix well to combine.

Add a pinch of salt, then serve and enjoy!
Nutrition
Serving:
0.25
cups
|
Calories:
219
kcal
|
Carbohydrates:
12
g
|
Protein:
3
g
|
Fat:
20
g
|
Saturated Fat:
3
g
|
Sodium:
16
mg
|
Potassium:
682
mg
|
Fiber:
9
g
|
Sugar:
1
g
|
Vitamin A:
301
IU
|
Vitamin C:
21
mg
|
Calcium:
18
mg
|
Iron:
1
mg
|
Net Carbohydrates:
3
g
A Note on Nutritional Information
Nutritional information for this recipe is provided as a courtesy and is calculated based on available online ingredient information. It is only an approximate value. The accuracy of the nutritional information for any recipe on this site cannot be guaranteed. Erythritol carbs (sugar substitutes) are not included in the carbohydrate counts as they have been shown not to impact blood sugar, and they have zero calories and zero carbs. Net carbs are the total carbs minus fiber.
There's a lot more to loving keto! Be sure to check out delicious beefy soups or hearty Southern-inspired casseroles. And if you're a breakfast fan, these Dash egg bites are always a hit. For even more goodness, these keto soups and chowders are a bit hit, and if you need help with carb counting, check out this net carb calculator.