I can't wait for spring for the local asparagus to come in, in part so I can make yummy dishes like this oh-so easy Keto Pan-Roasted Asparagus. Read on, and I, Chef Jenn, will show you all my tips and tricks for making this the most amazing keto asparagus recipe ever!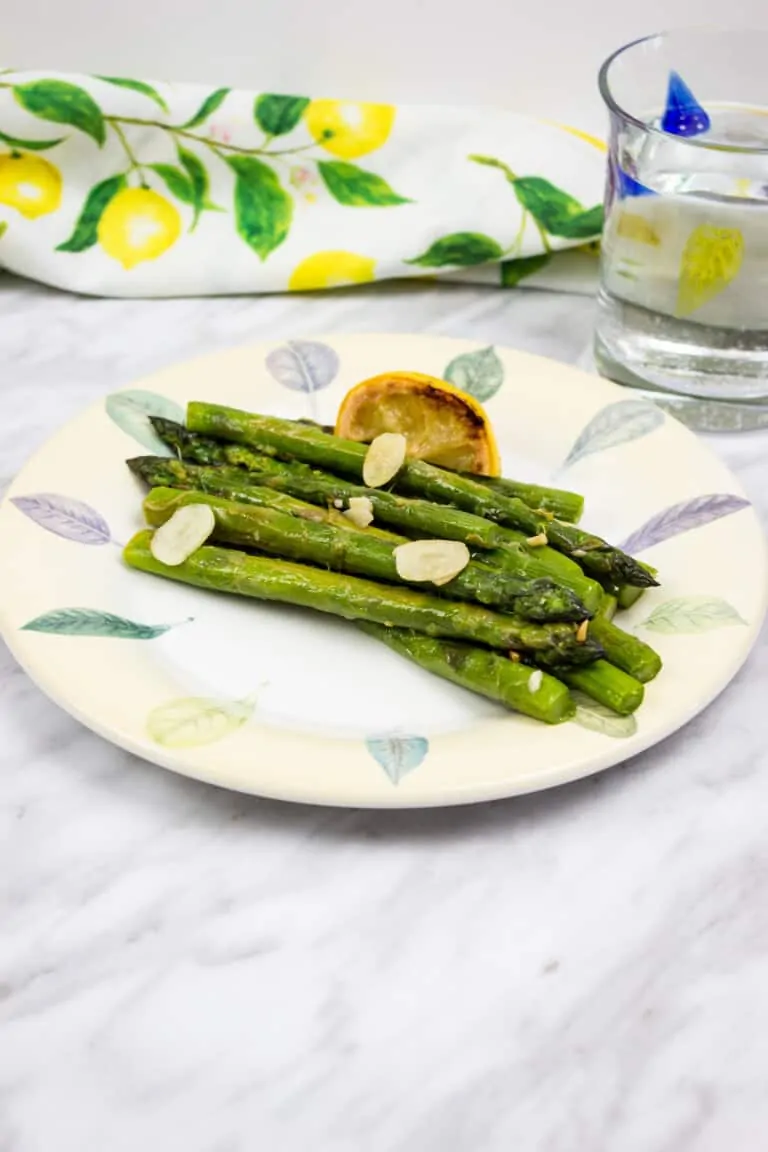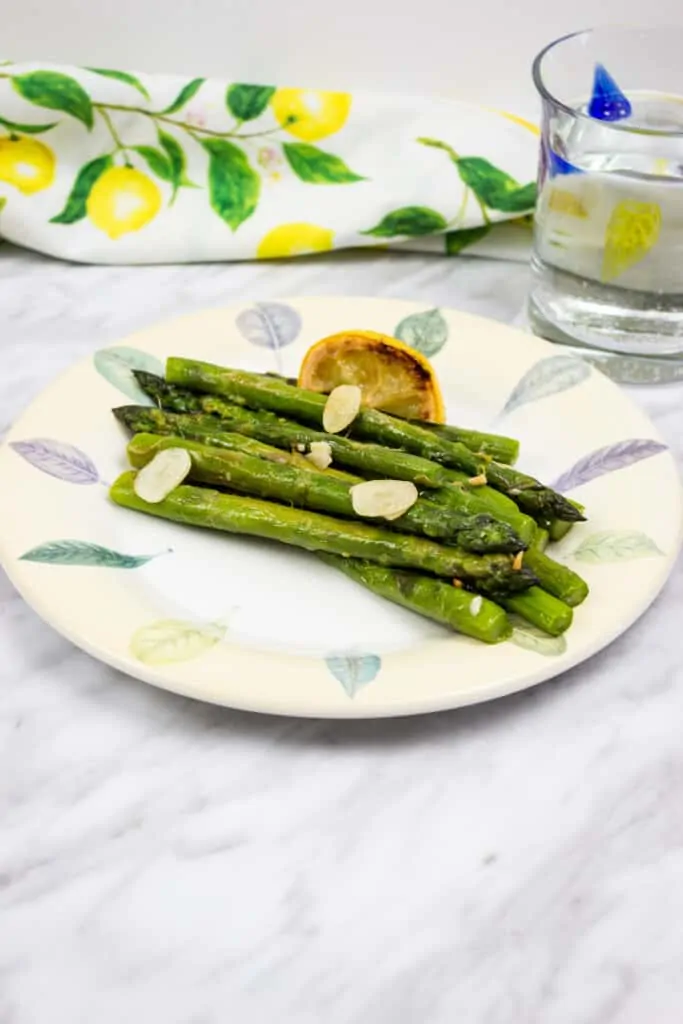 Asparagus has a LOT of natural fiber, putting this side dish at 2 net carbs per serving!
I start browsing the local farmers market early in the spring waiting for the first asparagus to come in, and by the end of the season, I'm buying pounds at a time.
Can you tell I love asparagus?
It is so versatile, and it has such a pleasant, mild, and lightly grassy flavor. Perhaps it is that the long, cold winters that are truly at an end when the local asparagus is in, or maybe it is that this veggie is a blank canvas. Who knows!
This post may contain affiliate links. As an Amazon Associate, I earn from qualifying purchases. See Disclosures.
How to Buy Asparagus to Make Pan-Roasted Asparagus
Asparagus is available pretty much all year long in the supermarket. Mexico exports tons of asparagus, and with quick shipping times, it stays fresh for a while.
When buying it, look for long, green stalks that appear fresh and not wrinkled. The tips should be tightly clustered and not soft and mushy. If it is mushy, don't buy it!
There are fat asparagus stems and thin ones. There's no difference in flavor, or in age, or in toughness/tenderness. However, you do want a bundle of asparagus that's all about the same diameter. Big thick stalks and thin ones will cook at different rates.
How to Clean Asparagus
Take your treasures home and give them a good, long wash under cold running water.
Asparagus typically grows in sandy soil, and those tips push up through the sand collecting lots of it as they go. You need running water to flush out all the sand from the tightly packed tips.
Recruit the kids to help you snap the asparagus.
You want to break off the tough, woody ends, and this helpful veggie knows just where to snap. Grab each of the ends and bend the stalk until it snaps.
Compost the root end, and cook the part with the paint-brush like top.
That's it! You're all prepped and ready to start making this delicious Keto Pan-Roasted Asparagus dish!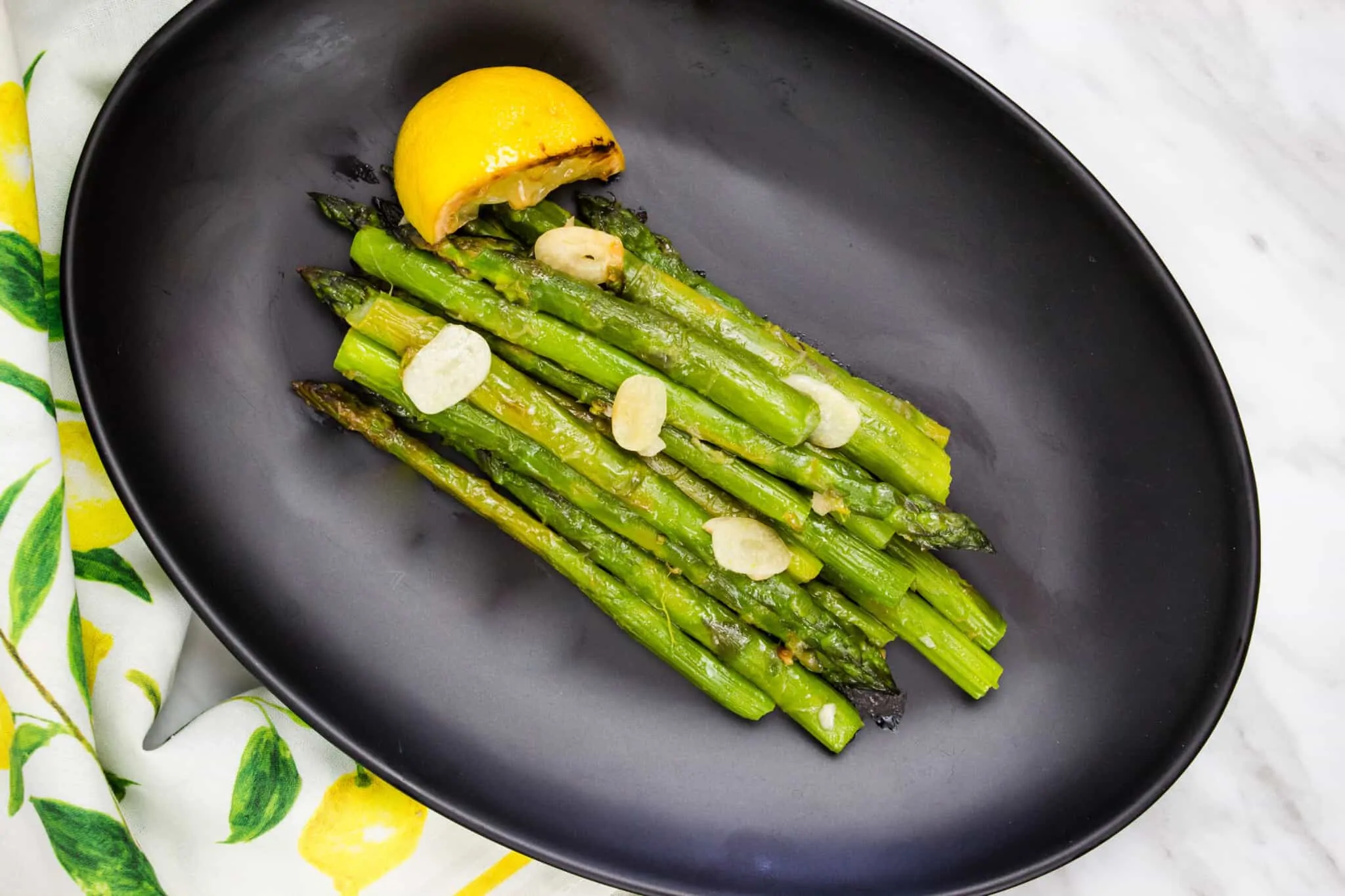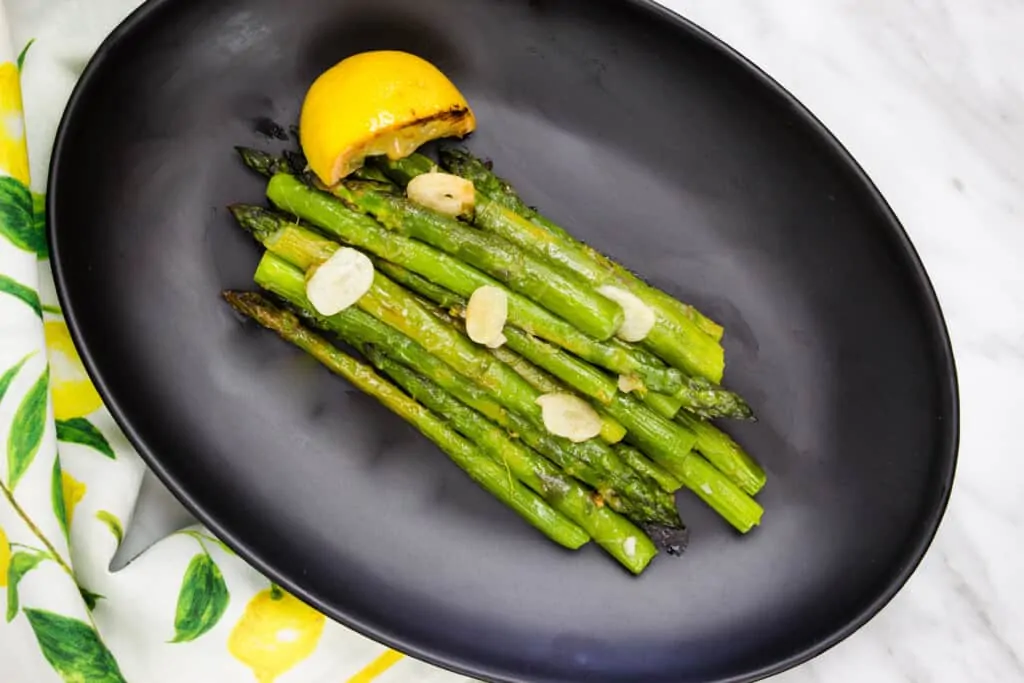 How to Make Keto Pan-Roasted Asparagus
This is an easy-peasy dish to make that's all in the technique.
You're going to add the cleaned asparagus to a shallow pan or skillet, cover the bottom in water, add a bit of oil and some garlic, and cook until the water evaporates. Use a pan large enough that the asparagus is in one or two layers.
This is my favorite skillet for cooking. It has a snug lid which comes in very handy – you'll see it recommended again and again in my recipes.
For the last minute of cooking, add half a lemon cut-side down to the pan. It'll caramelize and adds SO much flavor when squeezed over your lemon.
Don't overcook the asparagus! It should still be crisp with a bit of a crunch, and bright green in color. Take it off the heat when it is finished, or it'll keep cooking.
That's it!
Click the image gallery below to see step-by-step images, or scroll down a wee bit to the recipe.
What to Serve with Pan-Roasted Asparagus
Try this dish with my famous Greek Meatballs, Bacon-Wrapped Pork Tenderloin, or with your favorite grilled meats.
Asparagus also goes splendidly with seafood. This keto asparagus side dish would go fabulously with New Orleans BBQ Shrimp or Salmon with a Lemon-Dill Cream Sauce. These Lemon Garlic Scallops would also be delish with this keto asparagus recipe or go for these keto air fryer drumsticks.
Does This Keto Vegetable Side Dish Freeze?
I'm going to say no. Yes, you could freeze it, but cooked asparagus (or uncooked for that matter) loses so much of its integrity when freezing/thawing, that it just wouldn't be great.
This dish is better eaten freshly prepared.
Like This? Also Try: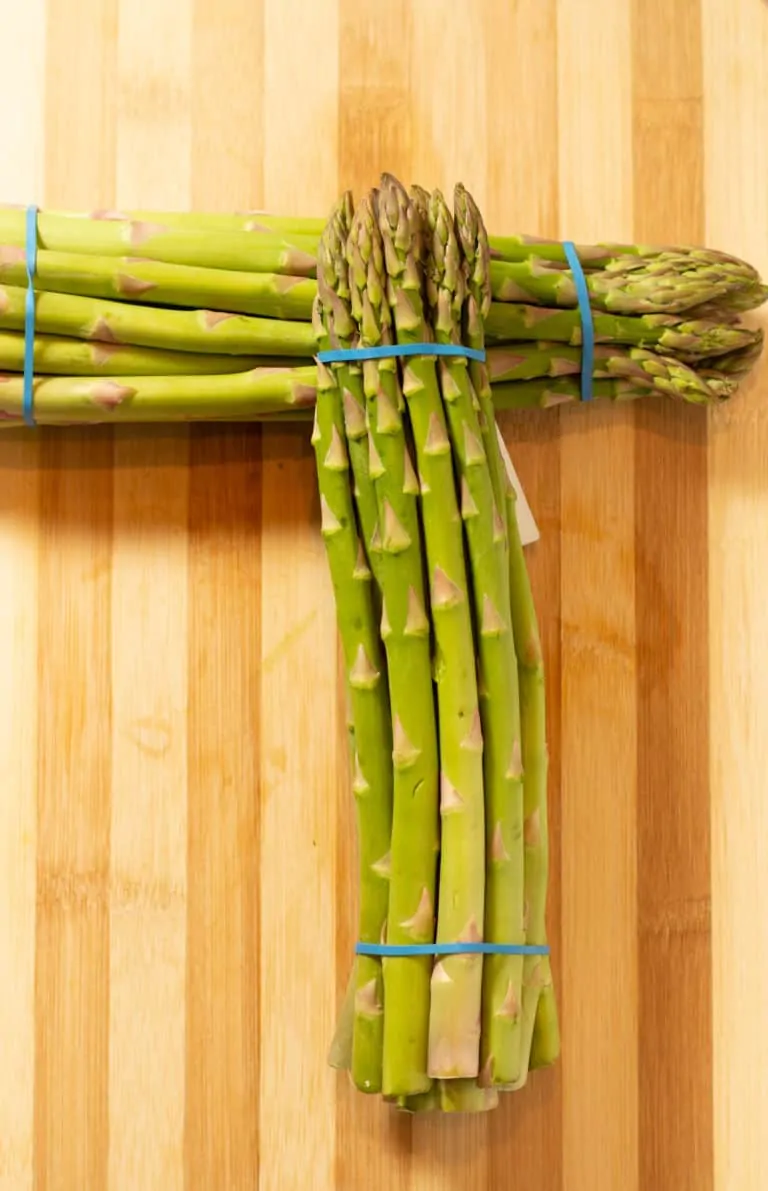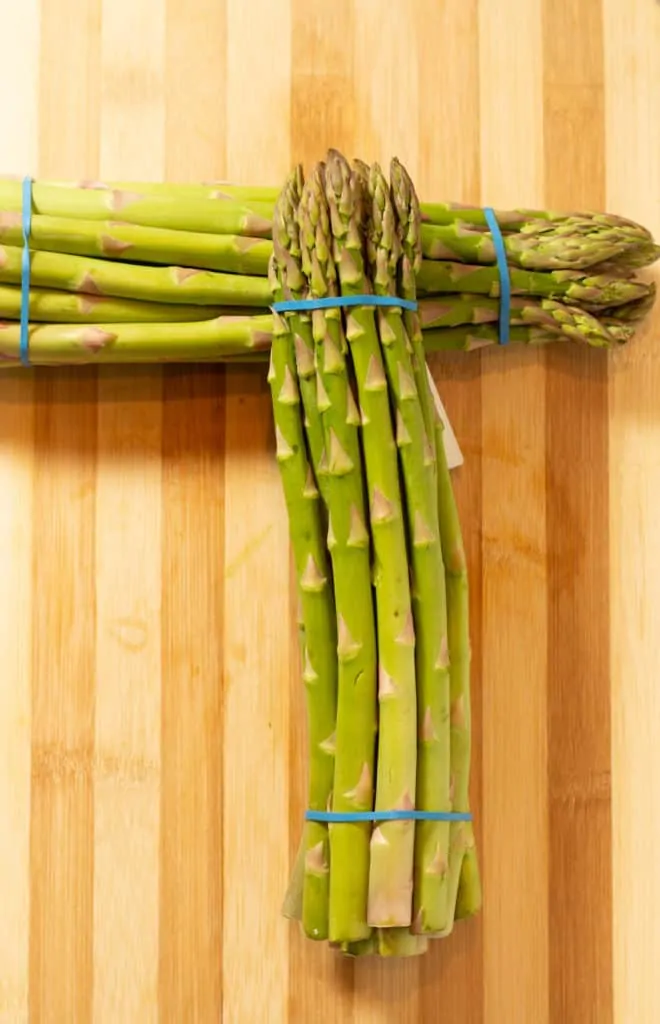 Keto Pan-Roasted Asparaugs
Bright green, crisp, and with a hint of lemon, this Keto Pan-Roasted Asparagus recipe is a tasty addition to any meal. With just 2 net carbs per serving, it's a keto win!
Ingredients
1

pound

asparagus

cleaned and trimmed (see blog notes)

1/2

lemon

2

cloves

garlic

sliced thin

1

tbsp

olive oil

salt and pepper to taste
Instructions
Trim and wash the asparagus. See blog notes for detailed instructions on how to do this.

Put the trimmed and washed asparagus into a skillet. Add enough water to barely cover the bottom of the skillet, and add 1 tbsp olive oil, 2 cloves of thinly sliced garlic, and a pinch of salt and pepper.

Turn the heat on high and cook the asparagus, turning it frequently, to cook. When the water has evaporated, turn the heat down and put the lemon, flesh side down, into the skillet to caramelize.

Cook for an addition 1-2 minutes or until the asparagus is crisp-tender and the lemon is golden brown on the flesh side.

Serve with a squeeze of the lemon.
Nutrition
Serving:
4
-6 spears
|
Calories:
60
kcal
|
Carbohydrates:
5
g
|
Protein:
3
g
|
Fat:
4
g
|
Saturated Fat:
1
g
|
Polyunsaturated Fat:
3
g
|
Sodium:
90
mg
|
Fiber:
3
g
|
Sugar:
2
g
|
Net Carbohydrates:
2
g
A Note on Nutritional Information
Nutritional information for this recipe is provided as a courtesy and is calculated based on available online ingredient information. It is only an approximate value. The accuracy of the nutritional information for any recipe on this site cannot be guaranteed. Erythritol carbs (sugar substitutes) are not included in the carbohydrate counts as they have been shown not to impact blood sugar, and they have zero calories and zero carbs. Net carbs are the total carbs minus fiber.
Want even more keto deliciousness? Check out this collection of keto soups & chowders, or dig into something meaty like this sausage parmigiana. Is corned beef hash keto? You bet it is, or for other morning favorites, these keto egg bites are always delish!