Nothing says summer like smoked low-and-slow meats, and this tasty smoked chicken breast recipe is decked out with a flavorful rub that pairs oh-so nicely with the smoke flavor. No smoker? No problem – I'll tell you how to make this on the grill, too. Hungry? Read on and I, Chef Jenn, will show you all my tips and tricks to make this delicious recipe perfectly every time!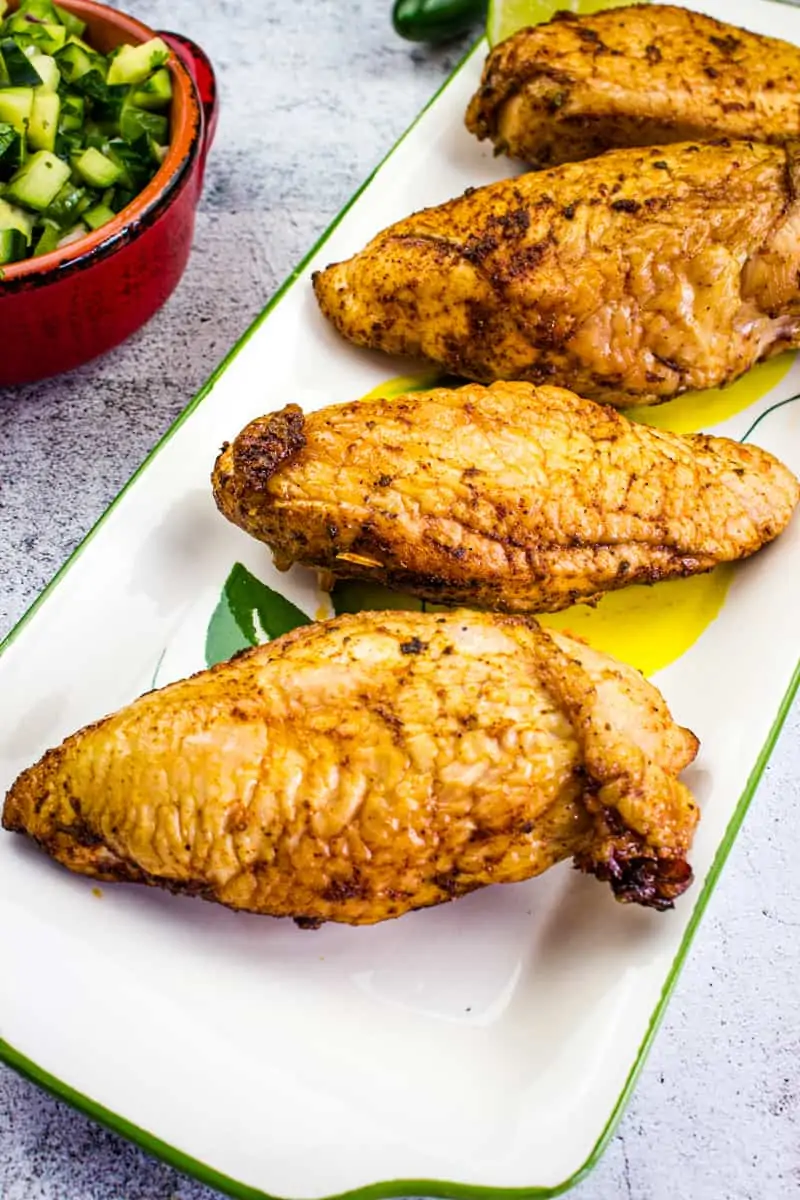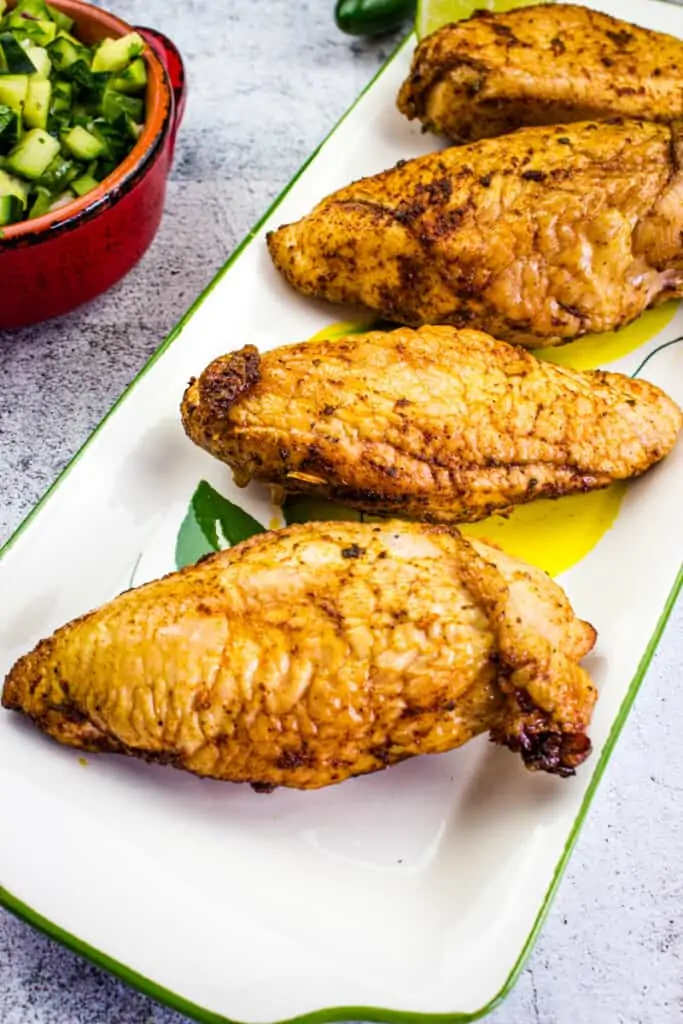 What You Need to Make Fiesta Chicken – Smoked Chicken Breast
Traeger pellet smoker or another smoker
Chicken breast – see note below
Fiesta Taco Seasoning as your smoked chicken rub – for maximum flavor I use my own recipe (click on the link) but you can use your favorite brand
What Kind of Chicken Should I Use?
When smoking, it's imperative to keep the chicken moist. This is why when smoking chicken breasts, I almost always use skin-on and bone-in. It's easy enough to cut off the bone, and the bone will protect one side of the breast while the skin protects the other side. This keeps it from drying out.
This post may contain affiliate links. As an Amazon Associate, I earn from qualifying purchases. See Disclosures.
A Word On Smokers
I use a Traeger pellet smoker, but any smoker will work for this recipe. I love the Traeger because it allows me to precisely control the temperature of the smoke, and it is easy to adjust up or down as needed. Any electric pellet smoker will do the same job.
If you're using a more traditional smoker, the key to this recipe is controlling the heat. Chicken breast can take a fair bit of smoke, but you don't want to cook it too fast or the proteins will seize and the chicken can become tough.
Low and slow is the way to go with this recipe.
How To Make This Recipe
To make this Traeger chicken breast recipe, start with big, plump bone-in and skin-on chicken breasts.
Then:
Get your smoker ready according to the manufacturer's instructions.
Set the smoker to 225-F.
Rub the chicken breasts with the Fiesta Taco Seasoning, working some in under the skin. Alternatively, use your favorite smoked chicken rub.
Smoke bone-side down, for about 90 minutes or until the internal temperature reaches 165-F. Use a digital thermometer to get an accurate read on the temperature.
Let the chicken rest before serving.
The Easiest Way to Rub Chicken
Rubbing chicken, beef, pork…whatever, can be a messy job with spices ending up on the counter, on the floor, and all over your hands.
Some of that mess can be mitigated if you pop the chicken breasts into a large bowl. Sprinkle the rub over the top, and rub it all over the breasts.
The bowl will catch all the rub and keep it contained so that you don't have a mess!
What Temp To Smoke Chicken Breast?
I like smoking chicken breast low and slow. This allows for maximum smoke flavor and the most tender/juicy chicken. 225-F is my favorite temp for smoking chicken breast, but you could go as high as 250-F if you're in a pinch. Cooking it any higher than that is going to be more baking than smoking, which is fine if that's what you're after.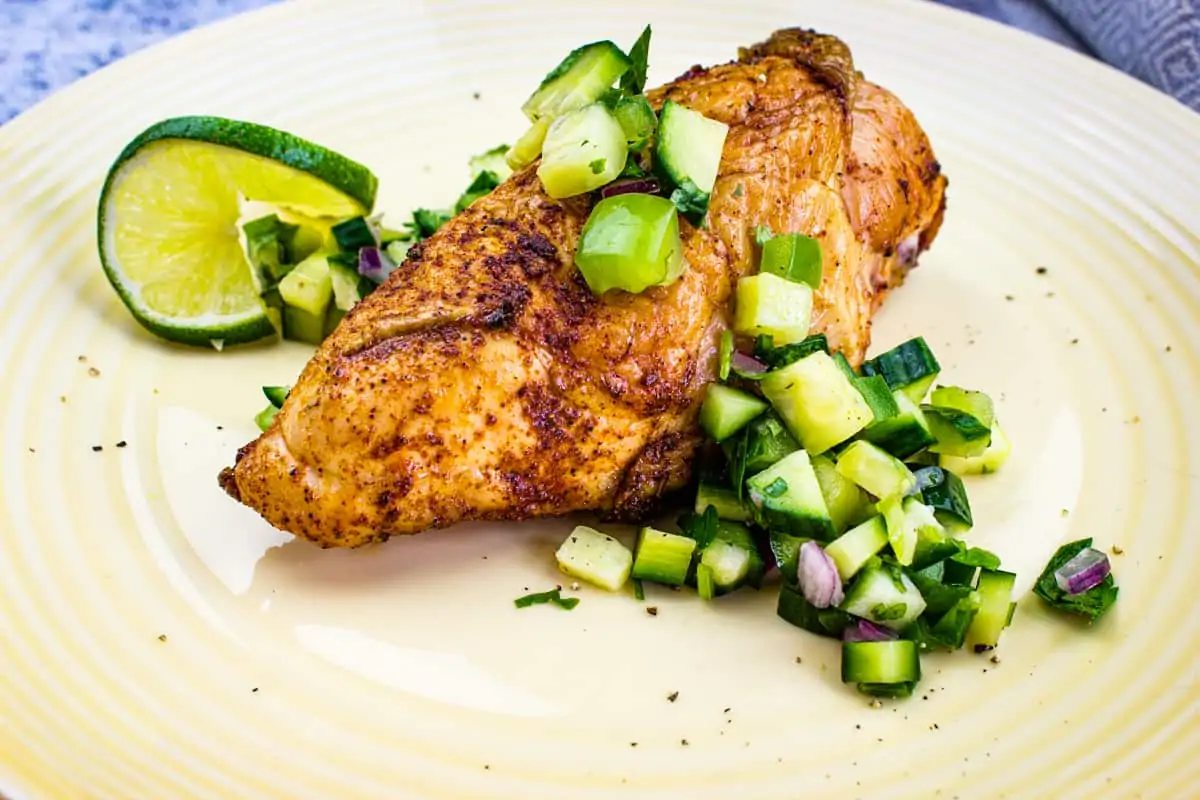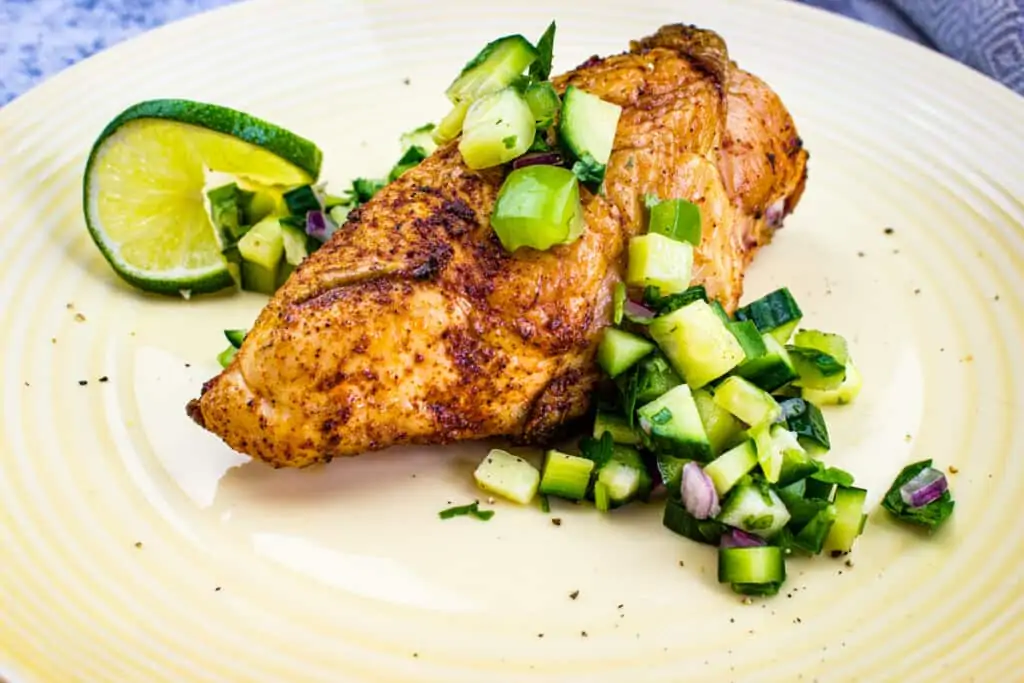 No Smoker? No problem!
You can bake this tasty and easy chicken in the oven at 350-F for about 30 minutes or until the internal temperature reaches 165-F, or do it on the grill. Preheat the grill and then cook the chicken over a low heat until thoroughly cooked.
What To Serve With Fiesta Smoked Chicken Breast
Any of your favorite BBQ sides will go well with this dish, but a special favorite of mine is Cucumber Salsa. It adds such an amazing pop of flavor to this dish, it's pretty amazing. A bowlful of Guacamole is another terrific pick, or opt for a cool and refreshing Tomato, Avocado, and Cucumber Salad.
How To Store Leftovers
Leftover smoked chicken will keep really well when tightly covered in the refrigerator. It doesn't freeze as well, as the meat has no sauce to keep it moist. This is a dish that's best eaten fresh.
Frequently Asked Questions
How long to smoke a chicken breast?
With the bone-in, smoked chicken breast on a Traeger pellet grill will take about 90 minutes. The size of the chicken breast and the temperature of it when it goes on the smoker can affect how long it takes to get to 165-F.
What temp to smoke a chicken breast?
My favorite temperature is 225-F. This lets the chicken cook low-and-slow so it stays moist and juicy.
What's the best smoked chicken rub?
Anything you like is the best! Really, there's no right or wrong answer. You can use a spicy rub, a sweet rub, or a more savory rub.
Like This? Also Try:
Fiesta Smoked Chicken Breast
Packed with flavor, smoking chicken breast doesn't get much easier than this!
Instructions
Smother the chicken breasts in the Fiesta Taco Seasoning, working some in under the skin.

Set the smoker to 225-F, and smoke the chicken breasts bone side down, for about 90 minutes or until the internal temperature reaches 165-F.

Let rest for 10 minutes before serving, and enjoy!
Notes
Please note: The nutritional values for the chicken rub were not included in this recipe. Please calculate your own, or if you're using the Fiesta Taco Seasoning, add the following to each serving:
Calories: 15kcal | Carbohydrates: 2.5g | Protein: 1g | Fat: 1g | Saturated Fat: 1g | Sodium: 325mg | Potassium: 85mg | Fiber: 1g | Sugar: 1g | Vitamin A: 1000IU | Vitamin C: 1mg | Calcium: 18mg | Iron: 1mg | Net Carbohydrates: 1.5g
Nutrition
Serving:
1
chicken breast
|
Calories:
258
kcal
|
Protein:
48
g
|
Fat:
6
g
|
Saturated Fat:
1
g
|
Trans Fat:
1
g
|
Cholesterol:
145
mg
|
Sodium:
262
mg
|
Potassium:
836
mg
|
Vitamin A:
68
IU
|
Vitamin C:
3
mg
|
Calcium:
11
mg
|
Iron:
1
mg
A Note on Nutritional Information
Nutritional information for this recipe is provided as a courtesy and is calculated based on available online ingredient information. It is only an approximate value. The accuracy of the nutritional information for any recipe on this site cannot be guaranteed. Erythritol carbs (sugar substitutes) are not included in the carbohydrate counts as they have been shown not to impact blood sugar, and they have zero calories and zero carbs. Net carbs are the total carbs minus fiber.
Want even More Good Keto Recipes?
I'm always cooking and trying new recipes, but the following are some of my current favorites: