Loaded with flavor, this succulent, juicy, and tender bacon-wrapped pork loin recipe is a keeper! Read on and I, Chef Jenn, will show you all my chef tips and tricks to make this amazing keto pork loin recipe perfectly every time!
Not everything that goes into a smoker needs to be covered in a brown sugar-loaded dry rub (as tasty as they may be), and with this Smoked Bacon-Wrapped Pork Loin, you can have big, bold flavors and juicy tender meat in a few hours. Alternatively, you can roast this in the oven. Those instructions are below.
This post may contain affiliate links. As an Amazon Associate, I earn from qualifying purchases. See Disclosures.
To say that I love my smoker is an understatement, but ironically, it wasn't until I moved out of Texas and out of the South, that I purchased one for my own use.
Fast-forward pounds and pounds of deliciously smoked meat, to this show-stoppingly flavorful hunk of meaty goodness.
How to Prepare Smoked Pork Loin
I like smoking pork loin because unlike some tougher cuts of meat, this one doesn't take all day to smoke, and the pork picks up the smoke flavor fabulously.
I picked up a big long (whole) pork loin roast when they were on sale at Costco, and then cut it into about thirds. I froze the other two-thirds for another day, and with this beautiful hunk near the sirloin end, I got busy.
First, I gave it a rinse to remove any bone shards. Good thing, too!
Then, I smeared about 1/4 cup of Dijon mustard over the top, sprinkled it liberally with salt and pepper, topped it with bacon (folding the bacon down over the sides) and put it on a sheet pan in the smoker.
I wanted to catch all those yummy juices for drizzling on top once sliced, so I used a sheet pan with raised sides. If you don't have one yet, seriously, get one! I use mine for EVERYTHING!
Preheat the Traeger grill to 225 and you're just about ready.
I put it in my Traeger pellet smoker at 225F and it took about 3 hours to come up to 145-150F on my trusty digital thermometer (add one to your wish list!) You don't want to cook pork more than 150F, especially pork loin, or it'll dry out.
We had this tasty Traeger smoked pork loin for dinner, I had it for lunch, and we've got enough for another meal or two. This is the perfect dish for meal prepping!
What Sort Of Wood Pellets Should YOu use?
I loooove applewood with pork. If you can score a bag of applewood pellets you're in luck. Otherwise, hickory is my next favorite, or use anything other than oak or mesquite as those are a bit too heavy on the flavor for this delicate meat. Just make sure you have enough pellets!
Oven-Roasted Pork Loin
If you don't have a smoker, you can make this beauty in the oven.
Simply follow the preparation steps, then cook it at 350 for about 90 minutes or until your digital thermometer (don't use those lousy and inaccurate analog ones) reads 145-150. Let it rest 10-15 minutes before serving.
How long it takes to cook depends on the size of pork loin you're using, and how cold it was when it went into the oven.
Chef Jenn's Tips
This smoked pork loin cooks easily and deliciously in a Traeger pellet smoker which allows you to easily control the temperature. However, it can be cooked in a conventional smoker – just keep an eye on the internal temperature and cook it until it reaches 145-F.
Switch up the bacon! Try peppered bacon with this Traeger pork loin recipe, and it'll add a pop more flavor to your recipe.
You can also make smoke pork tenderloin the same way but it'll take much less time.
Smoking pork loin on the Traeger is easy, but don't just set it and forget it. Pull it when it gets to 145-F and let it rest for juicy and succulent meat.
Keep this keto carnivore pork recipe paleo by using nitrate-free bacon and homemade mustard.
What To Serve With Smoked Bacon-Wrapped POrk Loin
Pair this meaty and flavor-packed dish with your favorite sides, like Steakhouse Creamed Spinach or this yummy Cauliflower No-Mac 'n Cheese. Or, keep the bacon theme going with this Bacon Wrapped Asparagus.
Can you Freeze Smoked Pork?
Yes, this Traeger pork loin recipe will freeze once cooked. The best way to freeze this dish is to package the cut (or uncut) cooked meat wrapped tightly in plastic wrap, or shrink wrap it with a vacuum sealer.
It'll stay fresh in the freezer for up to three months.
To reheat, thaw in the fridge overnight and warm it in a covered dish in the oven at 325-F until warmed through.
Frequently Asked Questions
Do I need to brine this Traeger pork loin before smoking?
No, you don't. Cooking low and slow until it just comes to temperature AND wrapping it in bacon will help to keep all the juices and flavor locked inside.
How long to smoke pork loin?
It depends on a) how big your pork loin is b) what the internal temperature of the pork loin is when it goes into the smoker, and c) the temperature of the smoker. A 3-pound pork loin took about 3 hours in my Traeger smoker set to 225-F.
Can you smoke a whole pork loin?
Yes! Follow the same instructions – but you'll need a lot more bacon!! – and cook your Traeger pork loin the same way.
Like This? Also Try:
Step By Step Process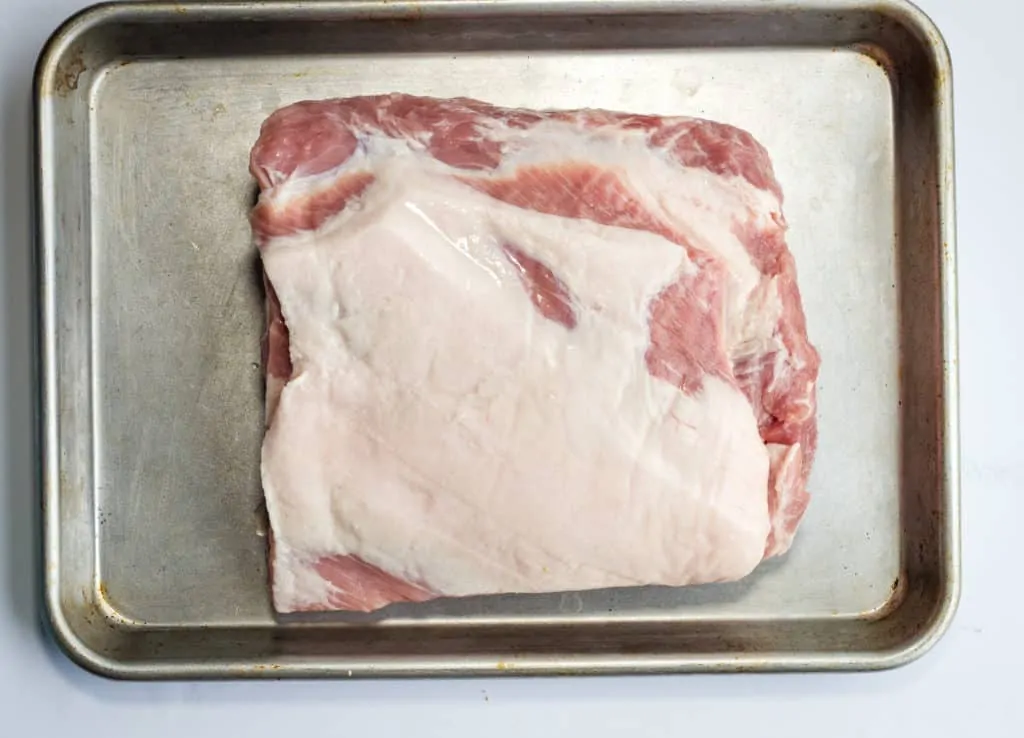 Smoked Bacon-Wrapped Pork Loin
Juicy and tender with just a hint of smoke, this Smoked Bacon-Wrapped Pork Loin can also be done in the oven.
Ingredients
3

lbs

pork loin roast

1/4

cup

Dijon mustard

8

slices

of bacon

1/2

tsp

salt

1/2

tsp

pepper
Instructions
Rinse and pat the roast dry. I used a 3-pounder, but any size will do. Just check the temperature when it is cooking.

Coat the top and sides of the roast with the Dijon mustard. Sprinkle with the salt and pepper.

Lay the bacon on top, with the strips touching, and tuck the ends in under the bottom of the roast.

Smoke it at 250-F for about 3 hours, or bake it in a 350-F oven for about 90 minutes (depending on the size and how cold the meat was when you put it in the oven.

Remove the Smoked Bacon-Wrapped Pork Loin when the internal temperature has reached 145-150F, and let it rest for 15 minutes before slicing.
Nutrition
Serving:
2
slices
|
Calories:
215
kcal
|
Carbohydrates:
1
g
|
Protein:
27
g
|
Fat:
11
g
|
Saturated Fat:
3
g
|
Cholesterol:
81
mg
|
Sodium:
308
mg
|
Potassium:
460
mg
|
Fiber:
1
g
|
Sugar:
1
g
|
Vitamin A:
5
IU
|
Vitamin C:
1
mg
|
Calcium:
9
mg
|
Iron:
1
mg
A Note on Nutritional Information
Nutritional information for this recipe is provided as a courtesy and is calculated based on available online ingredient information. It is only an approximate value. The accuracy of the nutritional information for any recipe on this site cannot be guaranteed. Erythritol carbs (sugar substitutes) are not included in the carbohydrate counts as they have been shown not to impact blood sugar, and they have zero calories and zero carbs. Net carbs are the total carbs minus fiber.