Easy and quick weeknight dinners don't get much tastier than this Baked Sauerkraut and Sausage dish! Plus, with just a handful of ingredients, this oven baked sausage dish can be on the table in no time at all!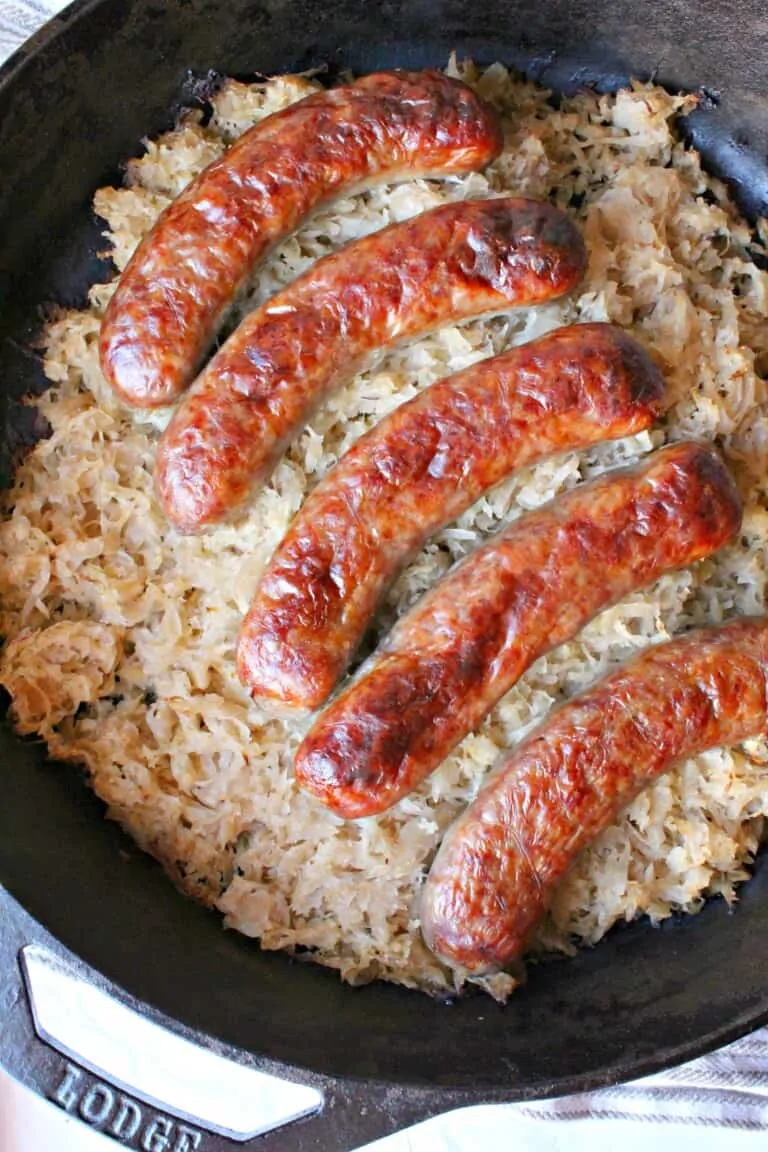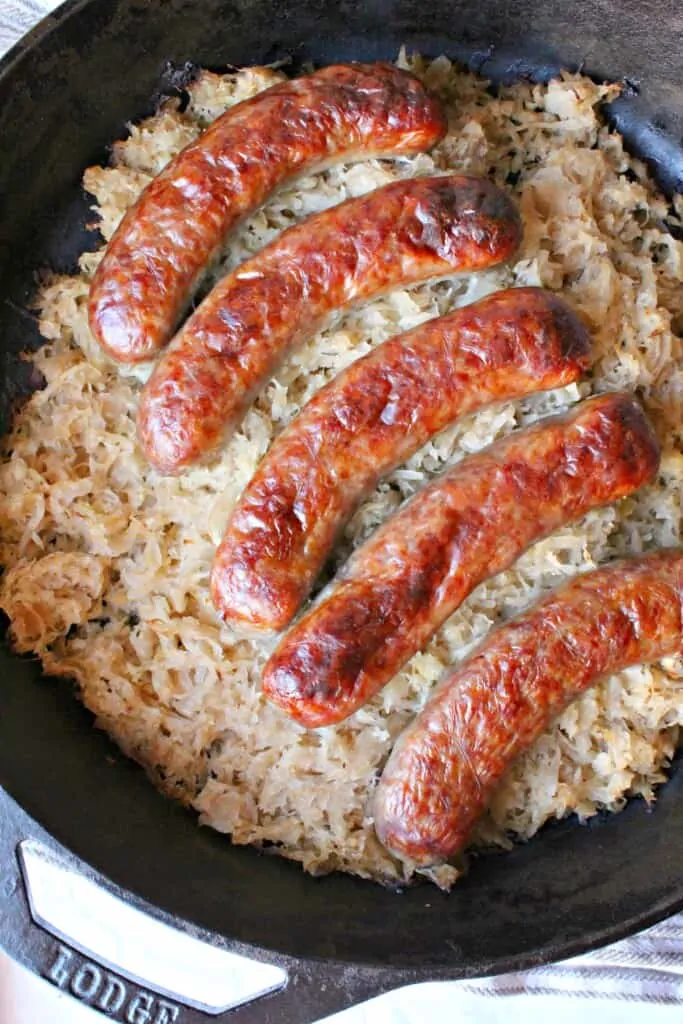 Everyone is raving about this recipe, and in fact, even sauerkraut haters are falling in love with the dish. Hungry and ready for this baked bratwurst meat-fest? Read on to see how to make it!
This post may contain affiliate links. As an Amazon Associate, I earn from qualifying purchases. See Disclosures.
What You Need To Make Baked Sauerkraut & Sausage
That's it! See? I told you this was an easy recipe. Now, check out the ingredeints.
Ingredients to Make Oven Baked Sausage & Sauerkraut
Sauerkraut
Bratwurst, or your favorite sausage
So Nourished brown sugar alternative – or your favorite keto brown sugar sweetener
Salt and pepper
That's it! So easy even my 3-ingredient recipe loving mother in law would approve of this recipe! Salt and pepper doesn't count 🙂
What Is Sauerkraut?
Sauerkraut is fermented cabbage. Yup, funky words and a funky vegetable, but the fermentation process makes sauerkraut super healthy and delicious.
And, because it is made from cabbage, it is high in fiber and low in carbs, making it a keto dieter's best friend!
A Word On Sauerkraut
You may not be a fan of sauerkraut, but I'm going to help you become a new lover of it!
Part of the problem with sauerkraut is its strong flavor. BUT if you drain it and rinse it first, you keep all the probiotic and fermented goodness of sauerkraut without the strong flavor.
The touch of sweetness in this recipe, combined with the juices from the sausage, really transform this crazy healthy ingredient and make this dish a winner.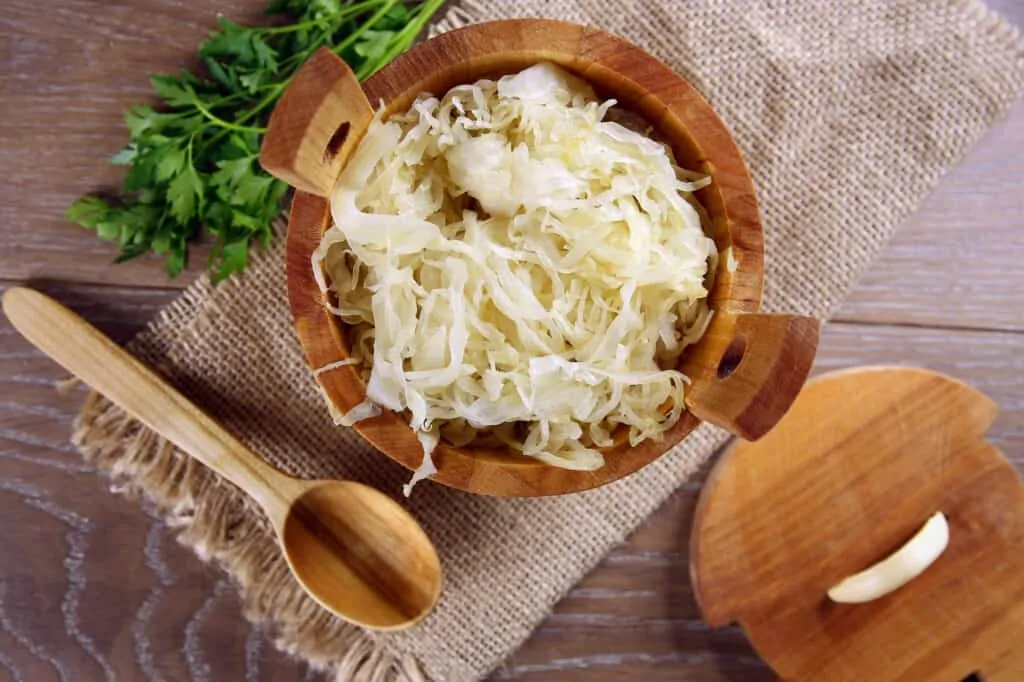 How to Make This Sauerkraut & Sausage Recipe
Drain the sauerkraut in your strainer. Rinse it with cool running water, then squeeze out (with your very clean hands) most of the water. It doesn't have to be bone dry. Just MOSTLY dry.
Lay the sauerkraut in the bottom of a baking dish. Season it with salt and freshly cracked pepper and sprinkle the brown sugar substitute over the top.
Top the sauerkraut with the meaty sausage. Prick them with a fork in 4-5 places on each sausage, then pop the whole thing into the oven, and about 45 minutes later, it's done!
Chef Jenn's Tips for Baked Bratwurst
Look for good quality sausage with no starchy fillers. Read the ingredient label thoroughly!
Bratwurst are great in this recipe. Other good picks would be Oktoberfest, garlic, or even chicken sausage. Polish sausage and sauerkraut are another great pair.
Add a bit of water to the bottom of the baking dish if your sauerkraut is getting a bit too brown. If it's too thin a layer on the bottom, it could overcook.
Get a good spicy brown mustard to serve with this dish, or try it with this keto Horsey Sauce.
What To Serve with Oven Baked Sausage
Your meat and veggies are taken care of with this easy peasy dish, so why not indulge in a cool and creamy salad with this tasty one-pot keto recipe? This Cucumber & Feta Salad would be a good pick with this baked bratwurst recipe, or just dip some fresh veggies into this Ranch Dressing.
Is This Baked Bratwurst Casserole Freezer Friendly?
Yes! Totally freezer-friendly.
Simply cool down the sauerkraut and sausage recipe then package it in a zipper-top freezer bags or in a freezer-safe container.
To eat, thaw it overnight in the fridge then heat it back up in the oven in an oven-safe dish, covered, at 350-F until heated through or pop in into the microwave and heat through.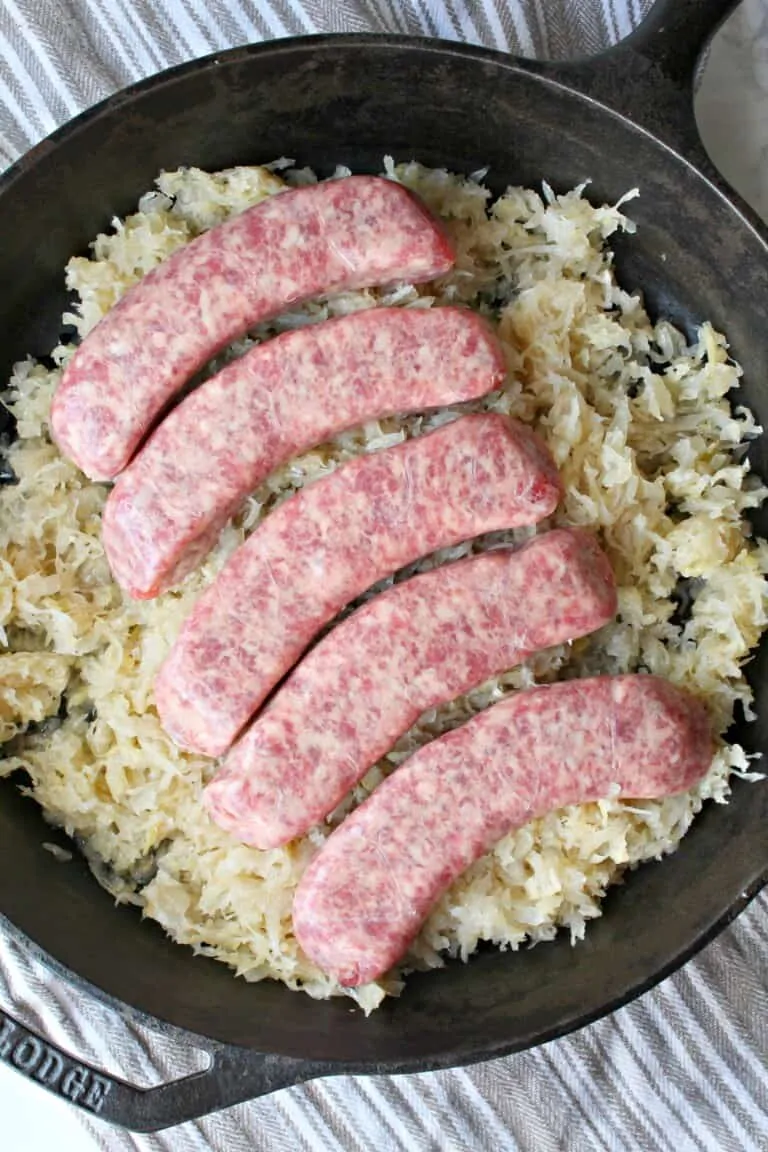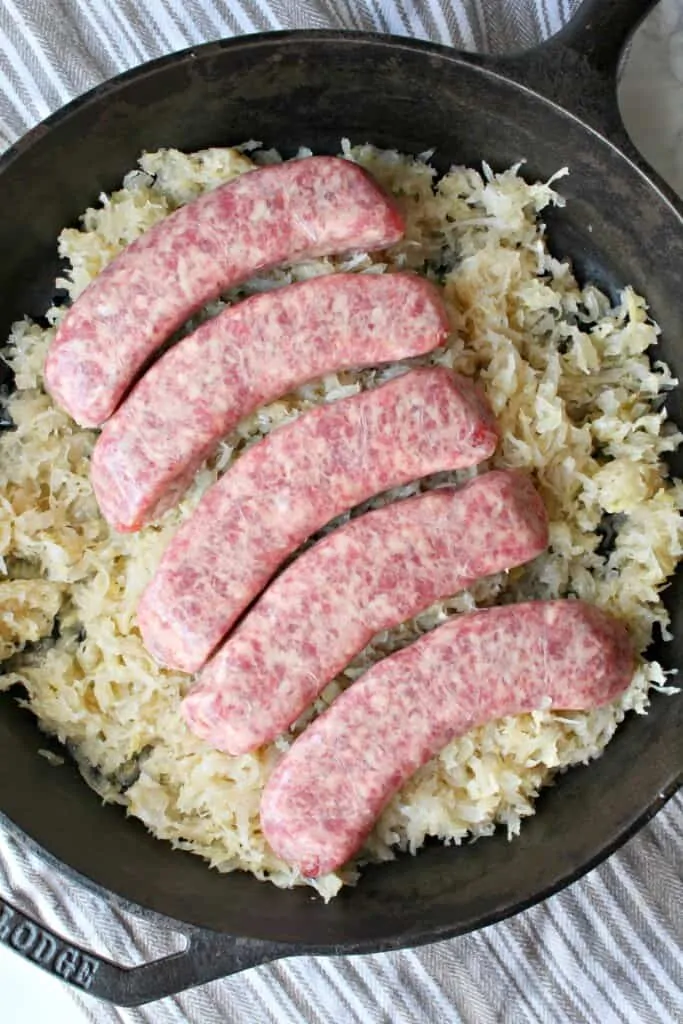 What to add to sauerkraut to make it taste better?
A touch of sweetness helps, plus salt and pepper. But the real key is to rinse and squeeze dry the sauerkraut before cooking with it, to remove the strong winey or fermented flavor. Some brands are also stronger in flavor than others!
What to serve with this sausage and sauerkraut recipe?
If you're sticking to no-carbs or low-carbs, go for a German cucumber salad to keep things in the spirit of this baked bratwurst recipe.
How long does it take to cook sauerkraut and sausage?
It all depends on the size of your baking dish, how cold the sausage and sauerkraut where, and at what temperature you're cooking it at. Expect about 45 minutes at 350-F. Sausage should be cooked to an internal temperature of 165-F.
How many net carbs are in this dish?
A hearty serving of a least one sausage and 1/2 cup of sauerkraut is only 5 net carbs.
Like This Sauerkraut and Sausage Recipe? Also Try:
Oven Baked Sauerkraut & Sausage
This easy peasy recipe is loaded with flavor and cooked-all-day goodness that's ready in under an hour!
Instructions
Drain, rinse and squeeze dry (but not bone dry) the sauerkraut. Add it to the bottom of a casserole dish large enough to hold the sausage in one layer.

Sprinkle the sauerkraut with salt and pepper and 1 tbsp of So Nourished brown sugar substitute.

Top with the sausage and prick the each sausage with a fork in 4-5 places.

Bake uncovered at 350-F for about 45 minutes or until the sausage have reached an internal temperature of 165-F.
Nutrition
Serving:
1
sausage and 1/2 cup sauerkraut
|
Calories:
522
kcal
|
Carbohydrates:
8
g
|
Protein:
22
g
|
Fat:
44
g
|
Saturated Fat:
15
g
|
Cholesterol:
112
mg
|
Sodium:
2099
mg
|
Potassium:
687
mg
|
Fiber:
3
g
|
Sugar:
2
g
|
Vitamin A:
26
IU
|
Vitamin C:
14
mg
|
Calcium:
71
mg
|
Iron:
2
mg
|
Net Carbohydrates:
5
g
A Note on Nutritional Information
Nutritional information for this recipe is provided as a courtesy and is calculated based on available online ingredient information. It is only an approximate value. The accuracy of the nutritional information for any recipe on this site cannot be guaranteed. Erythritol carbs (sugar substitutes) are not included in the carbohydrate counts as they have been shown not to impact blood sugar, and they have zero calories and zero carbs. Net carbs are the total carbs minus fiber.
Want even more keto goodness? Check out these Dash egg bites for breakfast, and if you're a soup fan, these keto soups and chowders are a must-try. Keto corned beef hash is another top pick for breakfast, and you can't beat a French dip sandwich for lunch!