Full of protein, collagen, and yumminess, this Instant Pot Bone Broth is perfect sipped on its own, or as one of the building blocks to delicious recipes. Follow me, Chef Jenn, as I show you how to make this flavor-loaded and totally sippable keto bone broth everyone will love!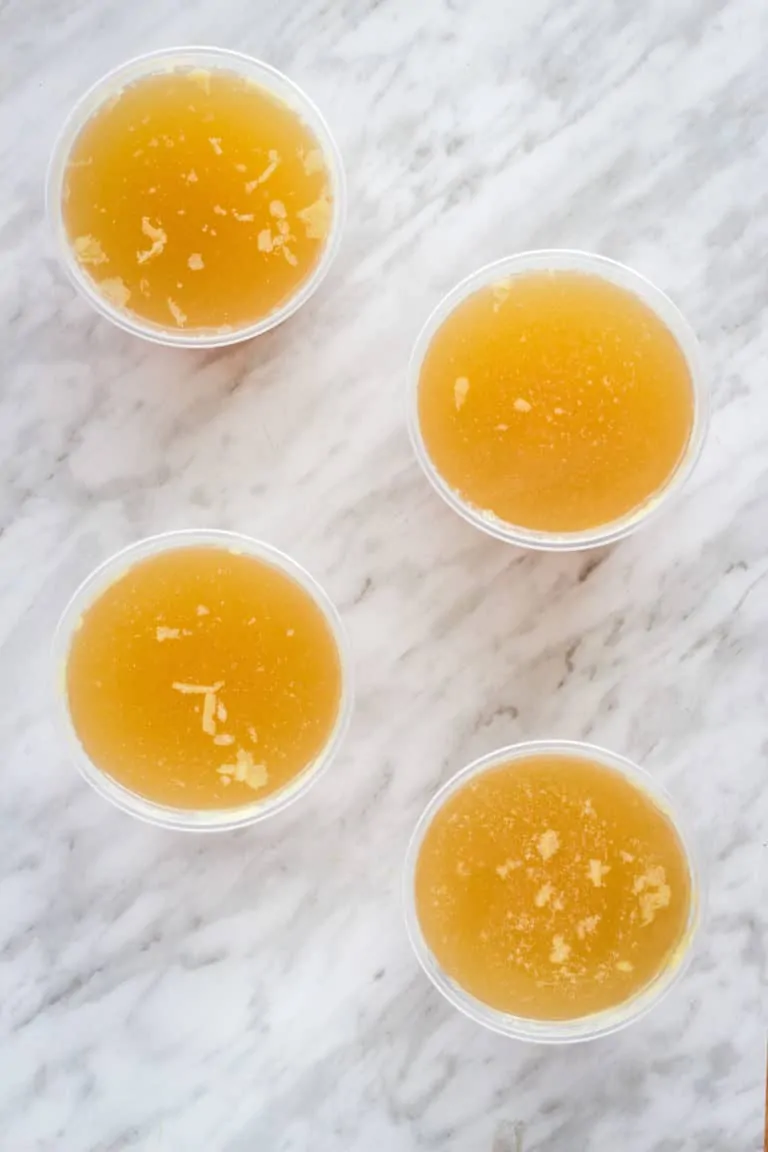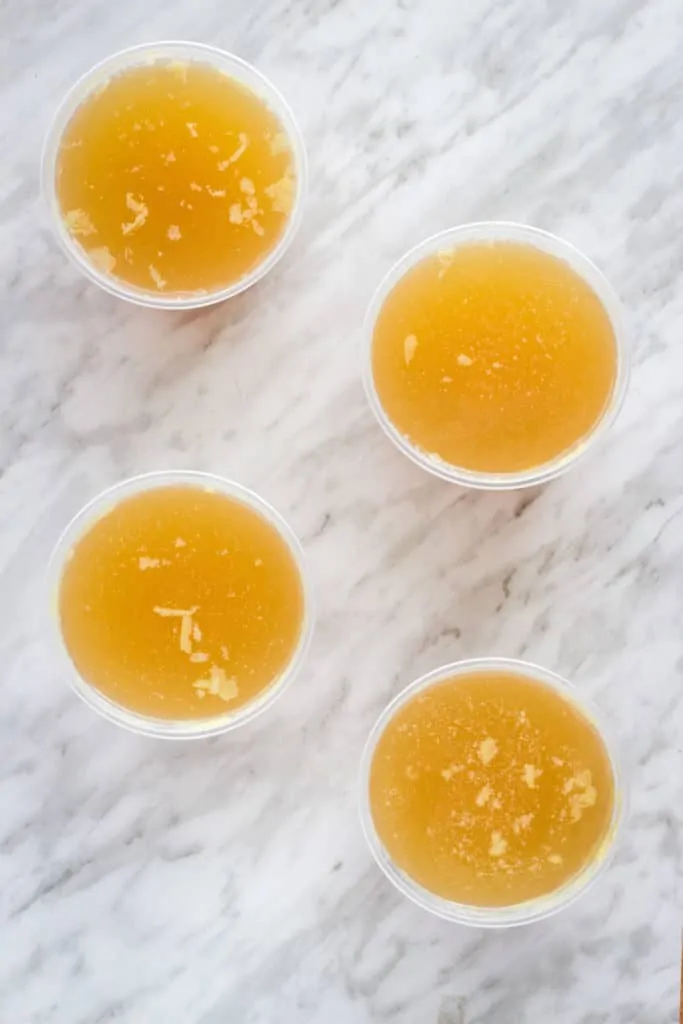 As a working chef, I would have big tall stock pots going almost around-the-clock, slowly simmering gallons of stock, because there's nothing tastier when cooking than using stock or broth that's been made from scratch.
But, when you make it in the Instant Pot, you can get cooked-all-day flavor and goodness, in about 90 minutes!
And the best part of this recipe, is that you can enjoy a great dinner THEN make the keto bone broth with the carcass!
This post may contain affiliate links. As an Amazon Associate, I earn from qualifying purchases. See Disclosures.
How to Make Instant Pot Bone Broth
First, stop by the supermarket and get one of those tasty rotisserie chickens. Enjoy a hearty dinner and save the bones!
Pick most of the meat off the bones, peel and cut an onion, peel a few cloves of garlic, and grab a handful of parsley.
It all goes in the Instant Pot. Use a 6- or 8-quart Instant Pot for this recipe, to make sure you get enough broth.
Top it up with water, set the dial to Pressure Cook for 45 minutes, then set it and forget it! Let it manually release for about 30 minutes.
STrain The Bone Broth Well!
Once it is cooked and cooled enough to handle safely, use a large slotted spoon to remove most of the bones and residual veggies from the pot.
Then, line a strainer with about 3-4 layers of cheesecloth. Set the cheesecloth-lined strainer over a bowl or pot large enough to hold all the broth, and strain the broth.
The cheesecloth will catch all the little bits that your spoon missed. I make a lot of broth and stock so I have a fancy chinois strainer that's designed for this, but cheesecloth is just fine.
You can also skip straining it, and the chef in me won't mind, but a clear broth is always the Holy Grail of stock/broth making.
How to Use Keto Bone Broth
You can season the bone broth with a bit of salt and pepper, heat it up and sip it, or use it in recipes that call for low-sodium chicken broth or stock. Try some of these recipes:
Chef Jenn's Tips
Using a rotisserie chicken carcass is a quick hack for this recipe, but you can also freeze and save chicken leg, thigh and breast bones from various dinners. Just keep a freezer bag with the bones and add them as you go. When the bag is full, make your keto bone broth.
Try not to get too much fat and skin in with the bones or your broth could be really fatty.
The fat will rise and congeal at the top when chilled, you can easily remove it then.
Play with the flavor! Add a jalapeno for a bit of spice, go Asian with star anise and lemongrass, or go Italian with herbs like fresh basil.
Can You Freeze Instant Pot Bone Broth?
Absolutely! I like to freeze it in single-use containers. I have some large ones (about 24-ounces) and some small ones (about 8-ounces) that way I have about as much as I need for any given recipe.
To freeze keto chicken stock, chill it overnight in your fridge, then fill your containers, leaving some room at the top for the liquid to expand when freezing.
My favorite way to freeze saucy and soupy recipes is by using Souper Cubes! These amazing freezer-safe cubes are perfect for freezing portions of all my favorite soups, stews, and other saucy meals. I freeze them then pop them out and put the rectangular frozen blocks into a zipper-top freezer bag. It makes storing them SOOOO much easier!
Where can you find these Soup Cubes? You can order them from Souper Cubes – how cool is this?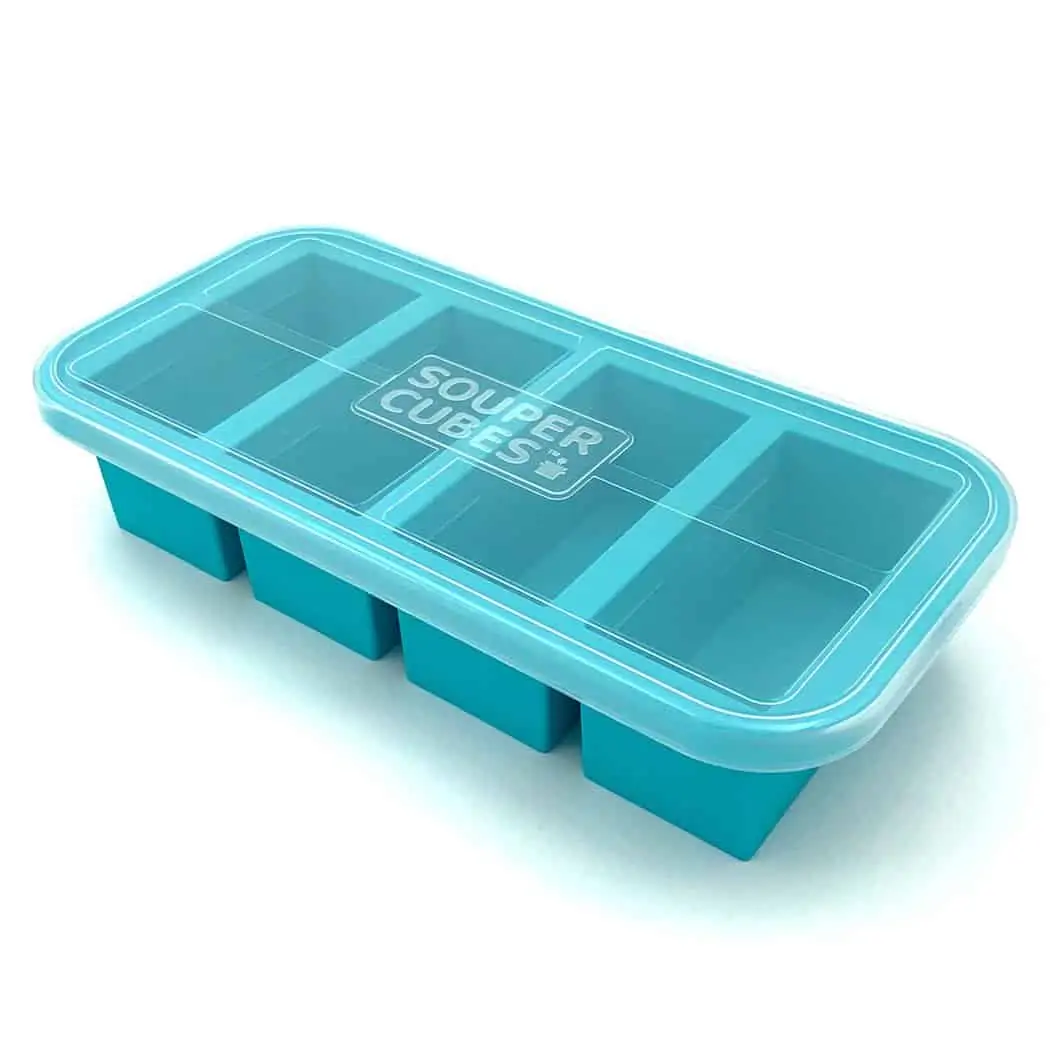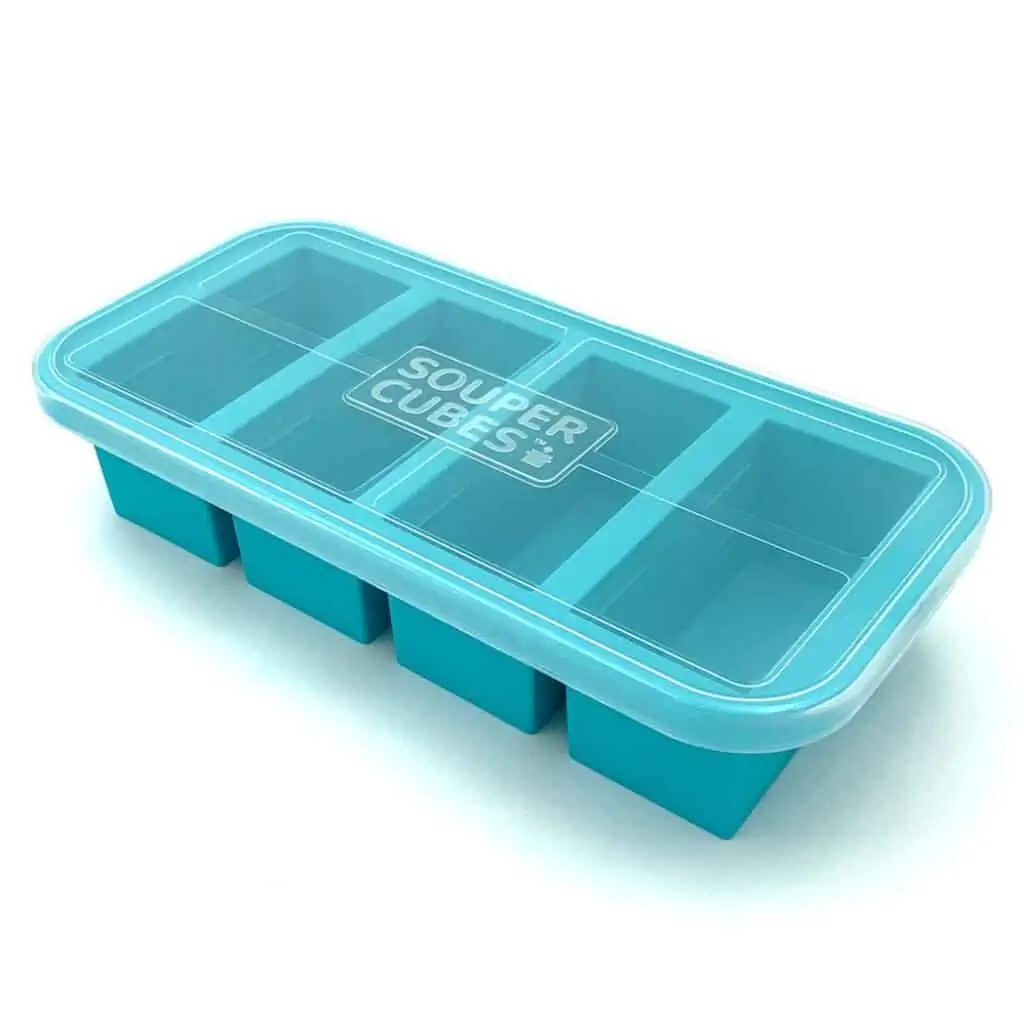 To use, run the container under hot water to loosen the frozen brick of keto chicken broth. Then, pop it into a saucepan and warm over medium heat to thaw, or microwave it until melted.
Then, use it in your recipe.
Like This? Also Try:
Step by Step Process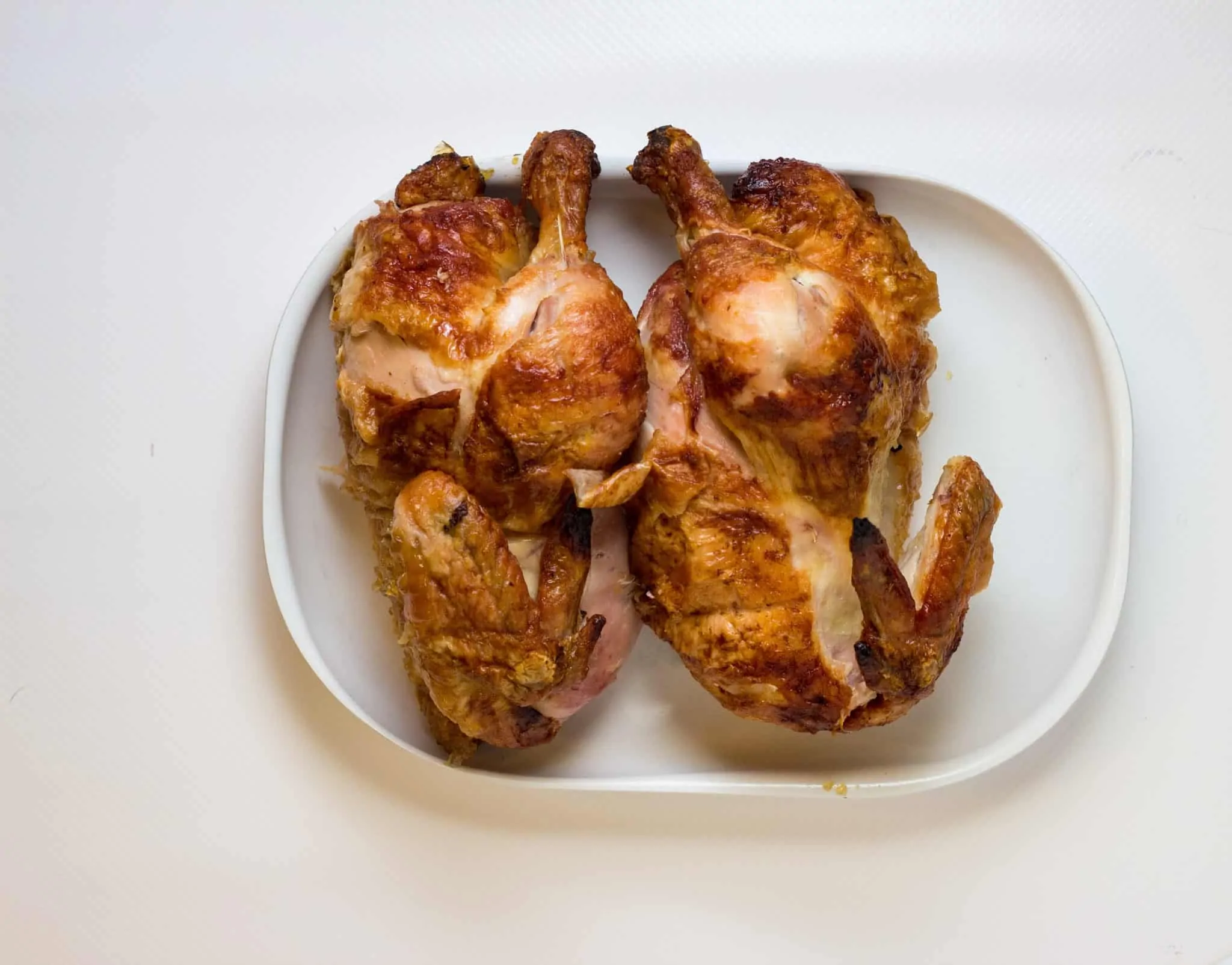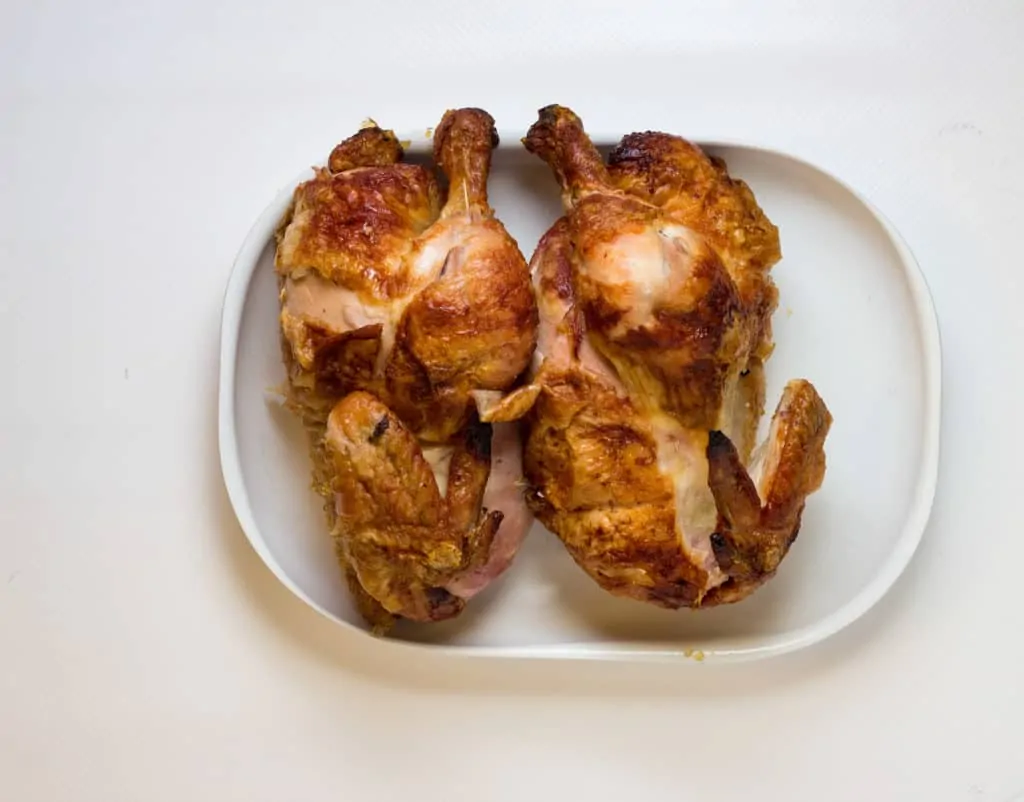 Keto Chicken Bone Broth
Nutritious and full of collagen and protein, this Keto Chicken Bone Broth is easy and essential when scratch-cooking at home.
Ingredients
Chicken bones from one rotisserie chicken

10-12

cups

water

3

garlic cloves

1

onion

1

bay leaf

1

tbsp

peppercorns

1/2

cup

parsley leaves and stems
Instructions
1. Remove most of the meat and skin from the chicken.

2. Put the chicken bones, water (do not add water past the maximum fill line), bay leaf, onion, garlic, and peppercorns into the Instant Pot. Add a peeled carrot and cleaned celery stalk if you like.

3. Close the Instant Pot and set it to Pressure Cook for 45 minutes. Allow it to naturally release for 30 minutes.

4. Allow to cool slightly.

5. Using a slotted spoon, remove the bones and chunks of vegetables. Discard.

6. Strain the broth through several layers of cheesecloth.

7. Use, or freeze for later use.
Nutrition
Serving:
1
cup
|
Calories:
7
kcal
|
Carbohydrates:
2
g
|
Protein:
1
g
|
Fat:
1
g
|
Saturated Fat:
1
g
|
Sodium:
11
mg
|
Potassium:
27
mg
|
Fiber:
1
g
|
Sugar:
1
g
|
Vitamin A:
5
IU
|
Vitamin C:
1
mg
|
Calcium:
13
mg
|
Iron:
1
mg
|
Net Carbohydrates:
1
g
A Note on Nutritional Information
Nutritional information for this recipe is provided as a courtesy and is calculated based on available online ingredient information. It is only an approximate value. The accuracy of the nutritional information for any recipe on this site cannot be guaranteed. Erythritol carbs (sugar substitutes) are not included in the carbohydrate counts as they have been shown not to impact blood sugar, and they have zero calories and zero carbs. Net carbs are the total carbs minus fiber.
Want Even More Easy Keto Recipes?
These are some of my current favorites:
Having trouble counting carbs? Check out this handy calculator.