Cooking the perfect keto Roast Beef isn't hard, and with my tips and tricks, you'll have perfectly tender and oh-so juicy beef for keto sandwiches, soups, casseroles, and more. Plus, there's nothing like a protein-rich slice of luscious roast beef to take the edge off your hunger. Read on and I, Chef Jenn, will show you how to make this keto beef roast perfectly every time!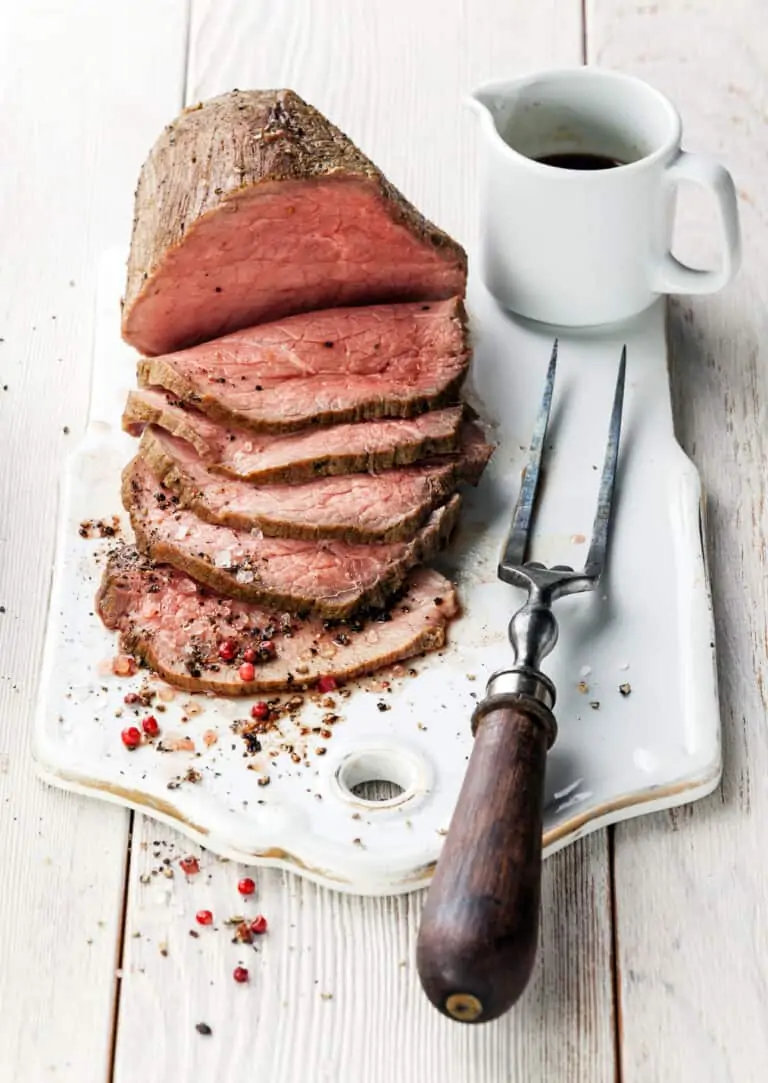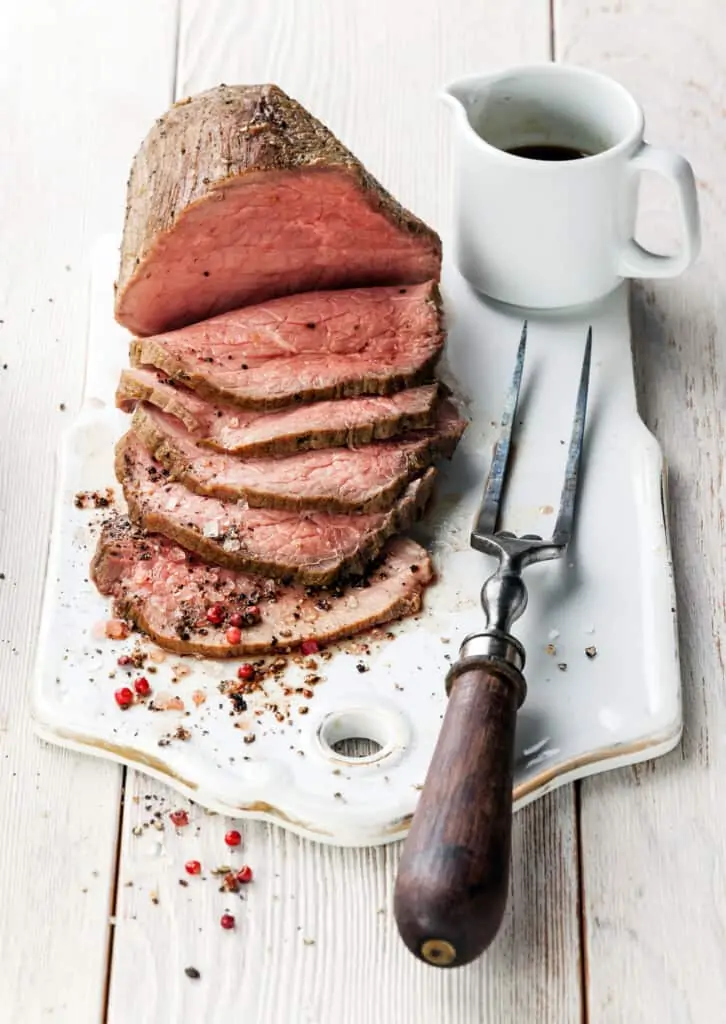 Are you ready to see how easy it is to make Keto Roast Beef right in your own kitchen? This is one of my favorite ways to transform cheap cuts of beef into something mouth-wateringly delicious!
Basically, I take big ole hunks of meat like inside or outside round, top round, eye of round, sirloin, and even ribeye, and cook them LOW AND SLOW for maximum flavor. Just season, roast, rest, and slice. How simple is that?
Plus, you can store the leftovers in the fridge or freezer, so it's perfect for meal prepping! Ready to see how it's done?
This post may contain affiliate links. As an Amazon Associate, I earn from qualifying purchases. See Disclosures.
What You Need
A large enough roasting pan so that there's plenty of space around your roast (so it doesn't steam) – see my notes below
Beef roast – inside/outside round, top round, eye of round, sirloin, or ribeye. You don't want anything that needs braising
Seasoning – I use Montreal Steak Spice
A Word On Roasting Pans
I've tried them all. Trust me. In dozens of years of cooking, many as a professional chef, I've been through all sorts of roasting pans. My favorites are dark (not shiny steel), heavy, and have an insert. Inserts will make your life so easy! You can just lift out the roast and off you go.
Another benefit to an insert is it keeps the roast off the bottom of the pan, allowing air to circulate under, and allow for more even cooking. Invest in a good roasting pan. You won't regret it!
How to Make Keto Roast Beef
For a complete list of ingredients and instructions, please scroll down to the recipe at the bottom of this page.
Season the cut with Montreal Steak Spice or your favorite seasoning.
Roast the meat on a rack in the oven at 275F, uncovered until the internal temperature reaches 125-130F for medium-rare.
Remove from the oven, cover loosely with foil, and allow to rest for about 20 minutes before cutting into thin slices.
How Long Do I Cook Keto Beef Roast?
The cooking time is going to depend on a few different things, like what temperature the roast is when you put it in the oven. I try to let mine sit at room temperature for at least an hour rather than transferring it straight from the fridge to the oven, which speeds up the cooking time.
That being said, the size of your cut is always going to be the biggest factor. That's why a digital meat thermometer is a great tool to use. For reference, my 5-pound roast took about two hours to reach 125-130-F.
You can also use this handy chart when deciding how long to roast the beef. These times are JUST GUIDELINES. Always temp your roast with a digital meat thermometer. Cooking times will be different depending on how cold your roast is when you put it in the oven, what kind of cut it is, how close it is to the heat, and so on.
| | | |
| --- | --- | --- |
| Medium Rare (130-F) | 2 lb roast | 1.5 hours |
| | 3 lb roast | 2 hours |
| | 4-5 lb roast | 2-3 hours |
| Medium (145-F) | 2 lb roast | 1.5-2 hours |
| | 3 lb roast | 2-2.5 hours |
| | 4-5 lb roast | 2.5-3 hours |
Chef Jenn's tips
There are a zillion ways to cook roasts. But, during the course of my cooking career, cooking a roast low and slow is the best way to go. Cooking a roast this way results in evenly cooked meat with no gray outside layer.
Invest in a meat slicer to make paper-thin slices for sandwiches. French Dip, anyone? If you do plan on using a meat slicer, cold meat slices much more easily than warm beef.
Beef can be aggressively seasoned. I like Montreal Steak Seasoning because it's already a combination of salt, coarse ground pepper, and garlic. My favorite simple seasoning for beef.
Resting time is imperative! Always allow at least 15 minutes for the beef to rest. This way the juices won't just run out all over your cutting board.
Recommended
Is Keto Beef Roast Freezer Friendly?
YES! Roast beef freezes beautifully and, when stored properly, can last for up to 6 months.
I recommend first wrapping the cooked meat in either foil or plastic wrap. Next, place the whole thing in a gallon freezer bag or sealable container before storing in the freezer.
What Are Some Good Keto Roast Beef Recipes?
Who doesn't love a good keto roast beef sandwich? Whenever I prepare this recipe, that's usually the first thing I make!
Besides that, just think of your usual keto recipes with deli roast beef. Some of my other favorite options include Philly cheesesteaks, French dip sandwiches, casseroles, soups… truly, the only limit is your imagination.
Make it a Meal
Roast beef goes with so many delicious keto side dishes. I like to serve mine with a side of Keto Cauliflower Mash or Brussels Sprouts with Almonds & Brown Butter. Or, to keep things lighter, I like this Kachumbari (East African Tomato and Onion Salad). Looking for a good beefy sauce to go with your meal? Serve your roast with this au jus.
Frequently Asked Questions
Is roast beef keto?
Yes! Beef has ZERO carbs, so the only carbs in this recipe will come from the seasoning. As long as you stick to a low-carb option, your meal is going to be very keto-friendly.
Can I make gravy with this recipe?
Unfortunately, cooking roast beef this way doesn't make great gravy because all the juices are locked inside the meat where they belong! You need something that gives you more pan drippings to make a good gravy (check out my Keto Turkey Gravy recipe to see how it's done!)
What tools or gadgets do I need to make the best roast beef recipe?
I definitely recommend roasting the meat on a rack for even cooking. A meat thermometer is also extremely helpful for accurate cooking.
You do NOT need a lid for your roast. You'll get the best results by cooking the meat uncovered.
Finally, I love using a meat slicer for super thin deli-type slices of roast beef. You don't absolutely need one, but I love (and get a lot of use out of) mine!

Keto Roast Beef
Tender and juicy every time, cooking beef low-and-slow results in mouth-watering slices of juicy beefy goodness!
Ingredients
5

lb

roast beef

2

tbsp

Montreal Steak Seasoning
Instructions
Preheat your oven to 275-F.

Season the roast all over with the Montreal Steak Seasoning, then pop the roast into a spacious roasting pan.

Roast for about 2 hours, checking periodically with a digital meat thermometer to make sure you don't overcook the roast. Medium rare is about 130-F.

Remove the roast from the pan and cover lightly with foil and allow to rest about 15 minutes before cutting. Enjoy!
Nutrition
Serving:
2
slices
|
Calories:
343
kcal
|
Carbohydrates:
2
g
|
Protein:
62
g
|
Fat:
10
g
|
Saturated Fat:
3
g
|
Polyunsaturated Fat:
1
g
|
Monounsaturated Fat:
4
g
|
Cholesterol:
162
mg
|
Sodium:
4267
mg
|
Potassium:
801
mg
|
Fiber:
1
g
|
Sugar:
1
g
|
Vitamin A:
26
IU
|
Vitamin C:
128
mg
|
Calcium:
804
mg
|
Iron:
6
mg
|
Net Carbohydrates:
1
g
A Note on Nutritional Information
Nutritional information for this recipe is provided as a courtesy and is calculated based on available online ingredient information. It is only an approximate value. The accuracy of the nutritional information for any recipe on this site cannot be guaranteed. Erythritol carbs (sugar substitutes) are not included in the carbohydrate counts as they have been shown not to impact blood sugar, and they have zero calories and zero carbs. Net carbs are the total carbs minus fiber.
Hungry for Even More Easy Keto Recipes?
Here are some of my all-time favorite keto recipes: