The ultimate keto budget meal, Canned Corned Beef and Cabbage is loaded with protein, is a great source of tasty fat, and has plenty of fiber from the cabbage. Hungry but don't want to dent your wallet? Read on and I, Chef Jenn, will show you all my tips and tricks to make this canned corned beef and cabbage recipe come out perfectly every time!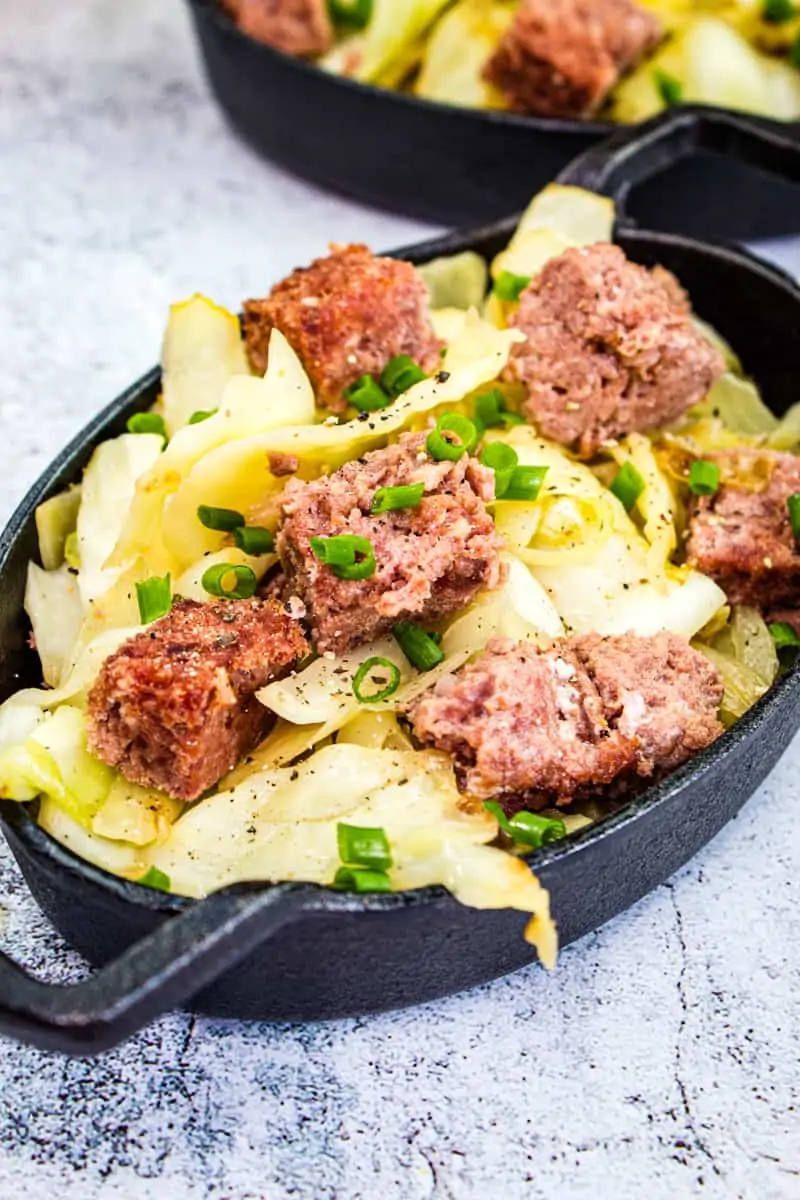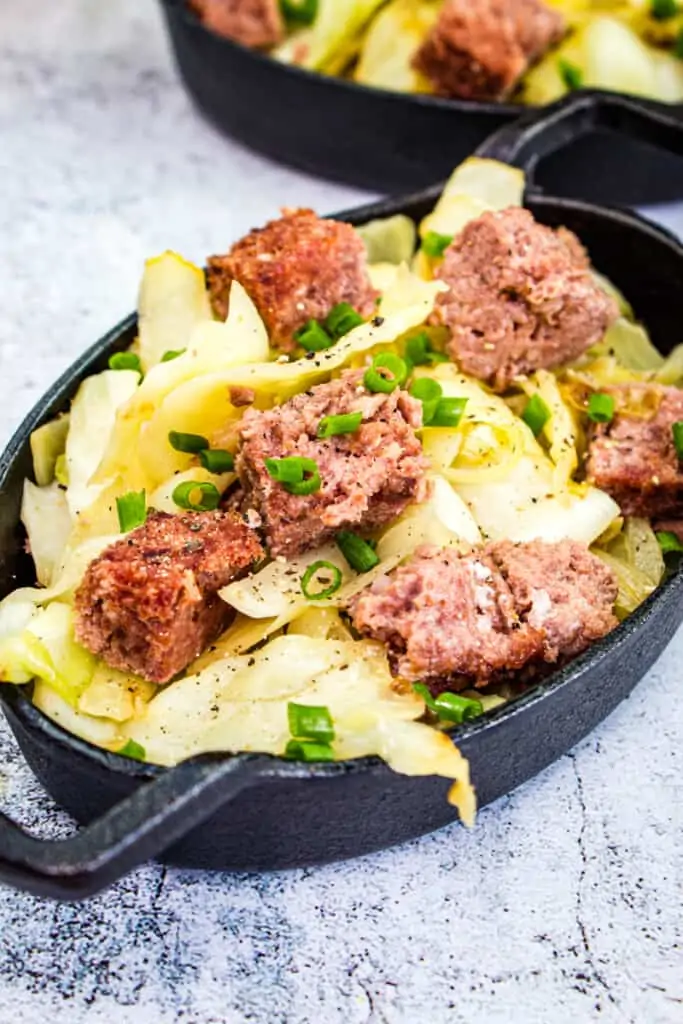 Once you try this keto Corned Beef and Cabbage, you won't be thinking of it as a meal reserved for St. Patrick's Day anymore. It's so fatty, delicious, and easy to make, you'll want to whip it up all year round!
This is also a super budget-friendly dish. Think under $5 or $6 for several big, hearty servings. If you can stock up on cans of corned beef when they go on sale, even better! Plus, fresh cabbage keeps FOREVER (well, for weeks) in the fridge, so you can use it for a variety of recipes. Or to make this one over and over.
I think the touch of onion and garlic is what really makes this canned corned beef recipe pop. And did I mention that the entire meal comes together in one skillet? It's so simple and so tasty, you have to give it a try!
This post may contain affiliate links. As an Amazon Associate, I earn from qualifying purchases. See Disclosures.
What You Need to Make Canned Corned Beef and Cabbage
A large skillet
Canned corned beef — I recommend cubing the corned beef (rather than crumbling) for a prettier dish with meatier bites
Green cabbage
Onion
Garlic – fresh is best!
Cooking oil – I use avocado or olive oil for all my cooking
How To Cook keto Corned Beef and Cabbage
Remove the outer leaves from the cabbage. Then with a big, heavy knife, cut the cabbage in half from top to stem. Using a smaller knife, cut out the core of the cabbage.
Slice the cabbage into 1/4-inch wide slices.
In a skillet over medium heat, add a bit of oil. Sauté the onion, garlic, and cabbage until the cabbage starts to cook down.
Remove the corned beef from the can (see below) and cube the meat.
Add the corned beef at the very end and cook just long enough to heat through.
Is Canned Corned Beef Keto?
Yes! There's no corn in canned corned beef! It is called corned beef because the meat used to be dry-cured with what they called corns of salt. Today, however, the meat is brined with salt water. Nitrates are added which turn the color pink.
Some brands of canned corned beef have trace amounts of sugar – if you see it on the ingredient label, don't freak out! The amount of sugar really is minimal and should not impact your keto diet.
Chef Jenn's Tips
Fresh cabbage can take a while to cook down. The thinner you slice it, the faster it'll cook.
Don't mash up the corned beef! Keep it in big, lovely hunks for a bite of meaty goodness.
Canned corned beef is fully cooked – you just need to heat it through.
Add some spice! A pinch of red pepper flakes should spice this up for you!
Keep leftover cabbage tightly wrapped in the fridge. It'll keep for a few weeks.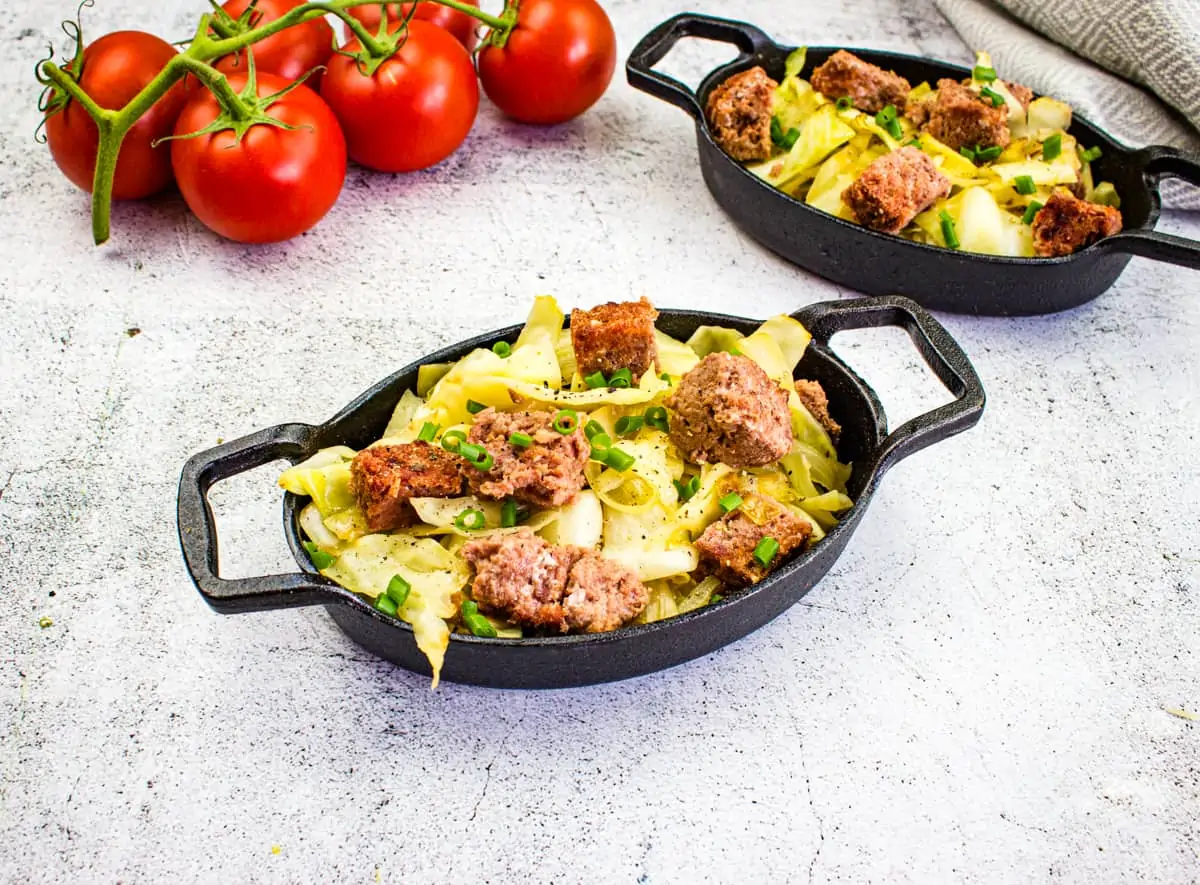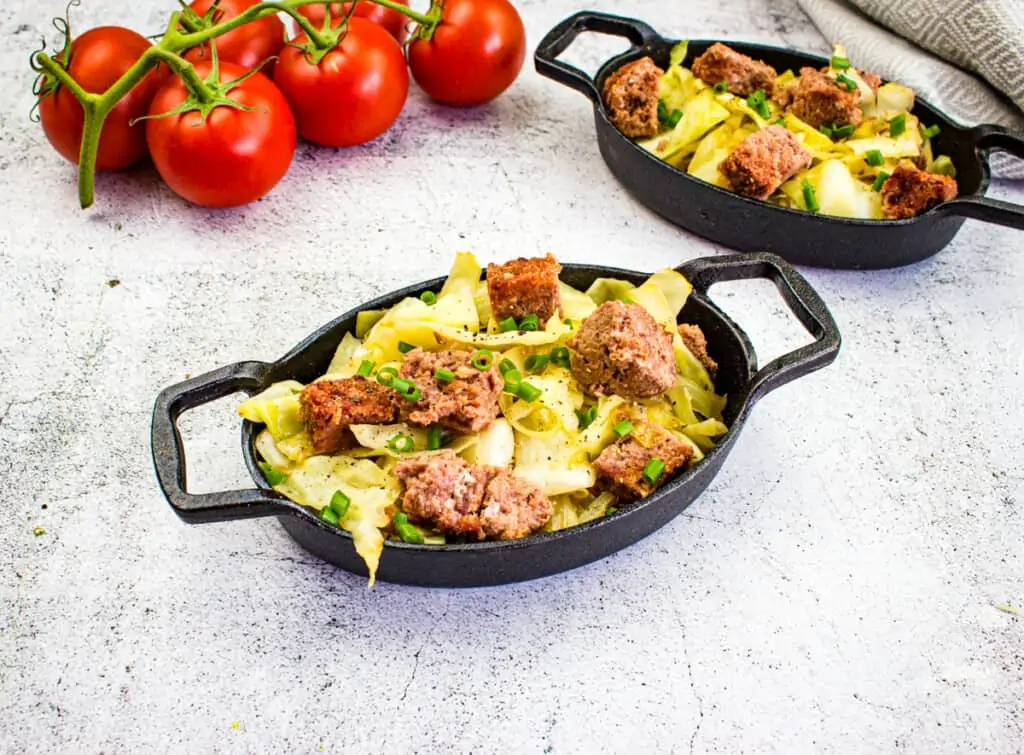 What to Serve With Canned Corned Beef & Cabbage
This dish always makes me crave mashed potatoes. That's why I recommend a low-carb alternative, like Keto Cauliflower Mash, Mashed Turnips, or Cheesy Mashed Cauliflower.
For a little more green, Air Fryer Asparagus with Garlic or Easy Brussels Sprouts with Almonds & Brown Butter are great choices. These Easy Keto Pickles are also a nice way to offset the salt in the corned beef.
Whatever you choose, just remember that canned corned beef is high in sodium. You don't want your sides to be too salty.
Is canned corned beef and cabbage freezer friendly?
While canned corned beef freezes really well, the cabbage unfortunately will not. For that reason, I wouldn't recommend trying to freeze any leftovers.
If you find yourself with extra canned corned beef, you can store that by itself in an airtight container in the freezer for several months.
Frequently Asked Questions
Is canned corned beef keto?
There are zero carbs in canned corned beef, so the answer is YES! It's a great option if you need a quick and easy keto meal. Just make sure you aren't buying canned corned beef hash, which contains potatoes and would not be considered keto-friendly.
Do you have to cook canned corned beef?
Canned corned beef is a fully cooked product, so you can just open and go! However, it tastes SO much better hot. That's why I recommend adding the corned beef to the pan just long enough to heat it through. The result is fatty and delicious.
How do you open cans of canned corned beef?
There's a little metal key and a tab at the widest end of the can. Peel of the paper label and insert the tab into the slot in the key. Turn the key and the tab will unzip the can. If you mess up, there's an easy trick: just use a can opener to break the vacuum seal at the other end of the can, then use the can opener to remove the lid like usual.

Like This? ALso Try:
Canned Corned Beef and Cabbage
This easy and budget friendly dish is a perfect pick for ketoers, and it's a one skillet specila!
Ingredients
1

tbsp

olive oil

8

cups

sliced cabbage

about 1/2 head

1/4

cup

sliced onion

1

clove

garlic

minced

12

ounce

canned corned beef

salt and pepper to taste
Instructions
Add the oil to a large skillet and heat it over medium heat. Add the cabbage and cook, tirring often. When the cabbage starts to wilt, add the onion and garlic. Continue cooking until the cabbage is soft and tender – about 8 minutes.

Open the can of corned beef and cube it. Add the cubed corned beef to the cabbage, stirring carefully so you don't crumble the corned beef too much. You only need to heat the corned beef.

Season with salt and pepper if necessary, and dig in!
Nutrition
Serving:
1.5
cups
|
Calories:
239
kcal
|
Carbohydrates:
9
g
|
Protein:
14
g
|
Fat:
16
g
|
Saturated Fat:
5
g
|
Polyunsaturated Fat:
1
g
|
Monounsaturated Fat:
9
g
|
Cholesterol:
46
mg
|
Sodium:
1061
mg
|
Potassium:
508
mg
|
Fiber:
4
g
|
Sugar:
5
g
|
Vitamin A:
137
IU
|
Vitamin C:
75
mg
|
Calcium:
66
mg
|
Iron:
2
mg
|
Net Carbohydrates:
5
g
A Note on Nutritional Information
Nutritional information for this recipe is provided as a courtesy and is calculated based on available online ingredient information. It is only an approximate value. The accuracy of the nutritional information for any recipe on this site cannot be guaranteed. Erythritol carbs (sugar substitutes) are not included in the carbohydrate counts as they have been shown not to impact blood sugar, and they have zero calories and zero carbs. Net carbs are the total carbs minus fiber.
Want More Beginner Keto Recipes?
I'm always tinkering in the kitchen, but these are some of my most recommended easy keto recipes – any of which are perfect for beginning keto!