If you're firing up the grill, add these amazing keto Grilled Veggies to your meal! Customizable with your favorite veggies and packed with flavor, nothing says BBQ more than these tasty veggies! Follow me, Chef Jenn, and I'll show you all my best tips and tricks for making this amazing keto vegetable side dish recipe perfectly every time!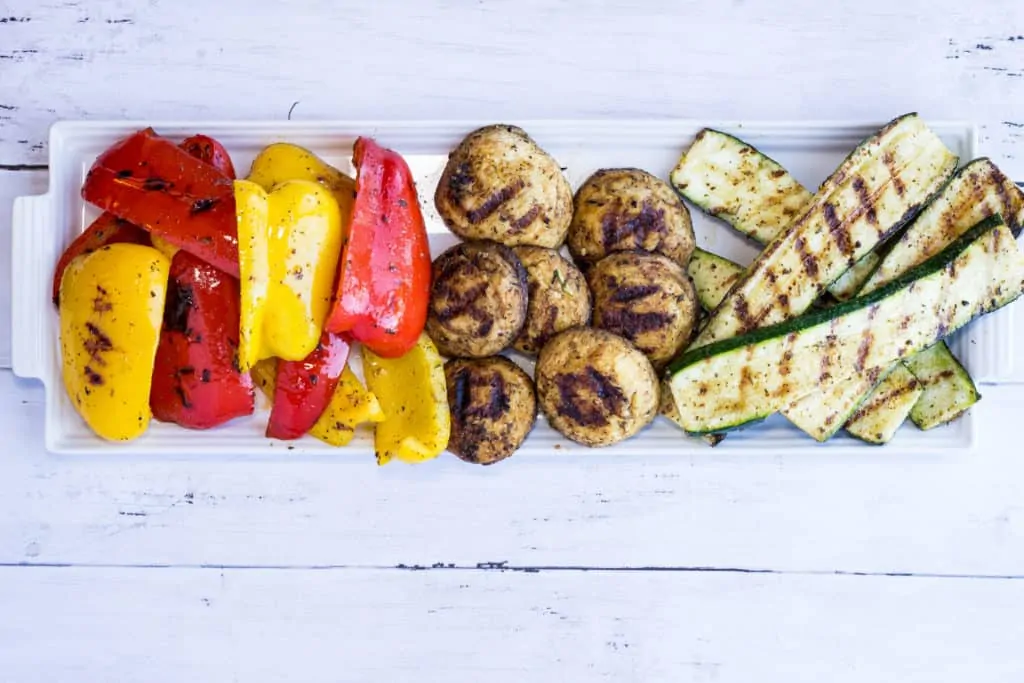 During the summer when produce is at its finest, when my grill goes on, I make Keto Grilled Veggies.
There's nothing simpler, and tastier, than veggies done on the grill, and with just a few tweaks and substitutions, you can have keto and low-carb Grilled Veggies with any BBQ meal.
This post may contain affiliate links. As an Amazon Associate, I earn from qualifying purchases. See Disclosures.
One of the things I love about Grilled Veggies is that you can eat them hot, eat them cold, eat them with a meal, or they can BE the meal.
You can switch up the veggies, grilling everything you can get your hands on. In fact, there are few veggies that wouldn't be delicious when grilled.
I've grilled it all, from apples to zucchini. Of course, some veggies are more keto and low-carb than others, and with this recipe, you can rest assured the carbs are under control.
HOw To Make Keto Grilled Veggies
Grilling veggies is easy: clean and cut the veggies, give them some flavor and fat, and toss 'em on the grill. Different veggies require different cooking times, but it doesn't take long to kiss them with sweet smoky goodness from the grill. Cut down on prep time with a handy mandolin – this handy device makes short work of slicing veggies.
What Kind of vEggies Should You Use?
For this recipe, I keep it simple. Zucchini, mushrooms, and bell peppers. They all take flavor really well, and they cook relatively quickly with the mushrooms taking the longest.
Other keto and low-carb friendly choices for keto grilled vegetables include cauliflower, broccoli, eggplant, summer squash, asparagus, brussels sprouts, and more.
If you're looking for green beans, brussels sprouts or other small veggies, you might want to invest in a grilling basket to help keep the little veg from falling into the grill. Grill baskets also make a terrific gift!
Get creative with your veggies, change up the flavors, and get grilling!
Oh, and here's a tip from a grilled veggie-lover – make extras, 'cause they're great for quick meals through the week!
Chef's Tips
Use fresh, firm veggies to make this keto grilled recipe. They'll hold up better under the high heat.
Play around with the spices. Go Tex-Mex with chipotle and chili powder, go Italian with oregano and basil, go French with thyme and rosemary, or amp up the garlic.
Like spice? Add some red pepper flakes to the marinade.
Mushroom caps will fill with liquid when grilling, so make sure you flip them over to drain it out.
Use long-handled tongs to move the veggies around on the grill.
What To Serve With This Keto Side Dish Recipe
While you're heating up the grill, make these tasty Lemon-Oregano Chicken Kabobs or go beefy with these flavorful Beef Kefta Kabobs.
Other tasty non-grilled options (great with leftover grilled veg) would be this Garlic & Herb Roasted Pork Tenderloin or even these Greek Meatballs.
And, if you really want to amp up the flavor, check out this African Pepper Sauce as a marinade or as a dip for your grilled veggies, or serve this dish with Instant Pot Buffalo Chicken or Armadillo Eggs with a low-carb BBQ sauce.
Do Keto Grilled Veggies Freeze?
Sadly, not very well. Veggies tend to lose a lot of their texture when frozen, which is why they are blanched quickly before freezing. This process helps protect them.
But cooked veggies, with no sauce or soup to help protect them, won't fare well in the freezing-thawing process. They'll give off a lot of liquid and be quite limp.
Step by Step Process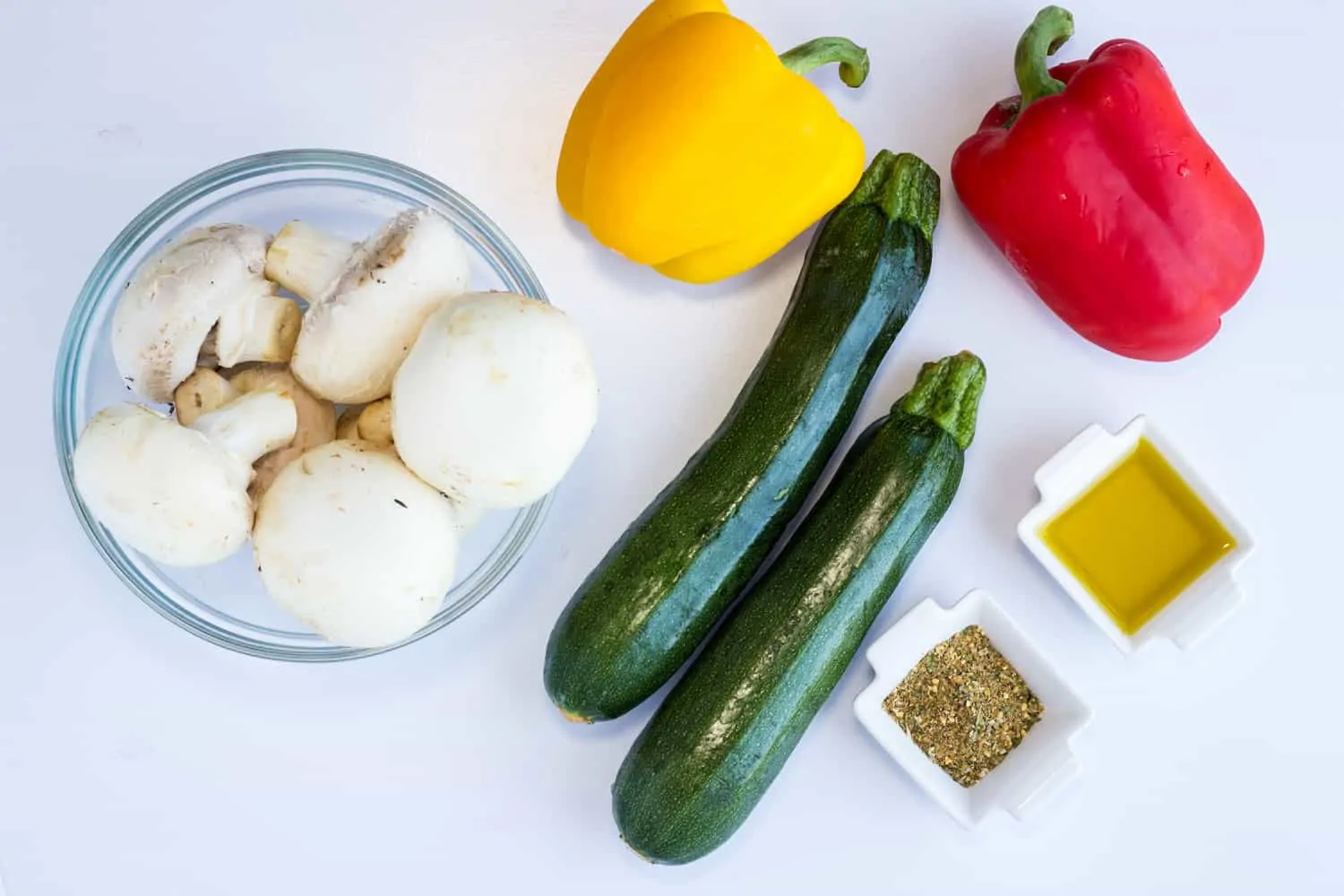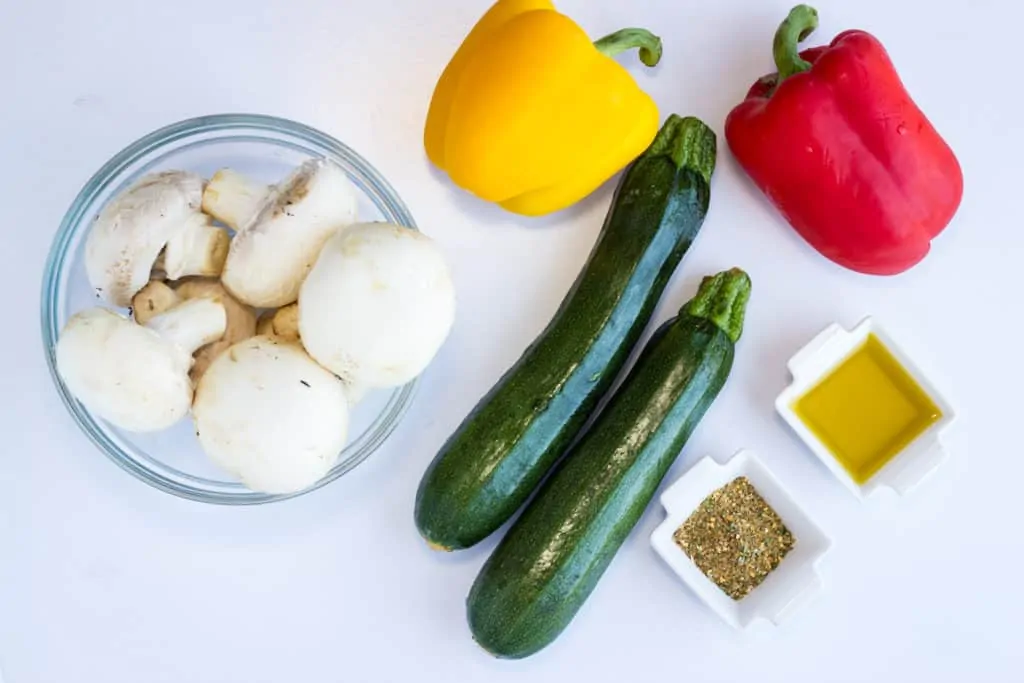 Keto/Low-Carb Grilled Veggies
Versatile and colorful, Grilled Veggies are a flavor-packed addition to any keto or low-carb diet. They're vegetarian and vegan, too!
Instructions
Wash the zucchini, cut the ends off, and slice them into planks about 1/4-inch thick.

Wash the mushrooms and remove the stem ends, if desired.

Wash the bell peppers and remove the seeds. Cut the peppers into thirds or even in halves.

Combine the oil with the dried spices. Add a pinch of salt and pepper.

Toss the veggies with the marinade and let sit while you heat the BBQ.

BBQ the veggies over a fairly hot heat. Cooking time depends on various factors including the heat of the grill, the thickness of your veggies, and how much you load your BBQ. Cook the veggies until they're tender-crisp, and serve!
Nutrition
Serving:
1
g
|
Calories:
116
kcal
|
Carbohydrates:
7
g
|
Protein:
2
g
|
Fat:
10
g
|
Saturated Fat:
1
g
|
Polyunsaturated Fat:
8
g
|
Sodium:
4
mg
|
Fiber:
2
g
|
Sugar:
3
g
|
Net Carbohydrates:
5
g
A Note on Nutritional Information
Nutritional information for this recipe is provided as a courtesy and is calculated based on available online ingredient information. It is only an approximate value. The accuracy of the nutritional information for any recipe on this site cannot be guaranteed. Erythritol carbs (sugar substitutes) are not included in the carbohydrate counts as they have been shown not to impact blood sugar, and they have zero calories and zero carbs. Net carbs are the total carbs minus fiber.