Creamy, indulgent, not too pumpkiny and really quite easy, this amazing keto Pumpkin Pie is the ONLY pumpkin pie you need on your holiday table!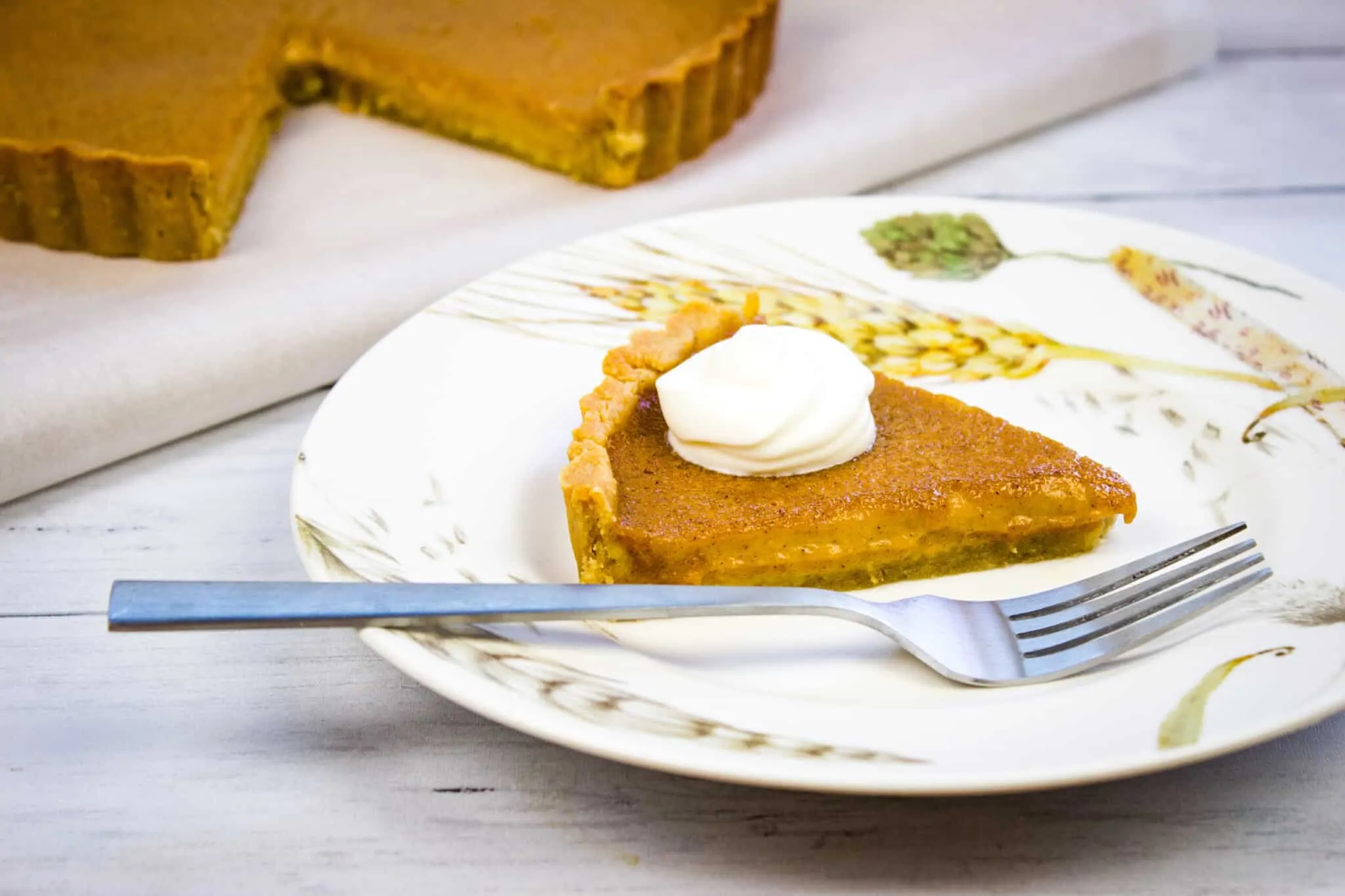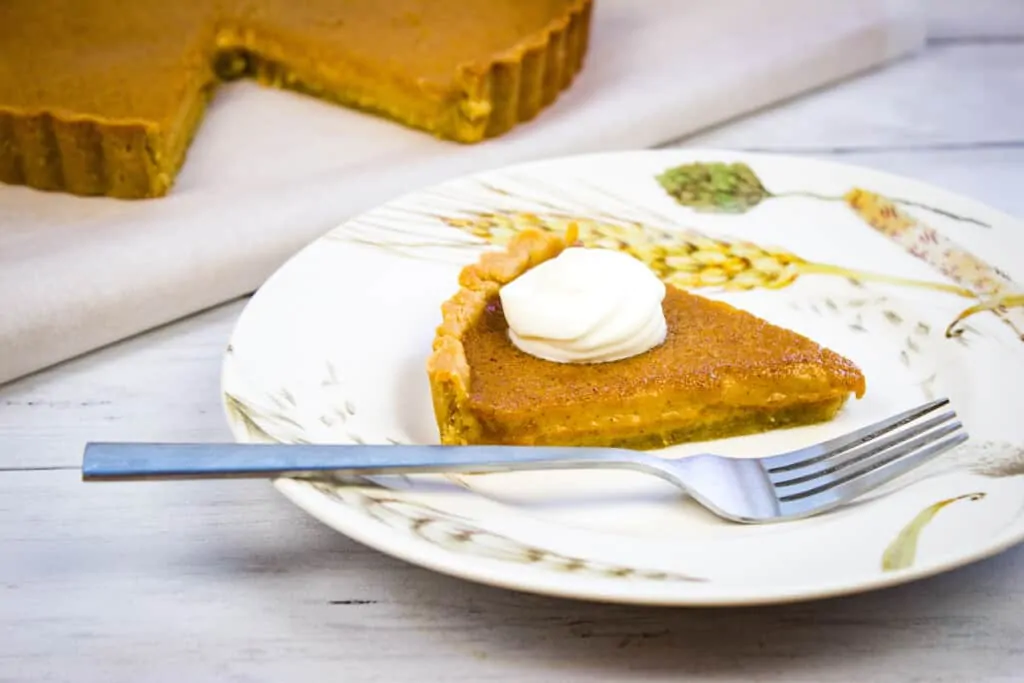 Officially called Myrt's Stellar Pumpkin Pie, this recipe has been in my husband's family for decades, eight of them to be exact. Originating in Western Canada back in the very early 40s, this recipe made its way down to Tulsa, OK where it took root as a family favorite.
It's a thick, creamy and custardy pie, with a more subtle pumpkin flavor.
I never liked pumpkin pie until I tried this one! Most other pumpkin pies are too assertive – too pumpkiny, but this one has a subtle blend of spices that makes it perfect for every holiday.
I even used this pie recipe years ago when I had my deli in Austin, TX. I sold dozens and dozens of pies each Thanksgiving and Christmas. People begged me for the recipe.
This post may contain affiliate links. As an Amazon Associate, I earn from qualifying purchases. See Disclosures.
Is Pumpkin Pie Keto?
Traditional pumpkin pies with loads of sugar and floury crusts are not keto or low-carb. But, I've transformed Myrt's Stellar Pumpkin Pie into a keto friendly version, and trust me, it's got all the flavor of the original!
Ready to make keto Pumpkin Pie? Let's get started!
What You Need To Make Keto Pumpkin Pie
Ingredients to Make This Easy PUmpkin Pie Recipe
Keto Pie Dough – this is a fail-proof recipe that makes the perfect amount for this keto pumpkin pie recipe
SoNourished granular white sugar substitute
oat fiber – don't confuse this with oat flour
eggs
heavy whipping cream
pure pumpkin – not pumpkin pie filling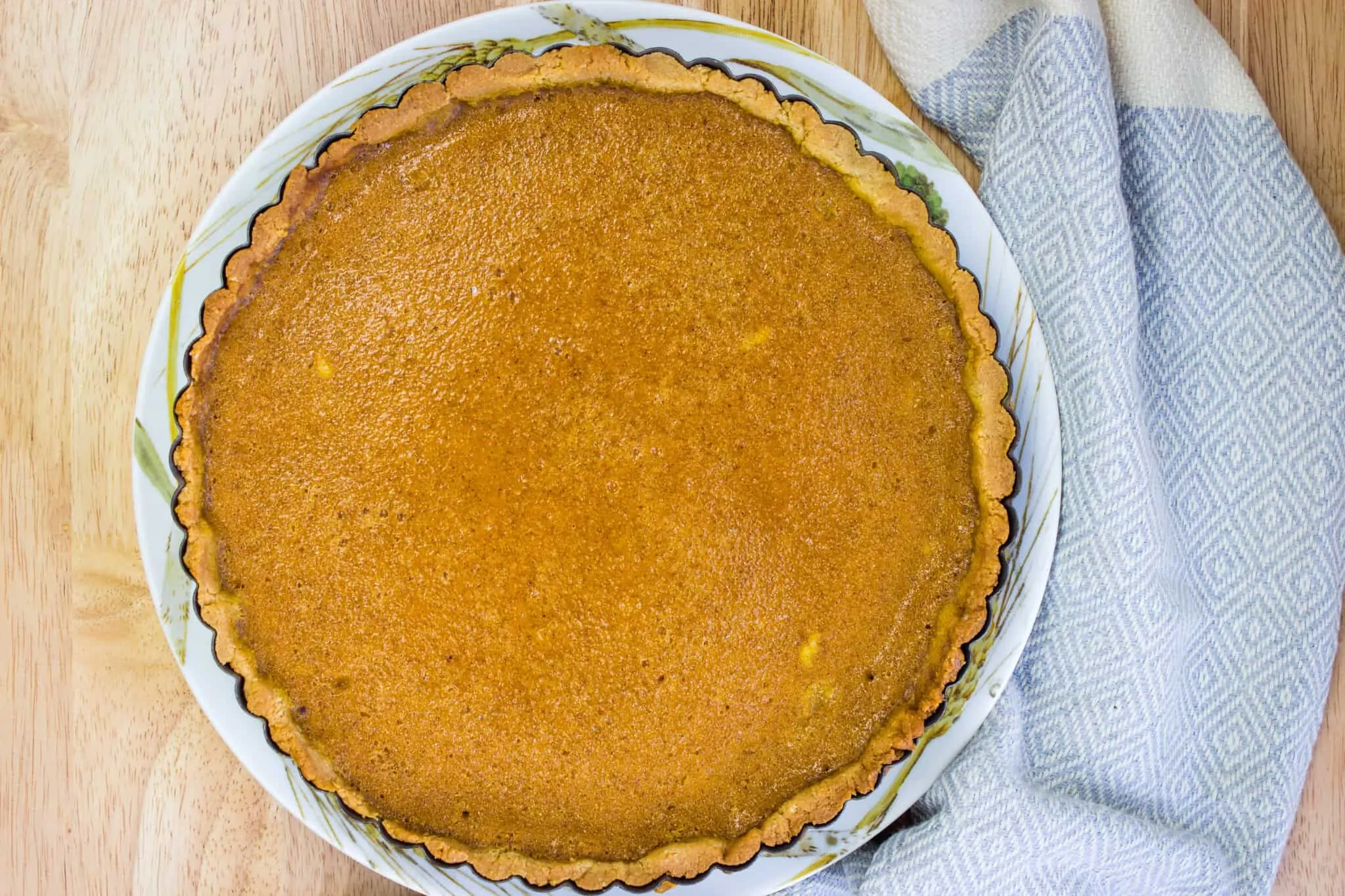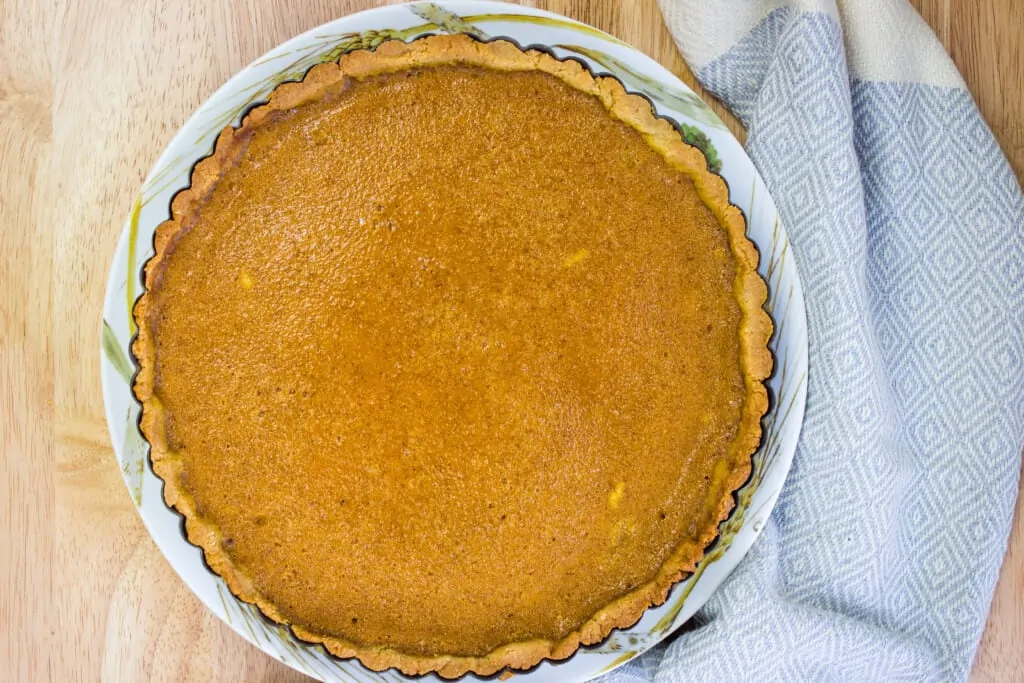 What Is Oat Fiber?
Oat fiber is a totally natural product that comes from the outside hull of the oat which is ground into a fine powder. Is oat fiber keto? It is all insoluble fiber and high in fiber which makes is a great additive to keto baked goods to offset some of the carbs. It is TOTALLY keto friendly and who on a keto diet can't do with more fiber?
Don't confuse oat flour and oat fiber. Oat fiber has just 0 net carbs which come from 3 grams of carbs per teaspoon and 3 grams of fiber. When you do the math, that comes out to ZERO net carbs.
Oat fiber is a lot more absorbent than regular flour, but in this recipe, it works just fine.
How To Make This Keto Pumpkin Pie Recipe
Start by preparing the pie dough and pressing it evenly into a pie or tart pan.
Mix the sugars, oat fiber, and dried spices together in a small mixing bowl.
Beat the eggs lightly, then add the cream, pumpkin, and vanilla. Whisk well to blend.
Combine the wet and dry ingredients and pour it gently into the pre-baked pie crust.
Bake at 325-F for 35-45 minutes or until set in the middle
How Do You Know When It is Cooked?
A pumpkin pie that is cracked in the middle is overcooked. Pumpkin pie that is still wet and liquid in the center is undercooked.
A perfectly cooked pumpkin pie will jiggle slightly in the middle when ready to take out of the oven.
If your pie starts to get too dark before it is cooked, place a sheet of foil – shiny side down – over the top of the pie to protect it.
Chef Jenn's Tips
Use fresh spices! My mother in law buys new spices each fall JUST to make this recipe. That's how important fresh spices are! Her tip is to date the spice jars with the purchase date, that way you always know how old – and stale – your spices are.
How long this keto pumpkin pie takes to cook depends on the size of your pie dish, and how cold your ingredients were to start with.
Family tradition serves this pumpkin pie with cheddar cheese, but a dollop of lightly sweetened whipped cream is my preference.
Is This Easy Pumpkin PIe Recipe Freezable?
Yes! It sure is!
Of course, it won't be quite as good as a freshly-baked pie, but I freeze leftover pie every year. To freeze it, wrap it tightly in foil and then put it in a resealable plastic bag and freeze for up to three months.
To thaw: unwrap it and let it thaw in the fridge until it is thawed.
How many carbs are in keto Pumpkin Pie?
There are 3 net carbs in the keto pie crust, and ZERO net carbs in the filling. The total for 1/8 of the pie is 3 net carbs.
Can keto Pumpkin Pie be made ahead of time?
Yes! Bake these pies the day before you want to eat them and keep them in the fridge, loosely covered with plastic wrap.
Are pumpkin pie filling and pure pumpkin the same thing?
No! Pumpkin pie filling is a pre-sweetened and spiced filling that's ready to go right onto pie crust. Please only use pure pumpkin or pumpkin puree in this recipe so you can control the spices and carbs.
Like This? ALso Try:
Step By Step Process Images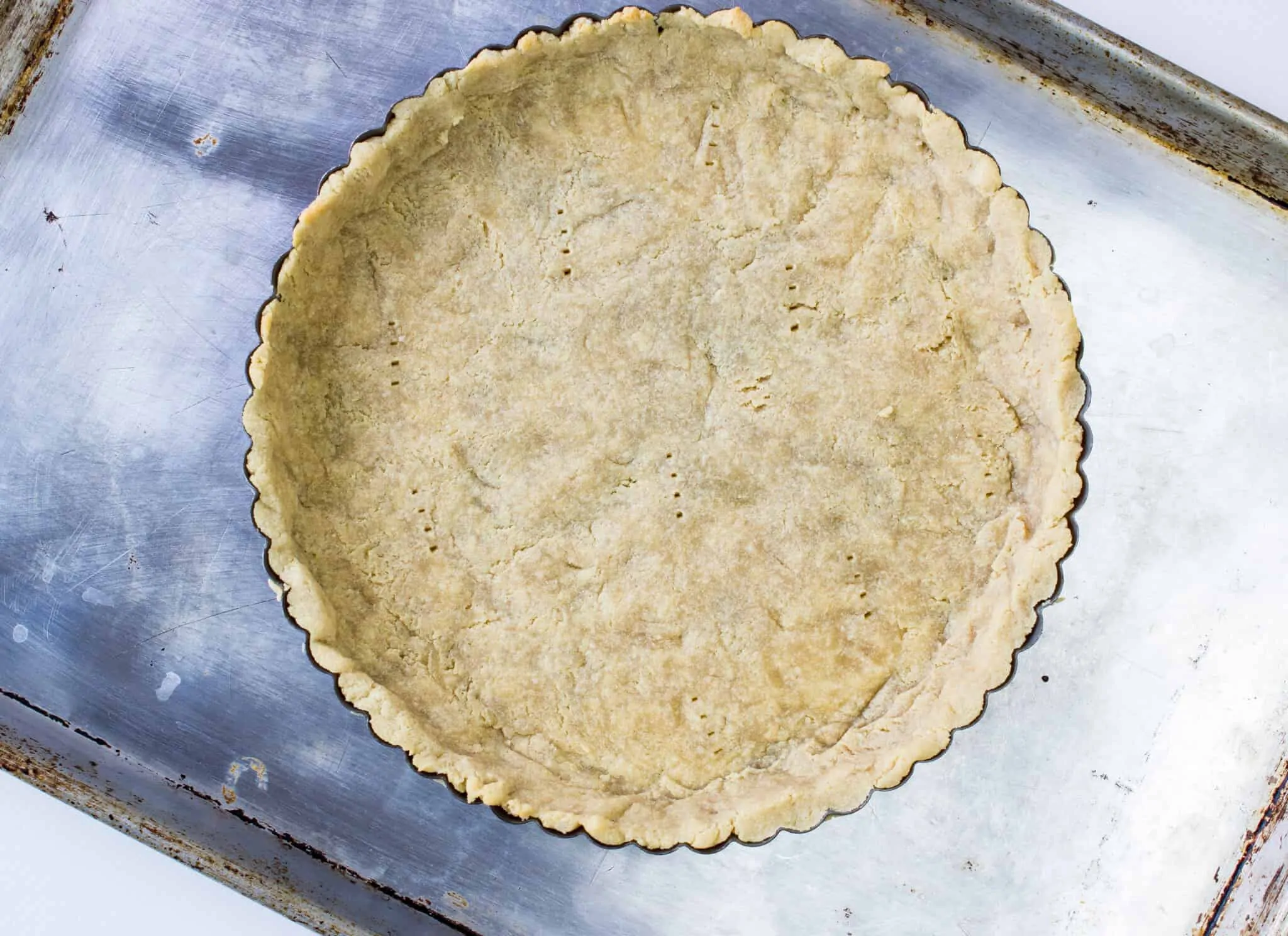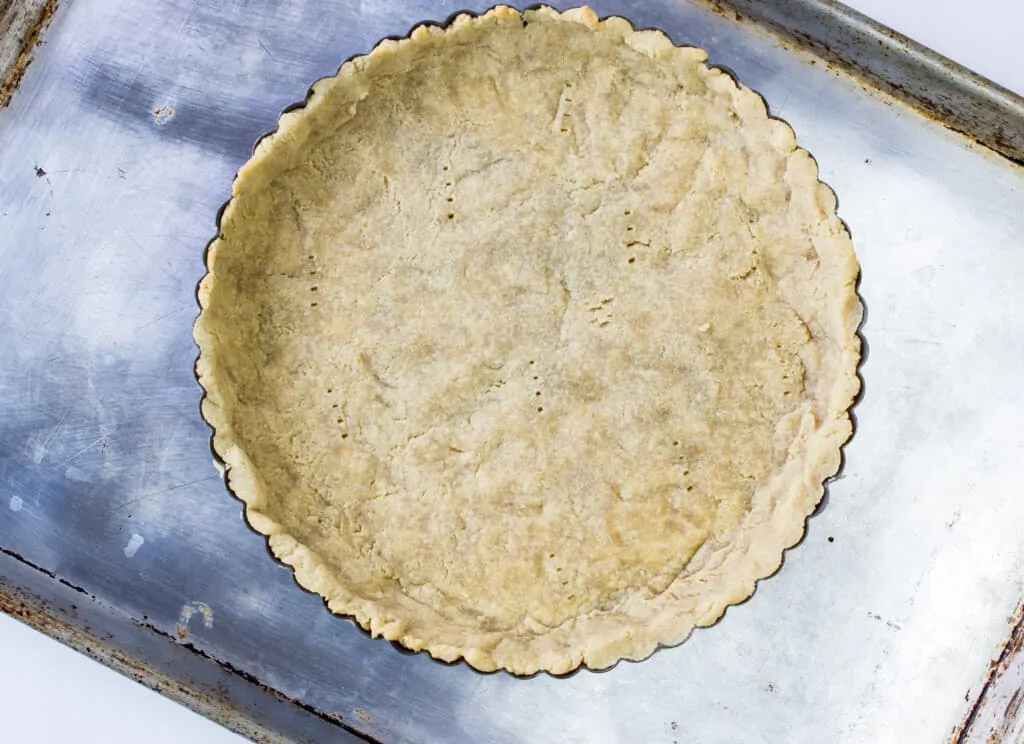 Keto Pumpkin PIe
Creamy and with all the right spices, this keto Pumpkin Pie is going to become your new favorite! Perfectly balanced and not too pumpkiny, make this for your next holiday meal!
Instructions
In a small bowl, mix the white and brown sugar substitutes, oat fiber, salt, and spices.

In a larger bowl, lightly beat the eggs then add the cream, pumpkin, and vanilla. Mix well.

Combine the wet and dry ingredients and pour into a prepared keto pie crust.

Bake at 325-F for 35-45 minutes or until set in the middle.

Let cool and enjoy!
Notes
Please note: The nutritional values for the So Nourished sugar substitute are not calculated because it adds 0 carbs and 0 calories.
Nutrition
Serving:
1
slice
|
Calories:
134
kcal
|
Carbohydrates:
3
g
|
Protein:
3
g
|
Fat:
13
g
|
Saturated Fat:
7
g
|
Cholesterol:
102
mg
|
Sodium:
181
mg
|
Potassium:
77
mg
|
Fiber:
1
g
|
Sugar:
1
g
|
Vitamin A:
2910
IU
|
Vitamin C:
1
mg
|
Calcium:
34
mg
|
Iron:
1
mg
|
Net Carbohydrates:
2
g
A Note on Nutritional Information
Nutritional information for this recipe is provided as a courtesy and is calculated based on available online ingredient information. It is only an approximate value. The accuracy of the nutritional information for any recipe on this site cannot be guaranteed. Erythritol carbs (sugar substitutes) are not included in the carbohydrate counts as they have been shown not to impact blood sugar, and they have zero calories and zero carbs. Net carbs are the total carbs minus fiber.
More Keto HOliday Recipes?