If you don't have hours and hours to simmer a corned beef then this Instant Pot Keto Corned Beef & Cabbage dish is for you! Made much more easily in your IP, you can get amazing tenderness and flavor in a fraction of the time!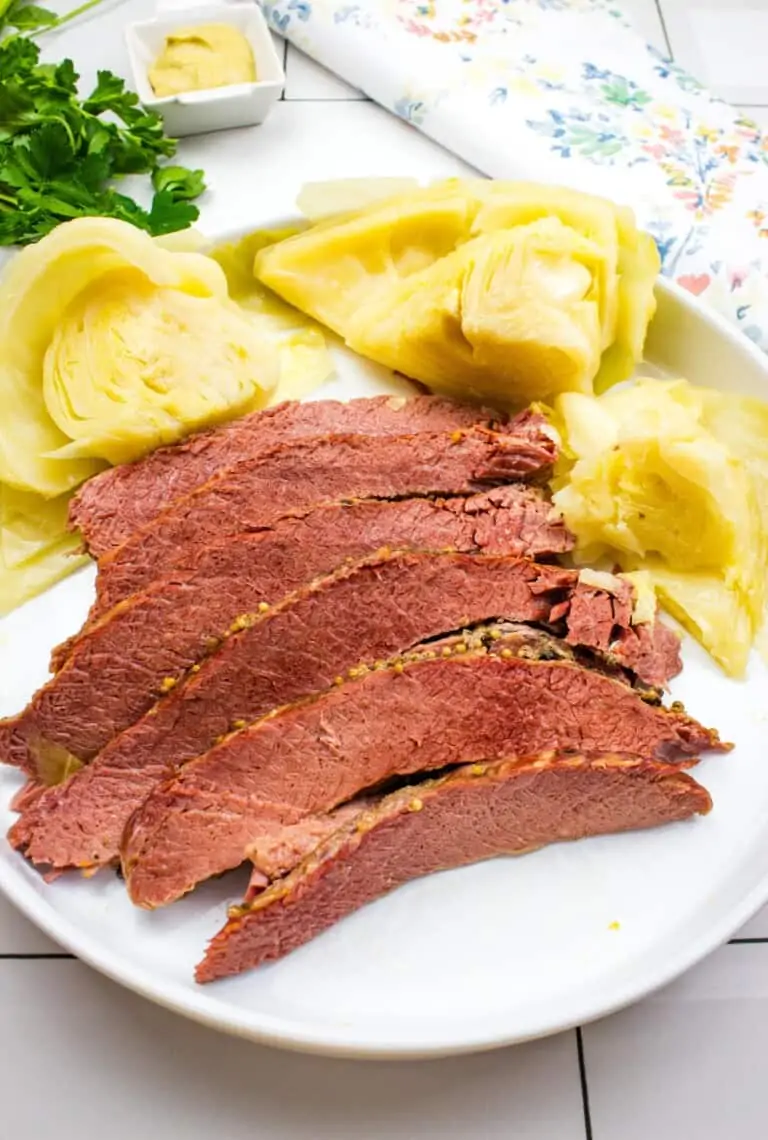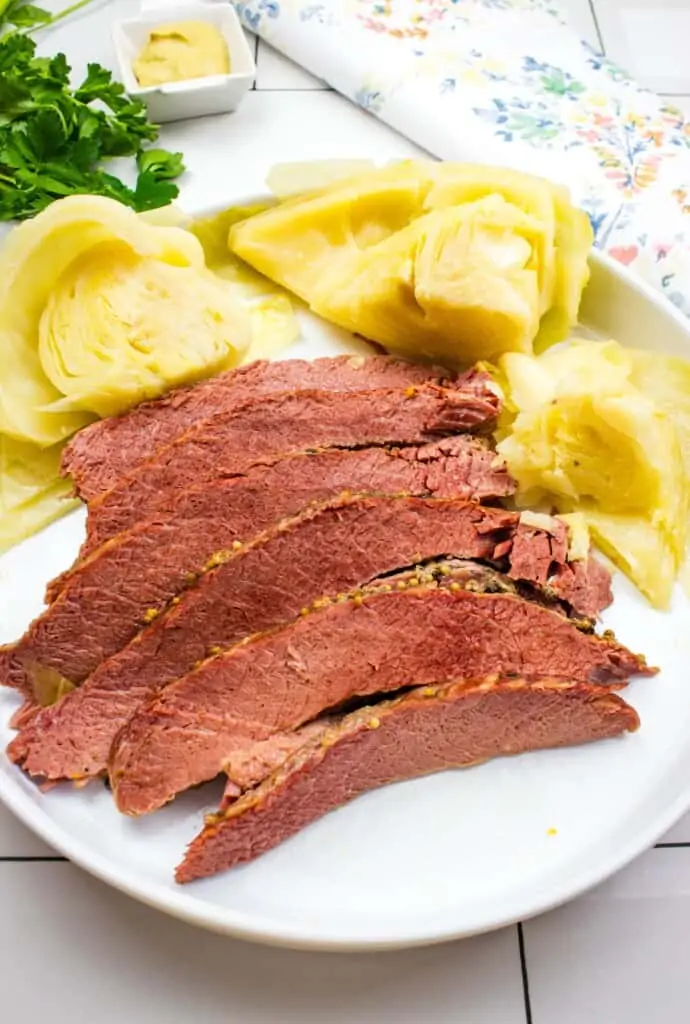 Corned beef and cabbage is a perfect flavor combination, but if you've ever had trouble getting the corned beef tender without overcooking the cabbage, or if you don't have time to wait all day for your corned beef to tenderize, then this recipe is for you! Hungry? Read on and I, Chef Jenn, will show you all my tips and tricks to make this amazing keto corned beef recipe.
This post may contain affiliate links. As an Amazon Associate, I earn from qualifying purchases. See Disclosures.
What You Need To Make Instant Pot Corned Beef and Cabbage Keto
An Instant Pot – any model with the meat setting will do, but bigger is better when it comes to this recipe.
Raw corned beef brisket – about 2.5 pounds is sufficient for a hearty meal for four with a few leftovers
Cabbage
Water
Onion
Garlic
What is Corned Beef?
Corned beef is basically pickled beef. The brisket is used – a tough cut of meat that needs to be cooked low and slow to tenderize – and it is submerged in a salty brine that adds plenty of flavor and that helps to tenderize the meat.
Why is corned Beef Red?
Corned beef is red because of the addition of nitrates that not only preserve the color but add some flavor as well.
Is Corned Beef Keto?
Cabbage is keto and pairs so nicely with this dish, but is corned beef keto? Yes! It is! Unless you're specifically trying to avoid nitrates, corned beef is a tasty addition to any keto diet.
How to Make This Keto Corned Beef Recipe
Slide the corned beef out of the bag. Look for a little packet of seasoning – sometimes those are included.
Put the trivet into the IP. Your corned beef will sit on the trivet so it won't burn on the bottom.
Pop the corned beef and any juices from the bag into the Instant Pot. If there's a seasoning packet, open it and add the spices.
Add 6 cups of water to the Instant Pot and set it on "meat" for 90 minutes.
After the time is up, you can release the pressure. Remove the meat and set it to the side to rest. Cover it with foil to keep it warm. Leave the cooking liquid in the IP.
Add the cored and quartered cabbage to the liquid you cooked the corned beef in in the IP. Set it to "meat" for another 5 minutes.
Quick release after the time is up and remove the cabbage. Serve and enjoy!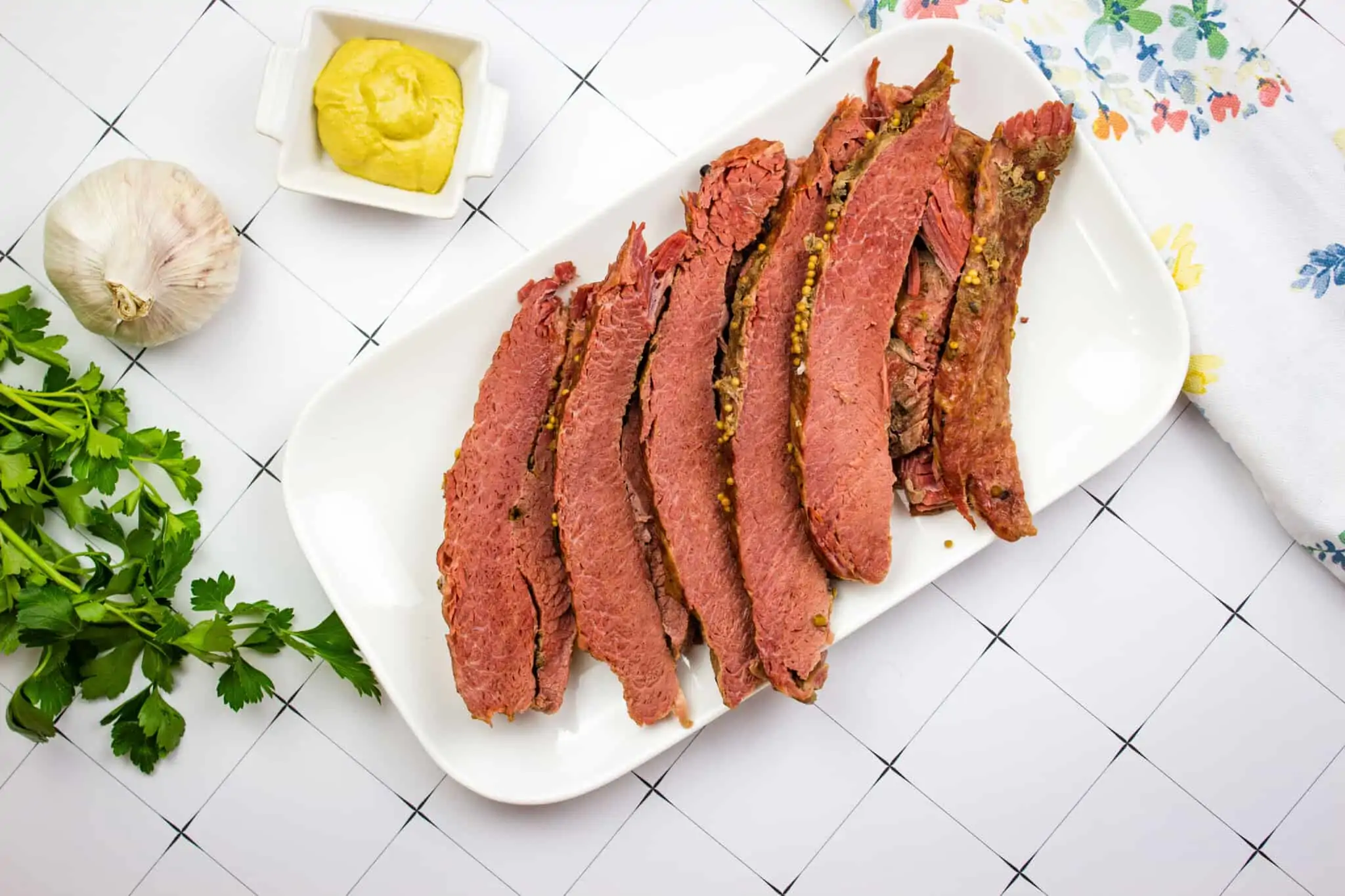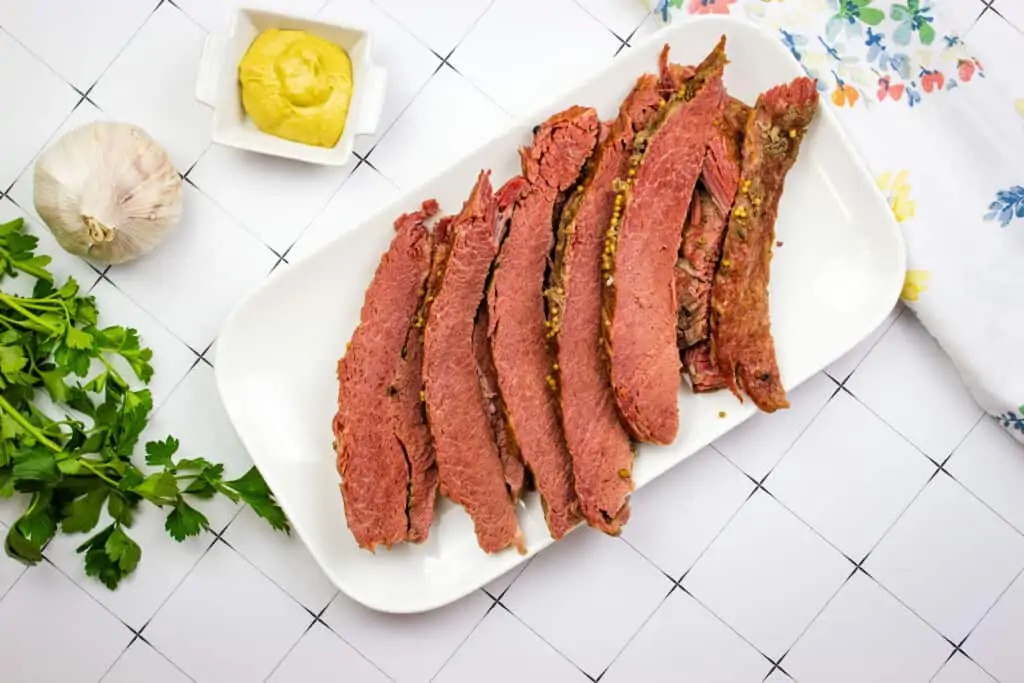 How Long Does it Take To Make Corned Beef in Instant Pot?
As quick and efficient as the IP is, you are still going to need a few hours. It'll take about 30 minutes for the corned beef to come to pressure, along with the 90 minute cooking time. For the cabbage, another 20 minutes to come to pressure, and 5 minutes of cooking time. Add another 20 minutes for releasing pressure.
All in all, you're looking at about 3 hours but that's still much faster than the 6 hours it'd take in a slow cooker set on high.
Chef Jenn's Tips
Bigger is better when it comes to corned beef! You might think a 2-3 pound corned beef is a lot, but it shrinks during the cooking process. And, the leftovers are sooo good!
Make sure you allow enough time for coming to pressure and to release pressure. Don't rush it – you can't make it cook any faster and by shaving time off the cooking process, you risk having a tough and chewy corned beef.
For the cabbage, cut it into wedges, 6 or 8 of them, and remove the core to help it cook faster.
There's enough residual salt in the water from the corned beef that you don't need to add more salt when cooking the cabbage.
Green cabbage is the way to go with this dish
What To Serve With This Dish
Serve this Instant Pot Corned Beef recipe with a good-quality mustard and you're all set! If you need more veggies, opt for a green salad topped with Ranch or Green Goddess Dressing.
Is This Dish Freezer Friendly?
Yes AND no.
You can freeze the cooked corned beef – I'd package it along with some of the chilled cooking liquid and freeze for up to three months. Thaw it and reheat it.
However, the cooked cabbage won't fare so well through the freezing and thawing process. Serve the leftover corned beef with a cabbage dish like this Skillet Cabbage with Bacon and Garlic, instead.
Frequently Asked Questions
Is corned beef and cabbage keto?
Heck ya! There is 1 net carbs per hefty serving of this delish dish. You don't eat the onion or garlic that's added as flavor to the cooking liquid.
Is cabbage keto?
Heck ya! Check out the 411 on cabbage in this post.
Do you rinse corned beef before cooking?
Nooo – there could be bits of pickling spice stuck to it that'll help flavor the corned beef as it cooks, and the brining liquid is full of flavor.
Like this? Also try:
step By Step Process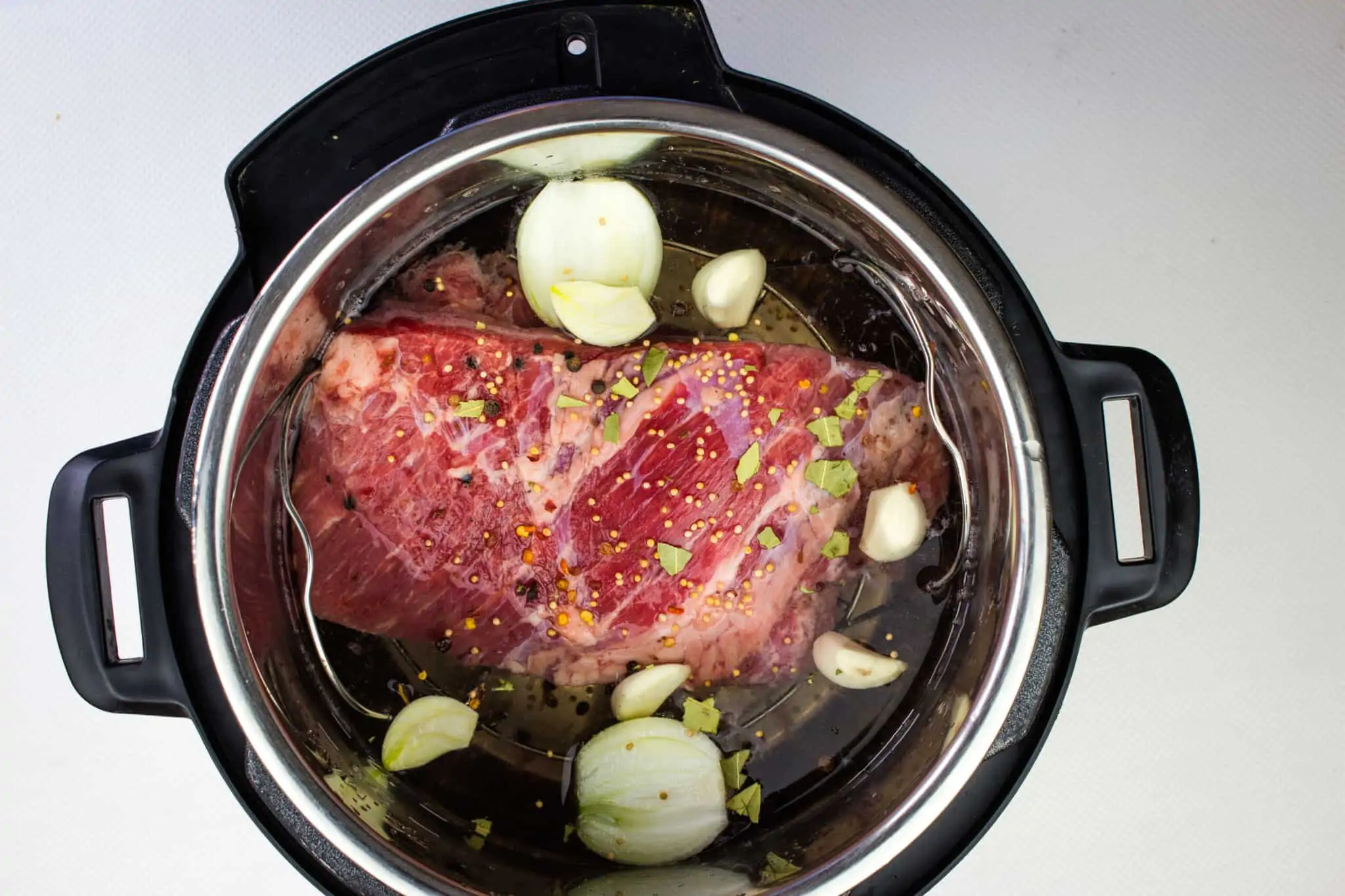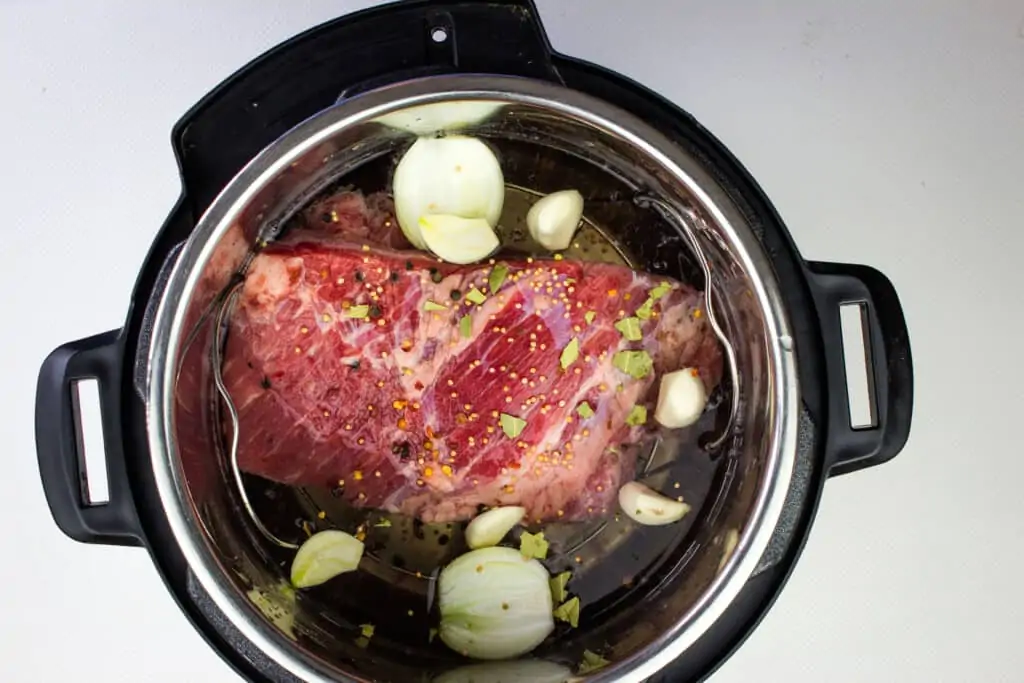 Corned Beef & Cabbage (Keto, Instant Pot)
Tender and juicy and full of outstanding flavor, keto Corned Beef & Cabbage is an easier meal when you make it in the Instant Pot!
Ingredients
2.5

pounds

corned beef brisket

1/2

head

cabbage

1/2

onion

2

cloves

garlic
Instructions
Remove the corned beef from the package. Do not rinse the corned beef. Add it and any juices from the bag to an Instant Pot with the trivet inside. If there's a spice packet with the corned beef, add it to the pot, too.

Add 6 cups of tap water to the pot with the corned beef.

Set the Instant Pot to the "meat" setting and set the timer to 90 minutes. After the time is up, manual release and set the corned beef on a platter, covered. Do not drain or throw out the cooking liquid.

Wedge the cabbage and remove the core. Add the cabbage wedges to the cooking liquid in the Instant Pot, along with the onion and garlic.

Set the IP to "meat" and the timer for 5 minutes. Manual release when the time is up. Remove the cabbage and discard the onion and garlic. Drain the cabbage.

Slice the corned beef against the grain and serve with hot, buttered cabbage!
Nutrition
Serving:
2
slices meat, 1 cup cooked cabbage
|
Calories:
376
kcal
|
Carbohydrates:
1
g
|
Protein:
28
g
|
Fat:
28
g
|
Saturated Fat:
9
g
|
Cholesterol:
102
mg
|
Sodium:
2300
mg
|
Potassium:
565
mg
|
Fiber:
1
g
|
Sugar:
1
g
|
Vitamin A:
1
IU
|
Vitamin C:
51
mg
|
Calcium:
15
mg
|
Iron:
3
mg
A Note on Nutritional Information
Nutritional information for this recipe is provided as a courtesy and is calculated based on available online ingredient information. It is only an approximate value. The accuracy of the nutritional information for any recipe on this site cannot be guaranteed. Erythritol carbs (sugar substitutes) are not included in the carbohydrate counts as they have been shown not to impact blood sugar, and they have zero calories and zero carbs. Net carbs are the total carbs minus fiber.
Want even More Keto Yumminess?
Check out these tasty dishes:
And if you're having trouble counting carbs, this net carb calculator can help!