Are radishes keto? You bet they are! Just 1/2 cup of radishes contains only 1 gram of net carbs, making them the perfect low-carb veggie to add to your keto lifestyle. Read on for tips, tricks, recipes, and more, and make radishes a part of your day!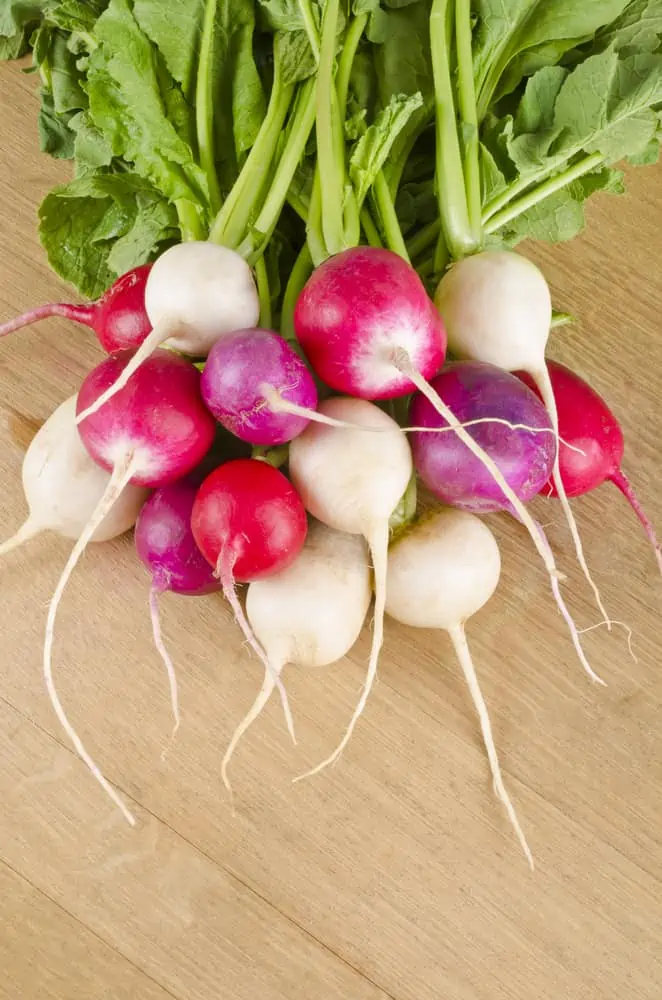 Radishes are an excellent low-carbohydrate food option for people following a ketogenic diet. One cup of sliced radishes contains only 3 grams of net carbs, making them a great addition to any meal or snack. Radishes are also a good source of fiber and vitamins A, C, and K.
There are many ways to enjoy radishes on a keto diet. They can be eaten raw, roasted, or sautéed. They also make a great addition to salads and other dishes. When adding radishes to your diet, be sure to track your intake of net carbs to ensure you stay within your daily allotment.
This post may contain affiliate links. As an Amazon Associate, I earn from qualifying purchases. See Disclosures.
Different Kinds of Radishes
If you want to add variety to your keto diet, look no further than radishes! These little veggies are low in carbs and calories, making them a perfect addition to any meal. Plus, they come in various colors and sizes, so you can find the perfect one for your taste. Here are a few different kinds of radishes to try:
Red Radishes: These radishes are the most common type that you'll find at the grocery store. They have a crisp texture and a slightly peppery flavor that pairs well with salads or roasted vegetables.
Black Radishes: Black radishes are slightly sweeter than red ones, with a milder flavor that's perfect for adding to stir-fries or soups. They also have a higher fiber content, which can help keep you feeling full and satisfied.
Watermelon radish: This unique veggie looks like a watermelon but has white or green flesh with a milder flavor.
Daikon radish: Often used in Asian cuisine, they have white flesh and a mild, slightly sweet flavor. Daikon radishes can be eaten raw or cooked and are often used as a garnish or in salads.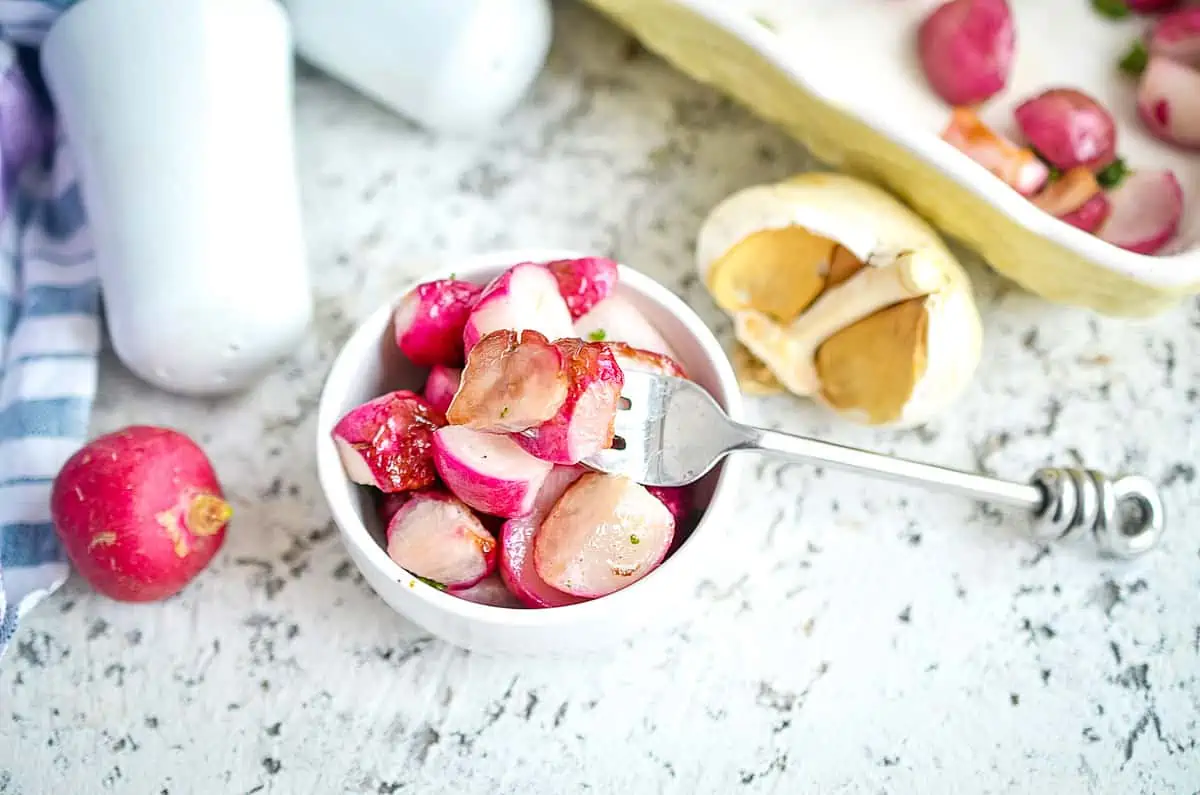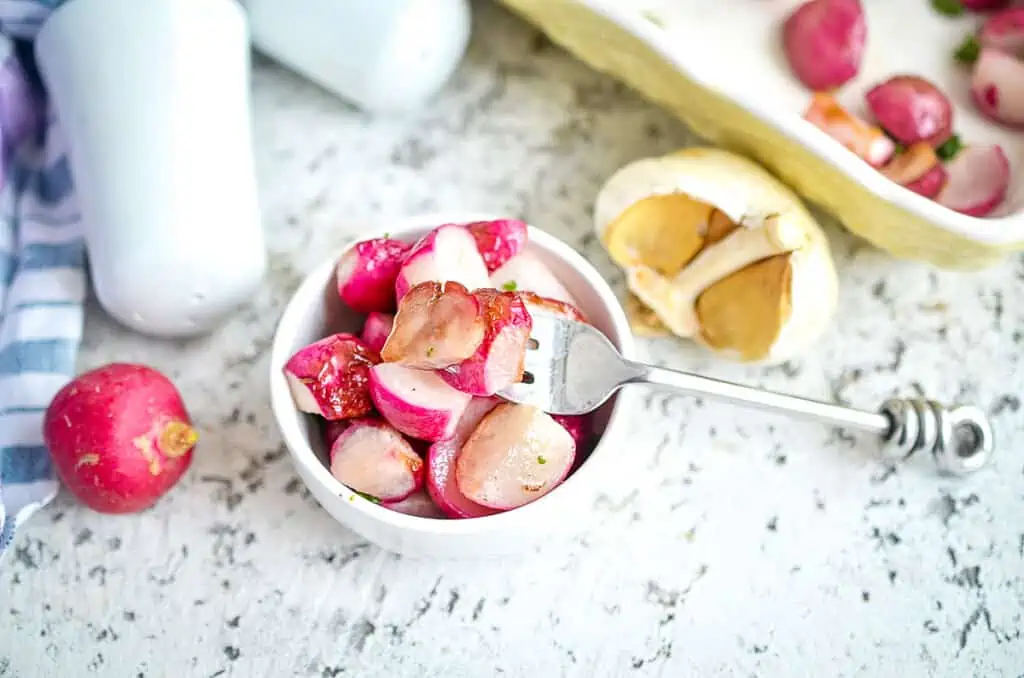 Can You Eat Radish Greens?
Sure, you can eat radish greens! In fact, they're quite delicious – and good for you, too. Radish greens are packed with nutrients like vitamins A, C, and K, as well as calcium and iron. They're also a great source of fiber and are low in net carbs. They can be eaten raw or cooked; add them to salads, soups, stews, and more!
Keto Radish Recipes
I love Sauteed Radishes with Bacon, Roasted Radishes, and adding them to salads. Also add them to Beef Stew, veggie soups, and more! You'll also find them inside meal prep snack ideas.
What Do Radishes Taste Like?
Radishes are root vegetables that have a sharp, peppery flavor. They are often used in salads or as a garnish but can also be cooked and used in other dishes. Radishes vary in size, shape, and color, but they all have a crispy texture and a slightly sweet taste. Cooked radishes lose their peppery bite and are best eaten tender-crisp.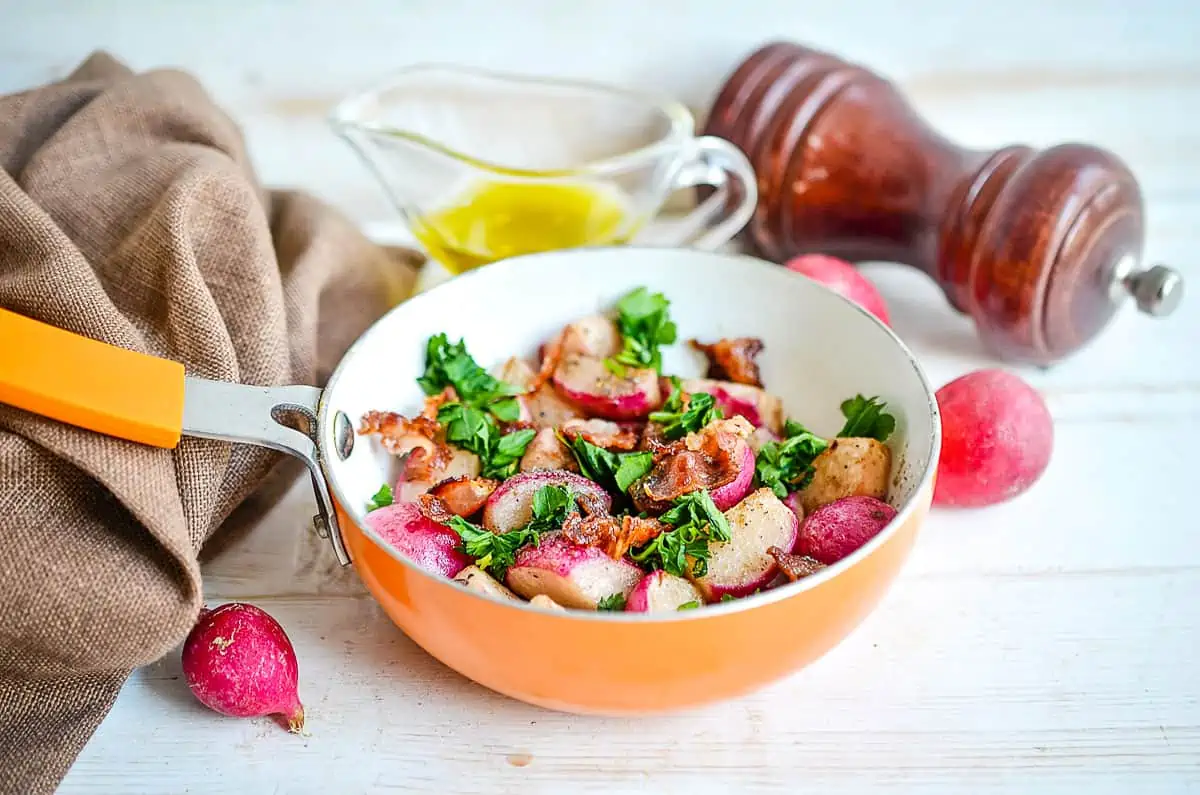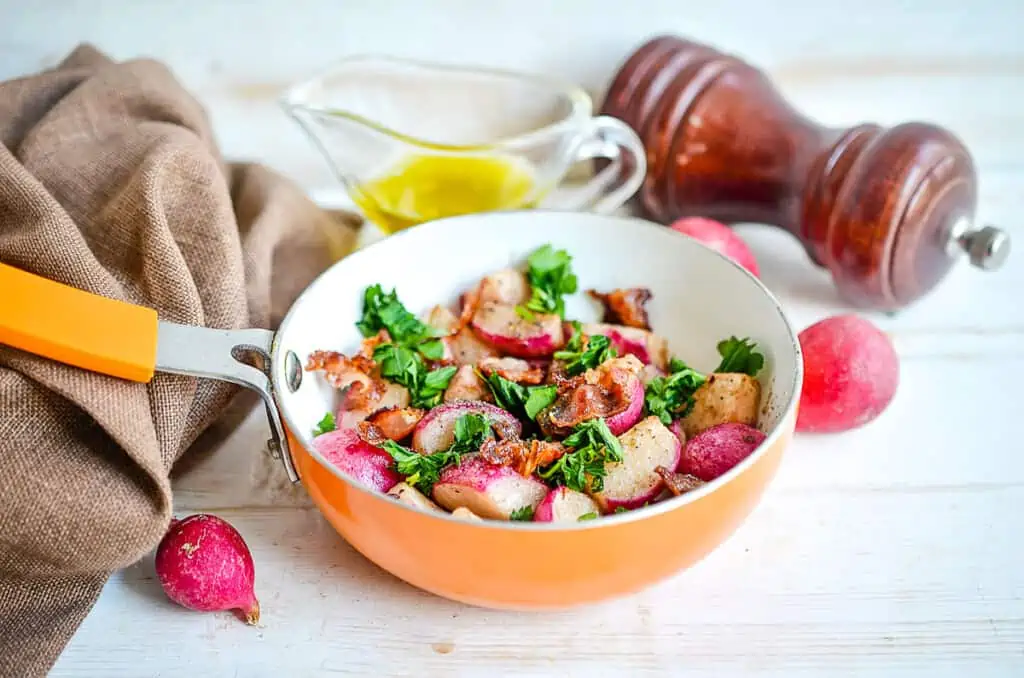 Storage
To store radishes, place them in a plastic bag with the stems trimmed off. Place the bag in the crisper drawer of your refrigerator. Radishes will last up to two weeks stored this way.
If you plan to use radishes within a few days, you can store them in a jar or container of water in the refrigerator. Change the water every few days to keep the radishes fresh. Radishes stored this way will only last for about one week.
What To Serve With Cooked Radishes
You can treat your cooked radishes just like any other side dish and pair them with any number of sides. I love this Ninja Foodi Hunters Chicken, but you could also serve them as a side dish with more elaborate meals. Just about anything goes!
Recommended
Also Read: