Few things are as delicious as a velvety bowlful of keto Cream of Asparagus Soup. I've mastered the art of making this soup. With a bright color and luscious flavor, this is a top pick for all asparagus lovers. Hungry? Read on and I, Chef Jenn, will show you my time-tested and proven tips and tricks to make this soup perfectly each time.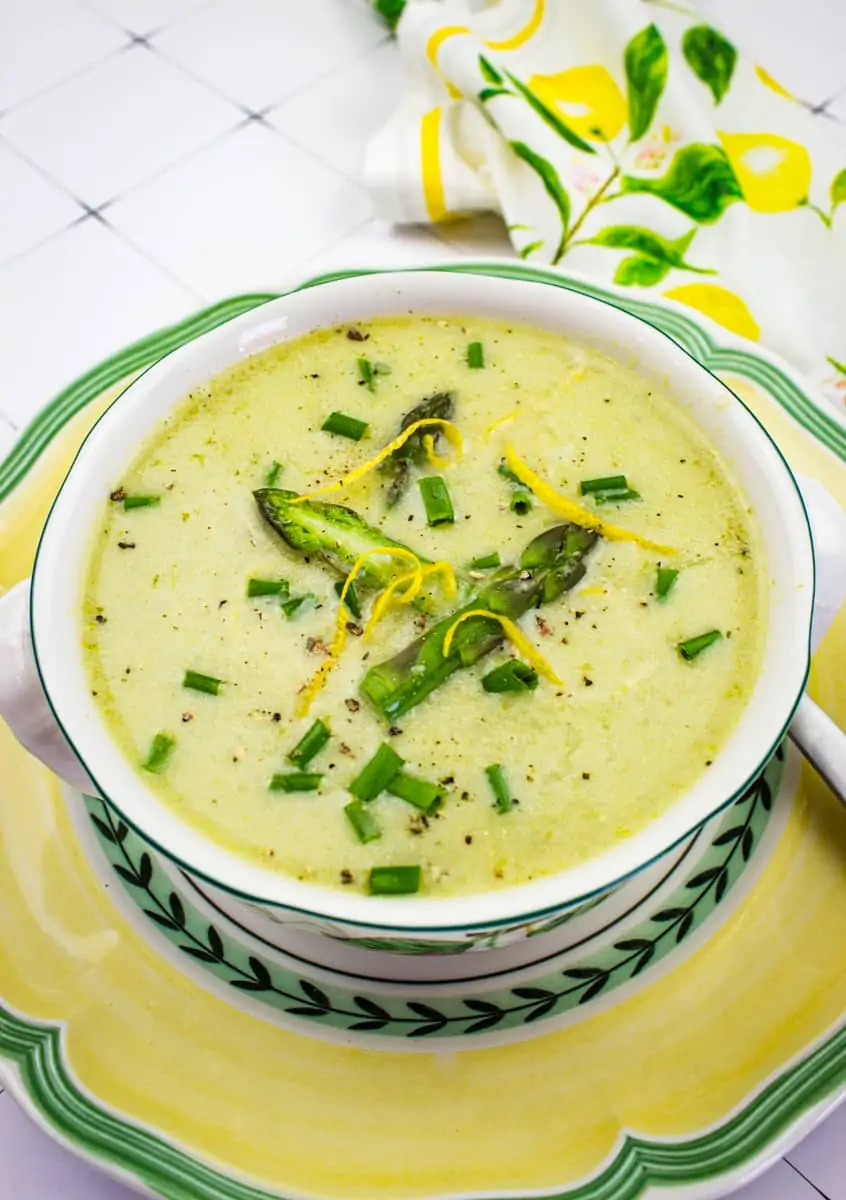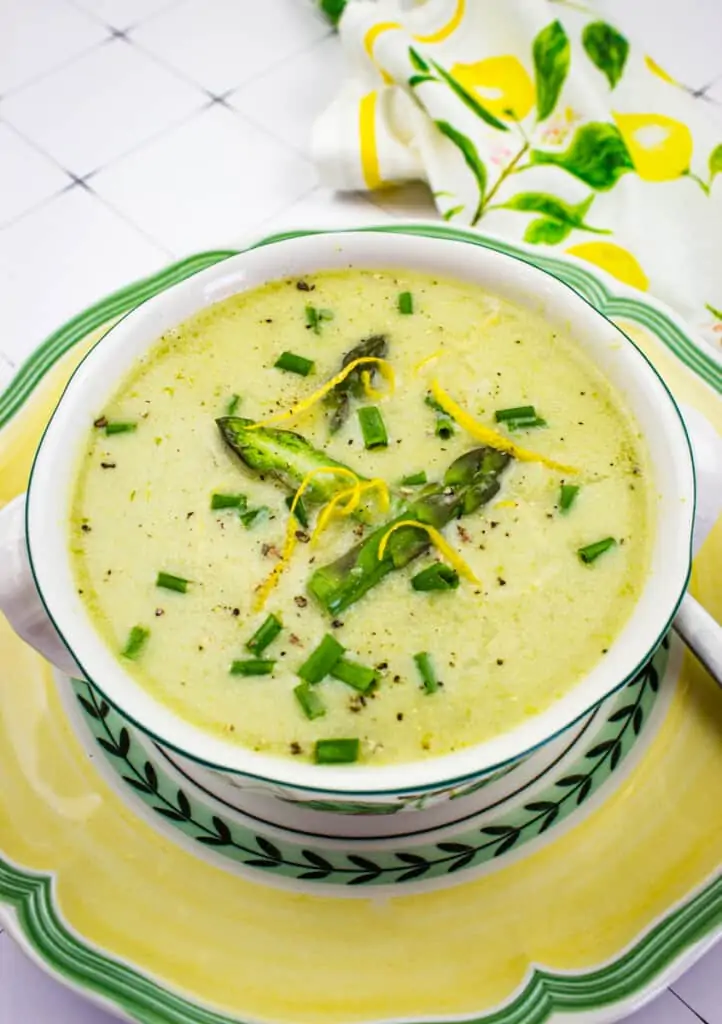 Asparagus soup is soooo easy to get wrong. It can be the color of dishwater, it can lack flavor, and it can be boring and bland. This soup was my nemesis for YEARS! Yes, even professional chefs can have problem dishes, and this was mine. Until I bought a big pile of asparagus from the farmers market and locked myself into the kitchen to master the art of Cream of Asparagus Soup.
What You Need To Make Keto Cream of Asparagus Soup
Medium-size soup pot
Asparagus – fresh is essential
Shallots
Garlic – fresh is best
Butter – I use salted butter
Chicken broth
Dried thyme
Heavy Whipping Cream
Salt
Ground white pepper
Lemon juice
Xanthan gum (optional)
How To Buy Asparagus
Asparagus is usually sold in bundles. Look for bundles of asparagus that are about the same thickness. Thicker or thinner it doesn't matter. Thinner asparagus isn't any better or worse, younger or older, than thicker asparagus.
What's more important is to look for bright green asparagus that isn't wilted. The brushy tops should be firmly closed and not slimy (the tips always rot before the stems).
Also look for asparagus that doesn't have a significant amount of white or grey toward the cut end. You're paying by the pound, and usually the whiteish ends are discarded. We're going to use them in this soup, but it's good to look for maximum green when buying asparagus.
How To Clean Asparagus
Asparagus grows up from under the dirt, so those brushy tips can get full of dirt. Buying asparagus with firmly closed tips is going to save you some trouble with grit, but you still need to wash the asparagus spears thoroughly to remove any sand. Nothing will ruin your soup faster than getting grit into it.
After snapping the ends off the asparagus (save them for this soup recipe!), hold the spears under running water, brushy tip up. The force of the water should dislodge most of the sand. But wait, there's another step!
Fill a large bowl or pot with enough water that the asparagus are floating at the top with at least an inch of water between them and the bottom of the bowl. Swish that asparagus around for a minute. Let the water settle. Now reach into the bowl and feel the bottom of the bowl for any sediment. If you feel grit, your asparagus could probably do with more running water.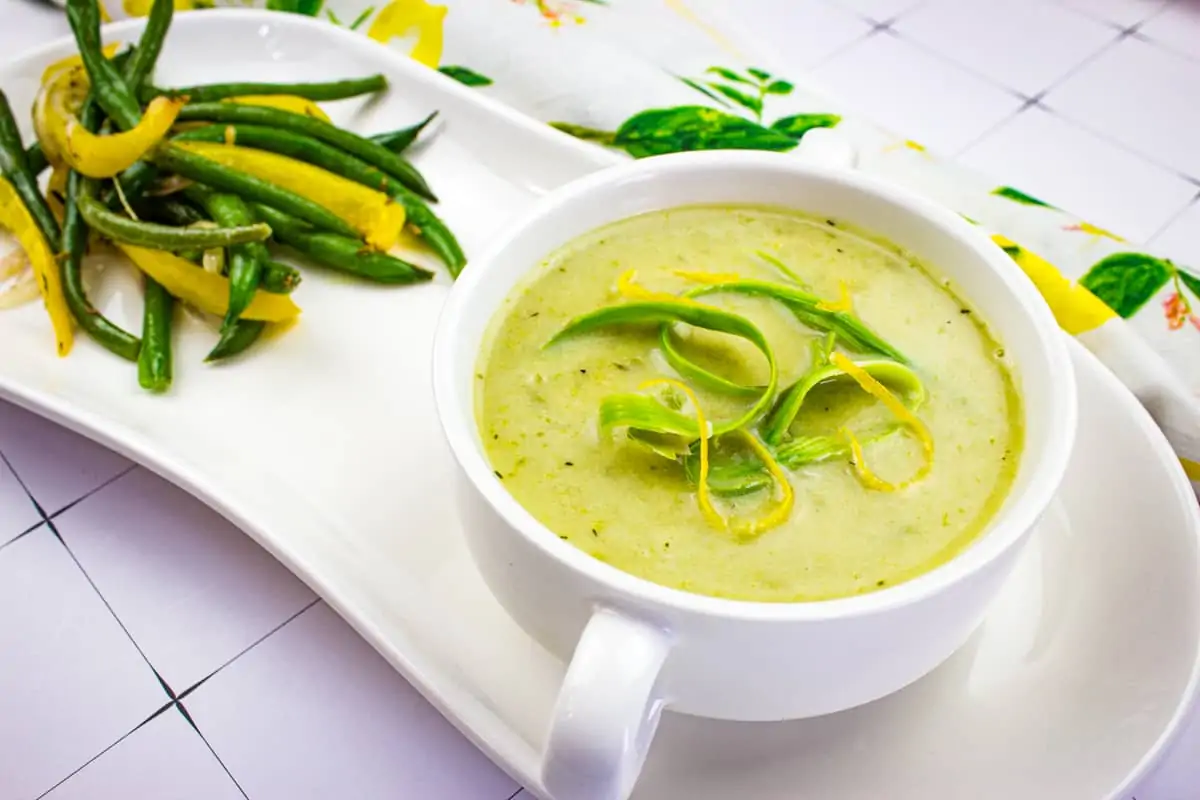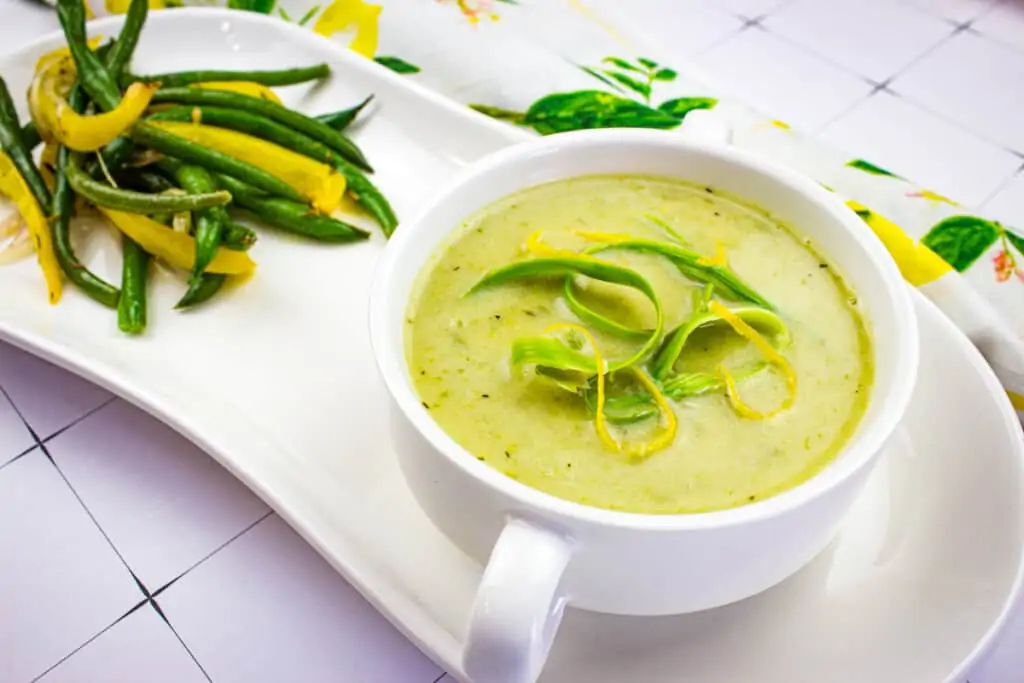 How To Make Keto Asparagus Soup
Make a broth with the asparagus ends and shallot. Cover and simmer for about 30 minutes. Then, remove the lid and turn up the heat, allowing the broth to boil and reduce by about half. When reduced, pull the stalks and shallot out of the pot and discard. This super-concentrated asparagus broth is going to be the main flavor component of your soup.
Melt the butter in a skillet over medium-high heat. Add the garlic and sliced shallot and cook for 2-3 minutes until the shallots are translucent but not brown. Scrape all this buttery goodness into the soup pot.
Add the chicken broth, all but 1/4 cup of 1-inch long asparagus tips, and the dried thyme to the pot and bring to a simmer. Simmer for about 12-15 minutes or until the asparagus is super-soft.
Use an immersion blender to puree this mixture, and when smooth, whisk in the cream and lemon juice. Season with salt and pepper and bring it back up to a boil then serve.
Garnish with fresh chives and some of the reserved blanched asparagus tips.
How to Thicken Your Cream of Asparagus Soup
If you don't mind an extra carb or two, thicken your soup with a cornstarch slurry. This is a combination of 2 tbsp of cornstarch mixed with 2 tbsp of water. Whisk this into the soup before adding the cream, and bring it to a boil to fully thicken.
Or, use 1/2 tsp of xanthan gum. Whisk it in after the heat is turned off. You'll need to let your soup sit for 3-4 minutes to fully thicken. Xanthan gum takes a few minutes to reach its full thickening potential. Resist the urge to add more!
Chef Jenn's Tips
Save snapped off asparagus tips from other meals to make this soup. Just wash them and pop them into a freezer bag and keep them until you're ready to make soup.
Saving a few asparagus tips for a garnish makes a pretty finish. Blanch the tips (bring water to a boil then drop in the tips and boil for 1 minute then remove and chill), and add them at the end before serving.
Make this soup vegetarian by swapping the chicken broth for vegetable broth.
How to make asparagus soup with no cream? Make this soup dairy-free by using olive oil instead of butter, and by adding almond milk instead of cream at the end.
What To Serve With Keto Asparagus Soup
There's nothing quite like a Crispy Chaffle in place of bread with a scratch-made soup, and if you need to jazz up your meal even more, why not pair this easy keto soup recipe with a French Dip Chaffwich or a scoop full of your favorite leftover casserole. This Pizza Casserole fits that description nicely! Don't forget about dessert – this keto Chocolate Pie is always terrific!
Is Keto Asparagus Soup Freezer Friendly?
Yes! You can freeze this soup. Simply chill it thoroughly in the fridge, then package it in air-tight containers or plastic bags and freeze for up to a month.
My favorite way to freeze saucy and soupy recipes is by using Souper Cubes! These amazing freezer-safe cubes are perfect for freezing portions of all my favorite soups, stews, and other saucy meals. I freeze them then pop them out and put the rectangular frozen blocks into a zipper-top freezer bag. It makes storing them SOOOO much easier!
Where can you find these Soup Cubes? You can order them from Souper Cubes – how cool is this?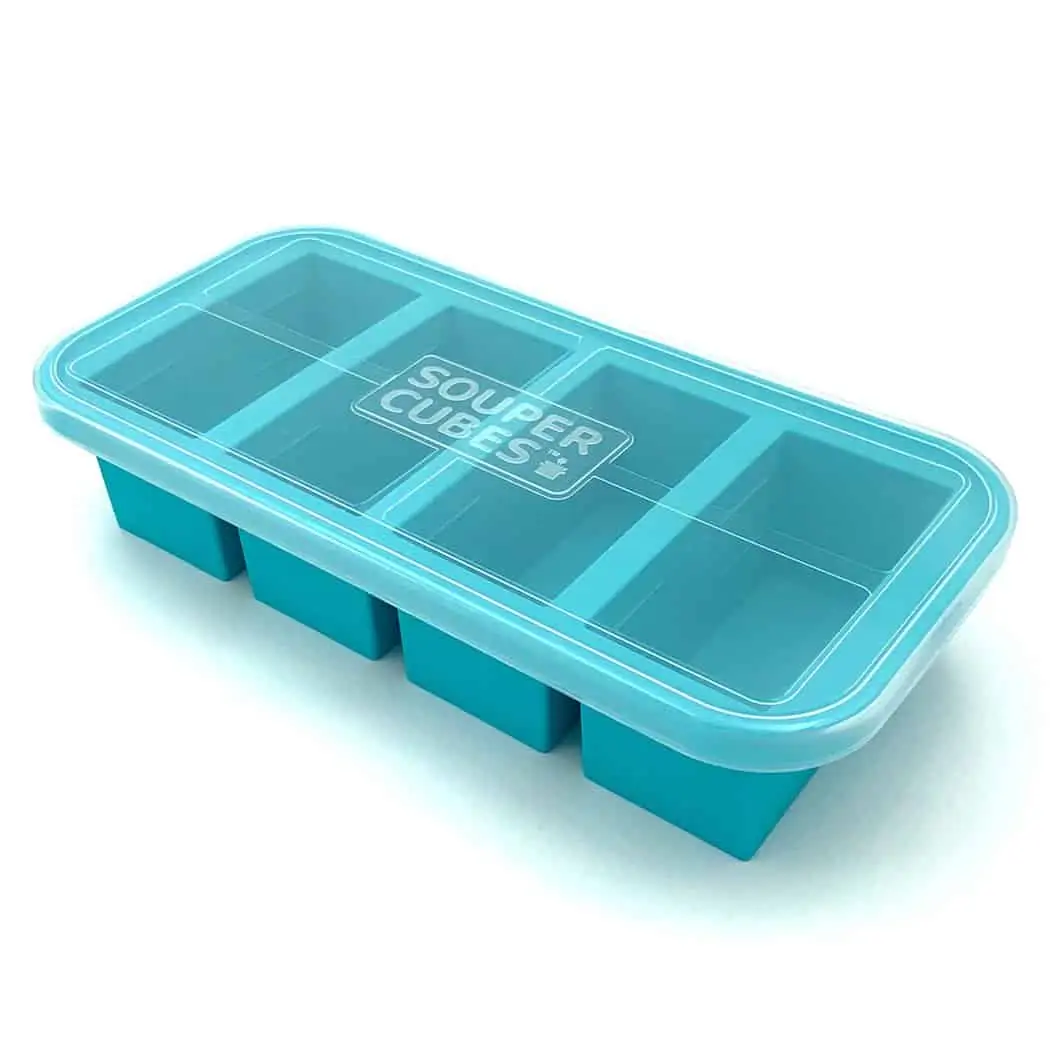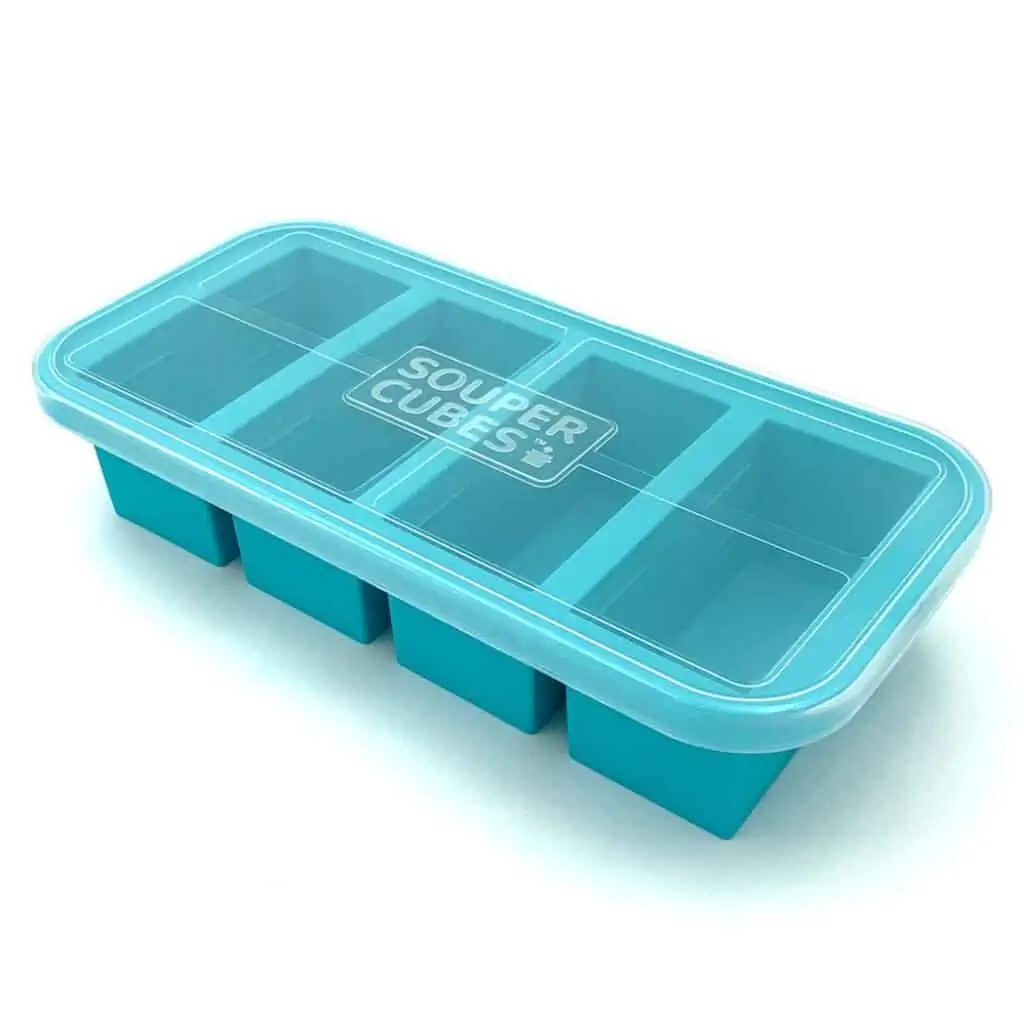 Frequently Asked Questions
Is asparagus keto friendly?
Heck yes! It is a great source of fiber and it is low in carbs which makes it a great pick for a keto lifestyle.
Is Cream of Asparagus soup keto?
Yes, it sure can be! Traditionally, cream soups are thickened with flour, potatoes, and even rice. This keto version uses the vegetables themselves to help thicken the soup, and you can further thicken it with a touch of xanthan gum, if you like.
Is Cream of Asparagus soup easy to make?
This is not a difficult soup to make, and the secret is to get a good, flavorful asparagus broth first. By simmering the cast-off ends, you can make a concentrated broth that really adds loads of flavor to this soup.
LIke This? Also Try:
Step By Step PRocess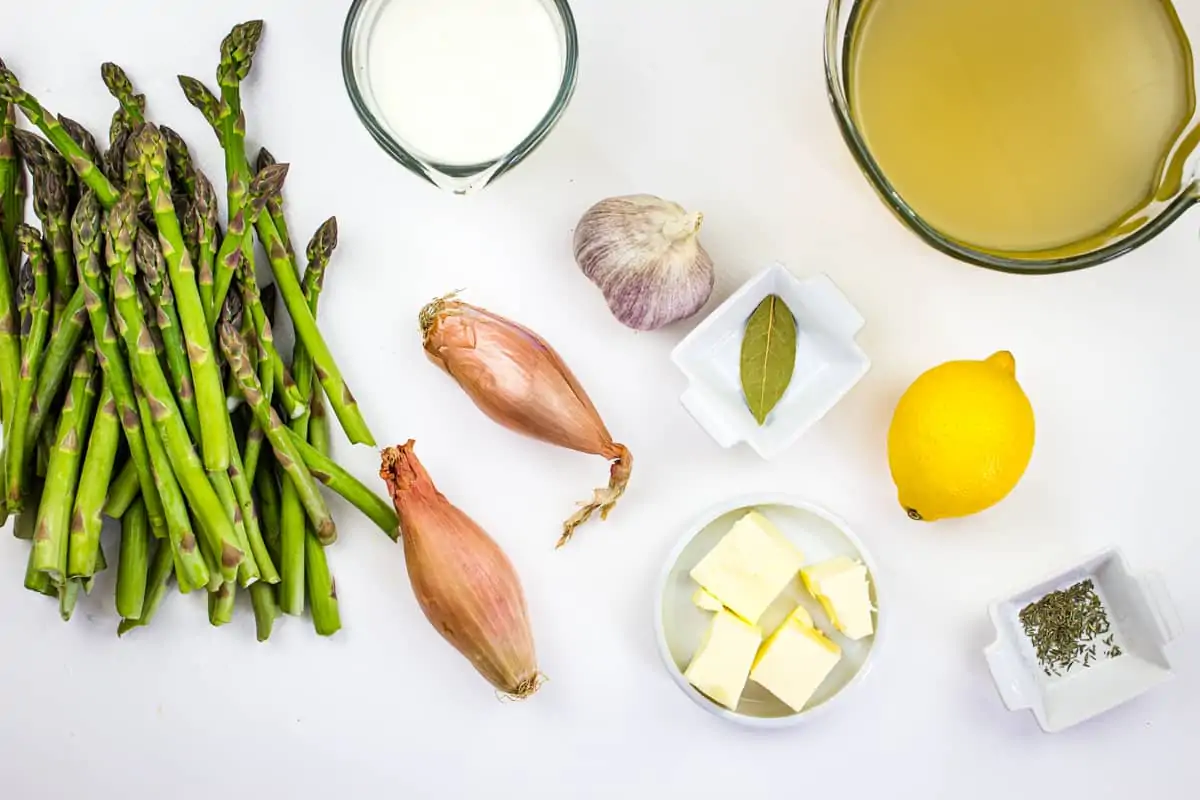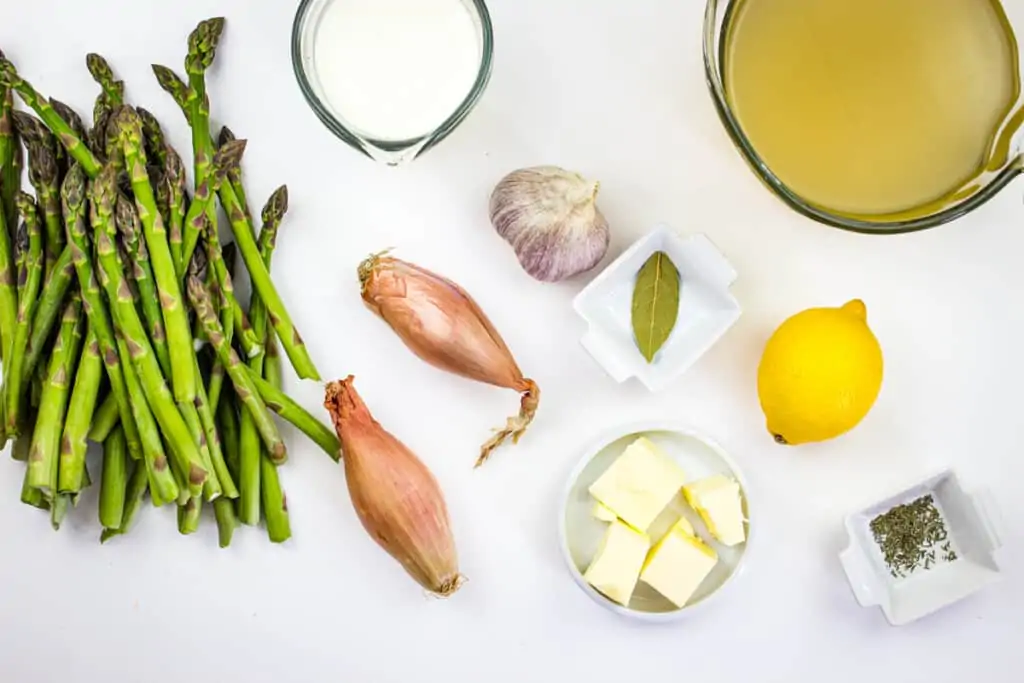 Cream of Asparagus Soup
Rich, velvety and delicious, this keto Cream of Asparagus Soup is creamy and perfectly flavored by spring asparagus.
Ingredients
2

pounds

asparagus

2

shallots

1

clove

garlic

minced

2

tbsp

salted butter

4

cups

chicken broth

1/4

tsp

dried thyme

1/2

cup

heavy whipping cream

1/2

tsp

lemon juice

1/2

tsp

salt

1/4

tsp

ground white pepper

1/4

tsp

xanthan gum

optional
Instructions
Wash the asparagus and snap off the ends. Reserve the ends. Cut the asparagus into 1/2-inch pieces. Reserve about 1/4 cup of the brushy tops.

Add the snapped ends to a medium-size soup pot along with 2 cups of water and 1 peeled and halved shallot. Bring this to a simmer and cover. Simmer for 30 minutes. Then, remove the lid and bring to a quick boil and reduce by half. Remove the chunks and set the broth aside.

Meanwhile, slice the remaining shallot and add it to a skillet with the butter and garlic. Cook over medium heat for about 5 minutes or until the shallot is tender.

Add the cooked shallot to the reserved asparagus broth. Add the chicken broth, remaining asparagus, and cooked shallot/garlic mixture to the pot and bring to a simmer. Simmer for about 15 minutes or until the aspargus is super tender and soft.

Turn off the heat and use an immersion blender to puree the soup. Add the cream and lemon juice and whisk well to combine. Season with salt and pepper. Heat the soup through over medium heat and thicken with xanthan gum (optional).

Blanch the reserved asparagus tips in boiling salted water, for about 1 minute. Drain and chill and set aside.

Garnish with reserved asparagus tips and serve.
Nutrition
Serving:
1
cup
|
Calories:
221
kcal
|
Carbohydrates:
13
g
|
Protein:
7
g
|
Fat:
17
g
|
Saturated Fat:
11
g
|
Polyunsaturated Fat:
1
g
|
Monounsaturated Fat:
5
g
|
Trans Fat:
1
g
|
Cholesterol:
56
mg
|
Sodium:
1224
mg
|
Potassium:
717
mg
|
Fiber:
5
g
|
Sugar:
5
g
|
Vitamin A:
2335
IU
|
Vitamin C:
31
mg
|
Calcium:
97
mg
|
Iron:
6
mg
|
Net Carbohydrates:
8
g
A Note on Nutritional Information
Nutritional information for this recipe is provided as a courtesy and is calculated based on available online ingredient information. It is only an approximate value. The accuracy of the nutritional information for any recipe on this site cannot be guaranteed. Erythritol carbs (sugar substitutes) are not included in the carbohydrate counts as they have been shown not to impact blood sugar, and they have zero calories and zero carbs. Net carbs are the total carbs minus fiber.
Want More Easy Keto REcipes?
I'm always tinkering around in the kitchen creating new recipes, but these are some of my all-time favorites: