When you've got a turkey carcass left from your holiday meal, there's only one sensible thing to do with it: make homemade Turkey Stock! I'll show you my chef tricks and techniques for making amazing Turkey Stock!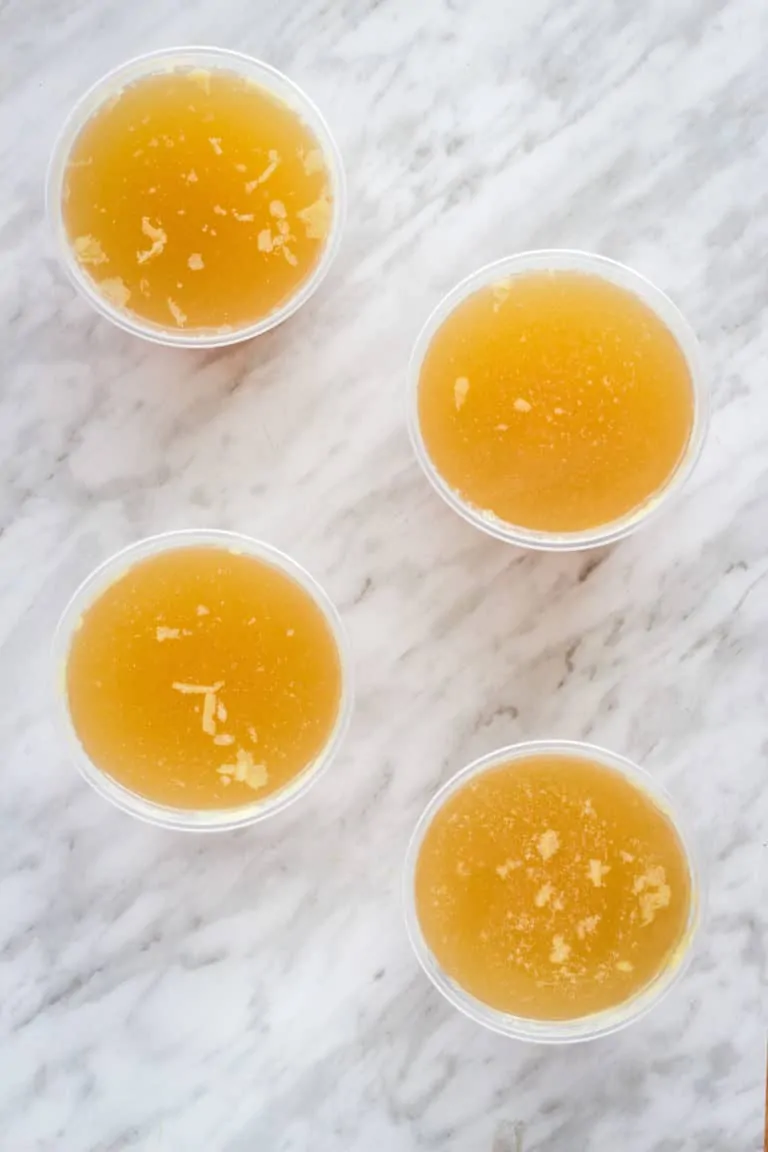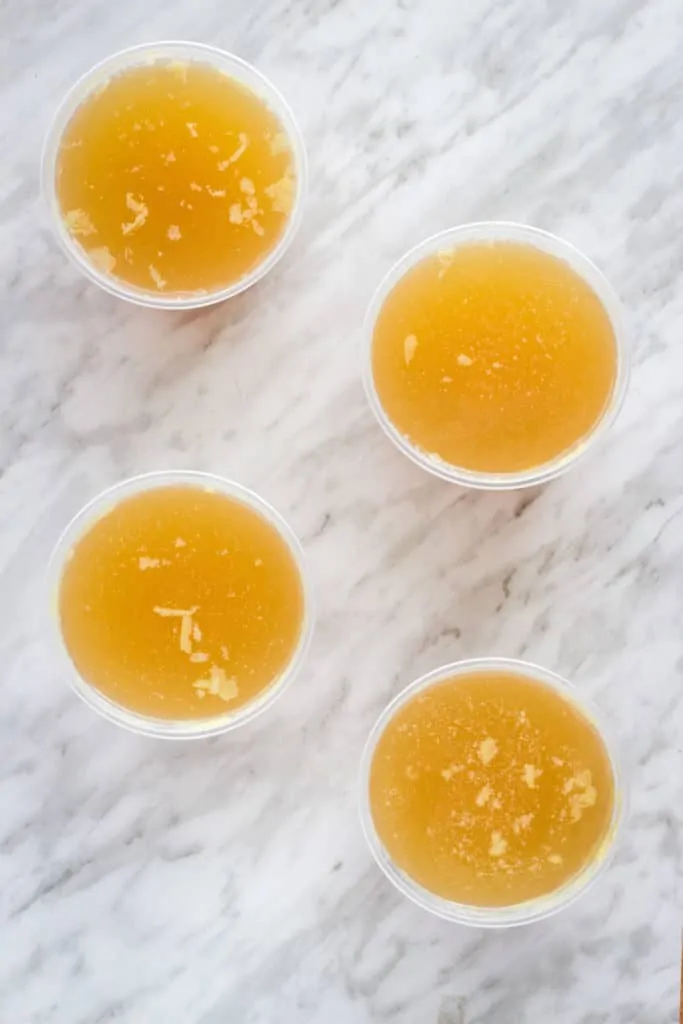 You've probably got everything on hand after a holiday meal to make this recipe for turkey stock. And, the best part is that this is simple enough to make and adds SOOO much flavor to soups, gravies, casseroles, and more.
In my kitchen, you'll find me simmering the bones after every holiday bird. Then I freeze the stock in containers and make soup throughout the year from it.
When I had my restaurant, we almost always had stock of some kind simmering on the stove. You'll read a lot of fancy schmancy techniques, but my way of making it is simple, delicious, and a whole lot easier than some others.
Are you ready to get started? Read on and I'll tell you how to make this easy turkey stock recipe.
This post may contain affiliate links. As an Amazon Associate, I earn from qualifying purchases. See Disclosures.
What You Need To Make Turkey Stock
Ingredients to Make This Turkey Stock Recipe
Turkey carcass – pick as much of the meat off it as you can. You don't have to get ALL of it, just remove most of the meat
Carrot
Celery
Onion
Garlic cloves
Bay leaves
Peppercorns
Parsley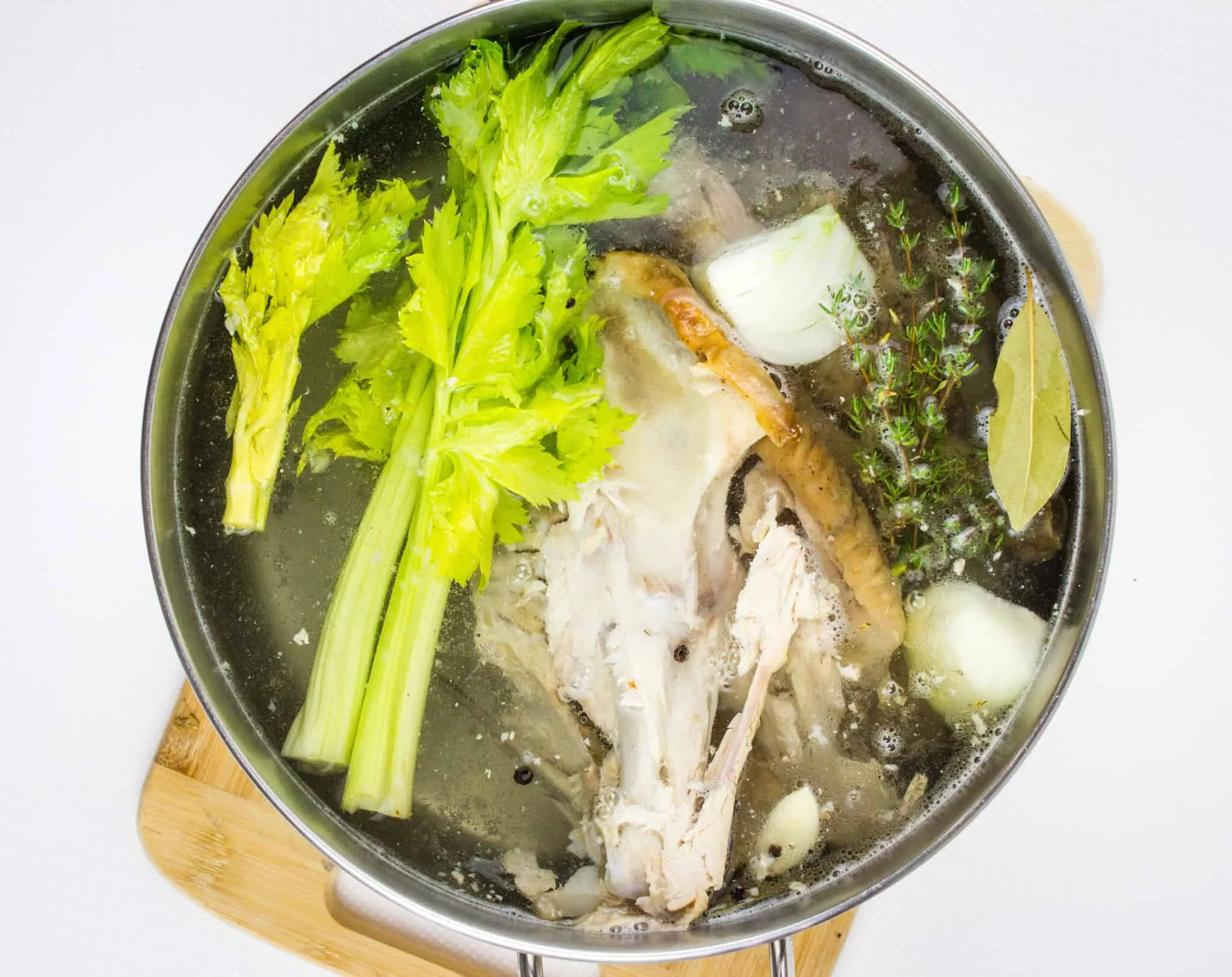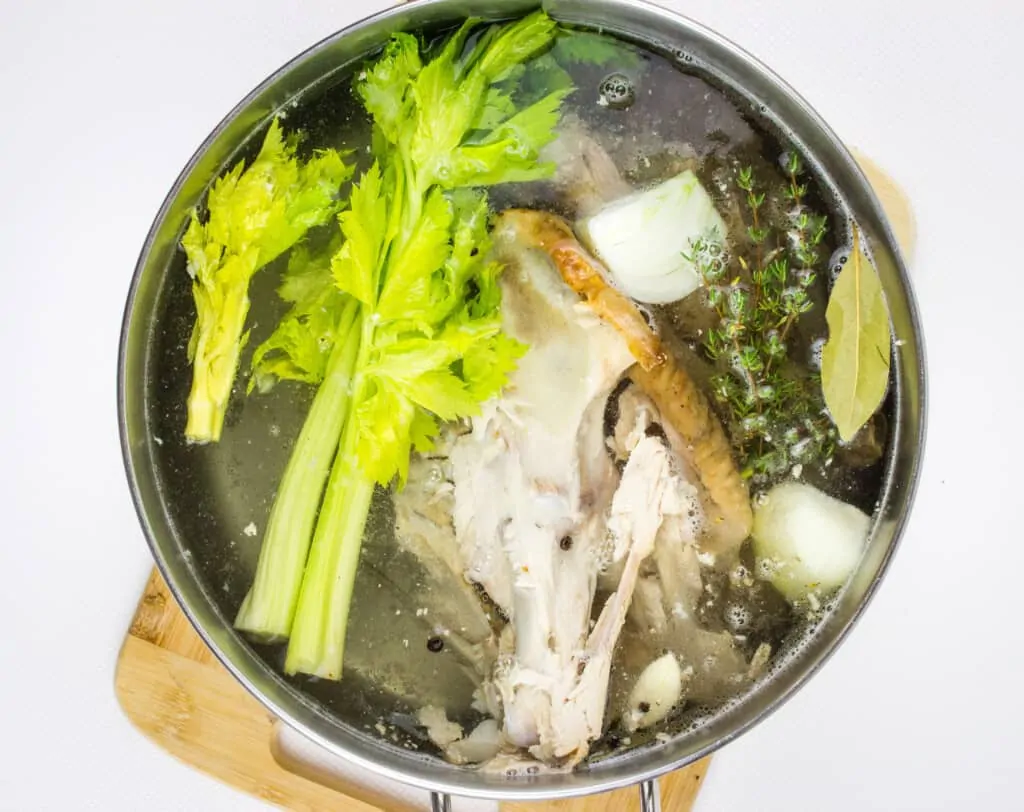 How To Make Homemade Turkey Stock
Add your turkey carcass – picked pretty clean of all the meat – to a large pot and add water.
Peel the carrot and onion and clean the celery. Cut them into a few chunks and add them to the pot.
Peel the garlic cloves and add them along with the bay leaves and peppercorns to the pot. Finally, wash and toss in the parsley.
Bring the pot to a boil but catch it JUST AS IT BOILS and turn it right down to a bare simmer.
Use your sieve to skim off any foam that collects on the top. You might need to do this another time or two, but if your heat is low enough, you should be fine.
Let the pot simmer 3-4 hours or up to 5-6 hours. Add some more water if you are losing too much.
Take the pot off the heat and let it cool.
Use the tongs to fish out the carcass and the veggies. Try not to disturb the broth too much. You want all the solids to settle to the bottom of the pot.
Use a measuring cup or something else to scoop the golden broth out of the pot. Let it cool, then freeze it!
Chef Jenn's Tips
Making stock this way is a labor of love and patience. But, it results in the most flavorful stock you can imagine. Sure, you can do it with an Instant Pot or slow cooker, but nothing is quite like the flavor of stove-top simmered low-and-slow stock.
Once you've taken your stock off the heat and remove the bones and veggies, try not to jostle the pot around too much. All the solids will fall to the bottom of the pot which will help keep your broth clear and golden.
Add other herbs to your turkey stock like fresh sprigs of thyme, a bit of rosemary or fresh sage leaves if you have them.
Make sure you save some of this to make turkey stock gravy!
You can make chicken stock in exactly this same way, or check out this slow cooker beef bone broth.
How To Use This Turkey Stock Recipe
Make this amazing and rich turkey stock and then use it to:
make sauces and gravies
make your favorite turkey soup
add it to casseroles instead of chicken stock
season a cupful with salt and sip it like turkey broth
use it as cooking liquid for stews
and so much more.
Dishes You Can Make With Turkey Stock
Just substitute turkey for chicken, and turkey stock for chicken stock in all your favorite recipes!
Is Turkey Stock Freezer Friendly?
Absolutely!
Just chill it overnight in the fridge and scoop off the fat layer, if there is one. Then package your stock in freezer-safe containers and freeze for up to six months.
My favorite way to freeze saucy and soupy recipes is by using Souper Cubes! These amazing freezer-safe cubes are perfect for freezing portions of all my favorite soups, stews, and other saucy meals. I freeze them then pop them out and put the rectangular frozen blocks into a zipper-top freezer bag. It makes storing them SOOOO much easier!
Where can you find these Soup Cubes? You can order them from Souper Cubes – how cool is this?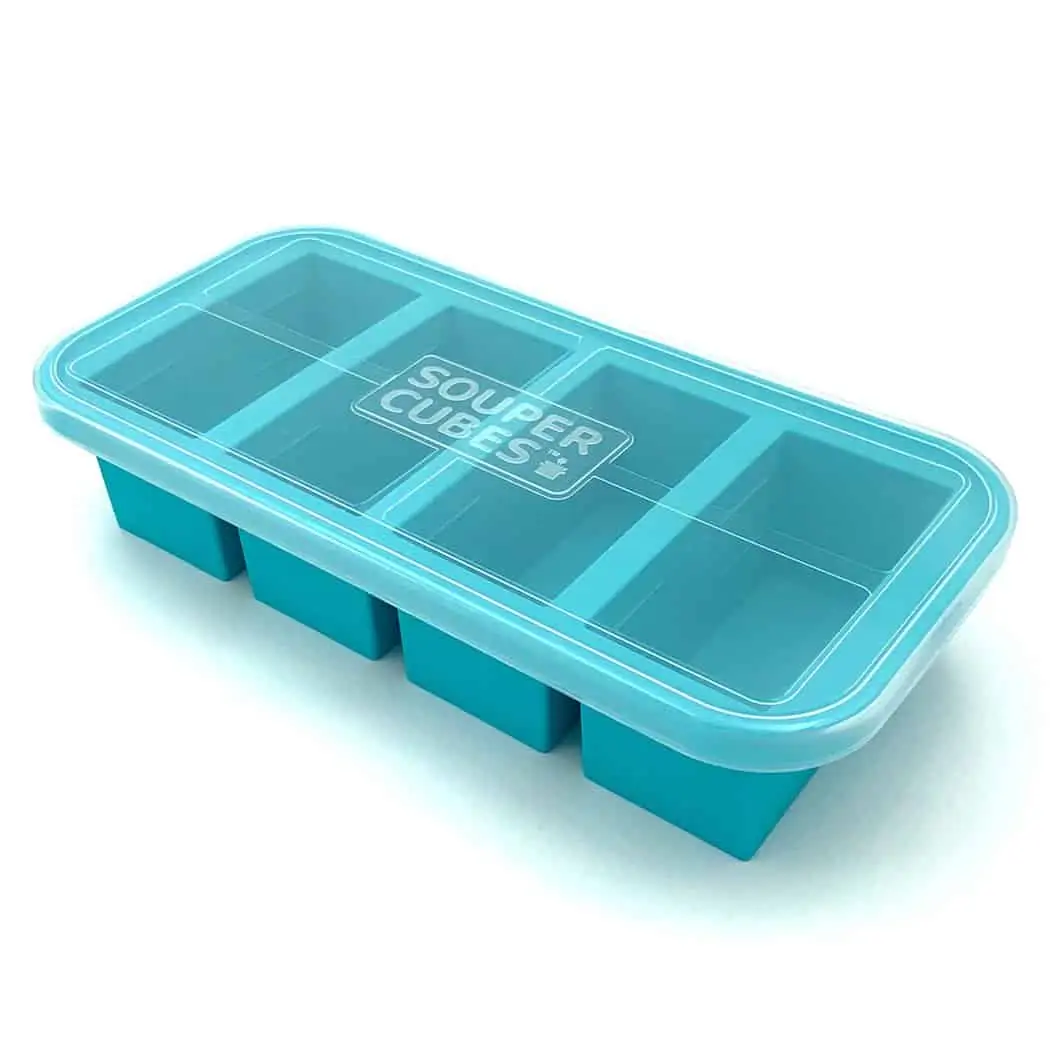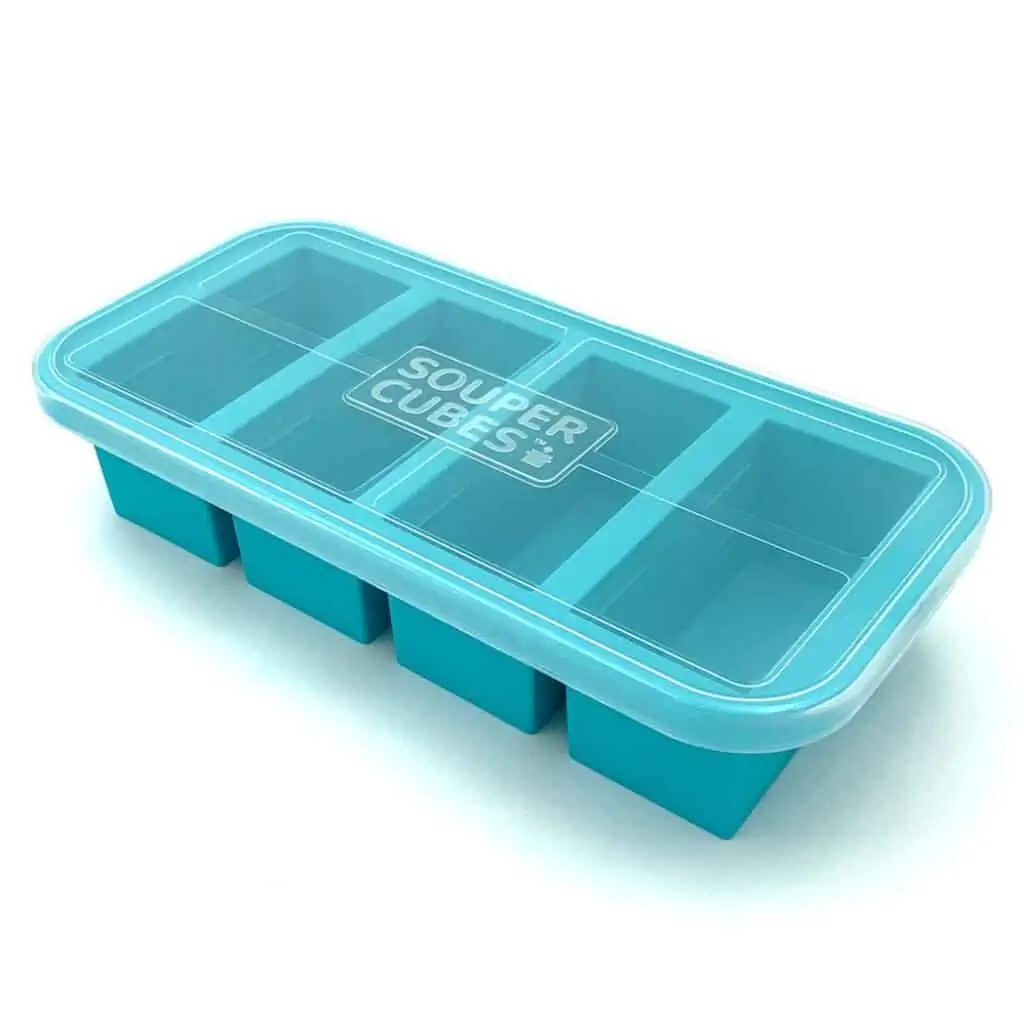 To use, simply thaw in the microwave or on the stovetop in a pot, and use in a delicious turkey soup recipe or your favorite casserole.
Frequently Asked Questions
Is turkey stock keto?
Yes! You won't actually be eating any of the veggies you use to make the stock, and the finished turkey stock will be a great source of protein and collagen.
Is homemade turkey stock good for you?
Turkey is a great nutritional choice, so yes, the stock is filled with wholesome goodness.
What is the difference between broth and stock?
Broth is generally seasoned with salt and pepper and is designed for sipping or using as a light, clear soup. Stock is unseasoned and is used as a base for soups or to enrich sauces, gravies, casseroles, and more.
Like This? ALso Try:
Step By Step Process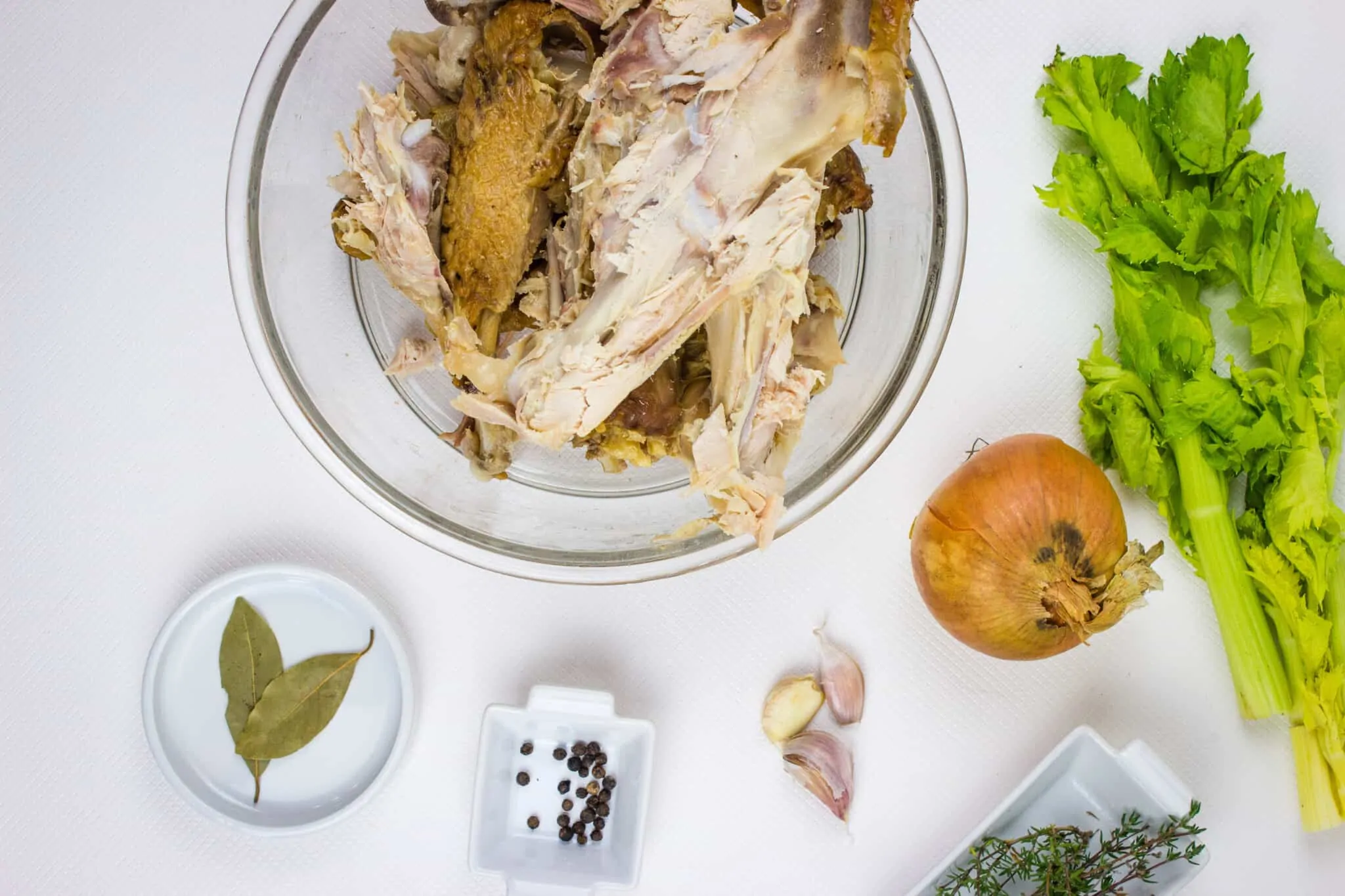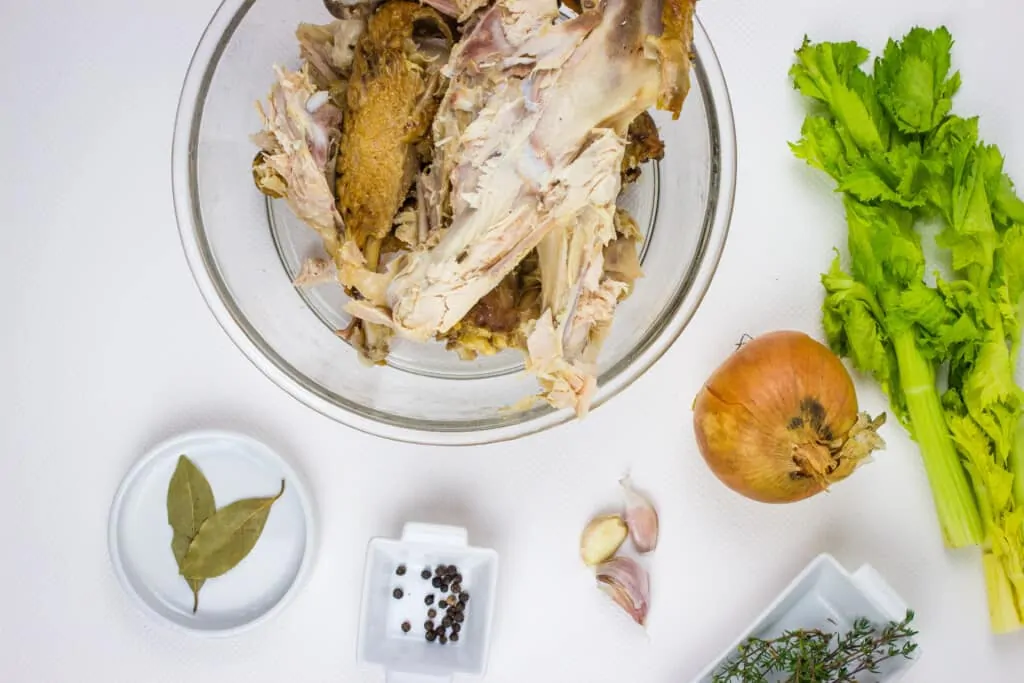 Homemade Turkey Stock
Rich in protein and collagen, make a batch of this turkey stock from your leftover turkey carcass.
Ingredients
turkey carcass and bones

16

cups

of water

4

sprigs of fresh thyme

2

bay leaves

1

carrot

cut into 2-3 pieces

1

onion

peeled and quartered

3

garlic cloves

peeled

2

stalks of celey

trimmed and cleaned

14

stems of parsley

washed

1

tsp

peppercorns
Instructions
Put everything in a large pot and bring it to a boil on the stove. Watch it carefully and as soon as it boils, turn it right down to a bare simmer. You should only see a few bubbles breaking the surface.

Use a sieve or skimmer to remove any foam that bubbles up to the top of the pot.

Let the stock simmer very gently for about 4 hours, adding a bit more water as needed. You want it to evaporate some, but not a whole lot.

After about four hours, turn off the heat and set the pot to the side to cool.

Using tongs, remove the carcass, veggies, and any solid bits. Sometimes fishing them out with a slotted spoon works well. Try not to disturb the stock too much. You want the solids to settle to the bottom.

Let it cool for about an hour on the counter then using a large measuring cup or another similar device, remove the stock cupful by cupful without disturbing the solids at the bottom of the pot.

Toss out the last inch or so of stock at the bottom of the pot. It will be cloudy and filled with sediment.

Use or freeze your beautiful turkey stock!
Notes
Making turkey stock is not a quick process. Time and patience will yield a glorious turkey stock.
Nutrition
Serving:
1
cup
|
Calories:
58
kcal
|
Carbohydrates:
1
g
|
Protein:
7
g
|
Fat:
2
g
|
Net Carbohydrates:
1
g
A Note on Nutritional Information
Nutritional information for this recipe is provided as a courtesy and is calculated based on available online ingredient information. It is only an approximate value. The accuracy of the nutritional information for any recipe on this site cannot be guaranteed. Erythritol carbs (sugar substitutes) are not included in the carbohydrate counts as they have been shown not to impact blood sugar, and they have zero calories and zero carbs. Net carbs are the total carbs minus fiber.
Want even more keto deliciousness? How about a keto seafood dip that'll knock your socks off, or for breakfast, this diner classic. A hearty keto chaffwich for lunch may just do the trick, and for meal prepping, check out this amazing veggie-packed soup.