A perfectly poached egg enveloped in lemony Hollandaise sauce all on top of a crispy chaffle makes these keto Eggs Benedict a must-try for any brunch or leisurely breakfast! Low in net carbs and high in flavor, impress everyone with this dish today!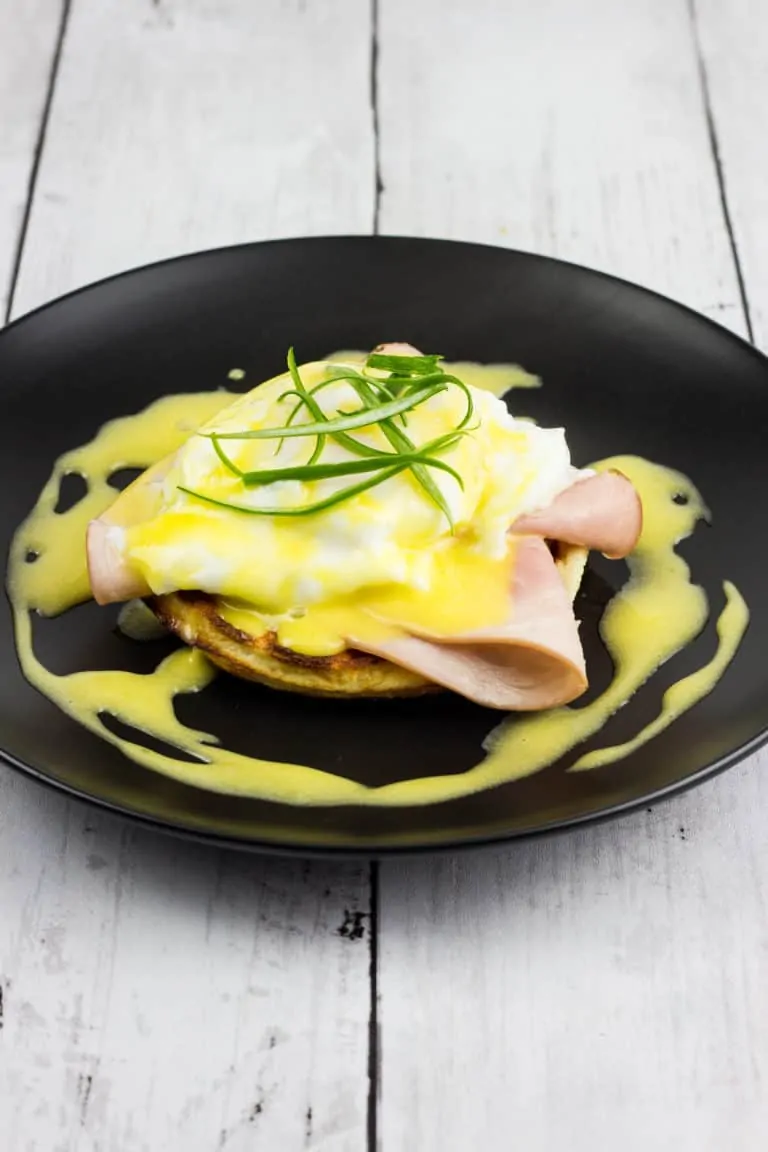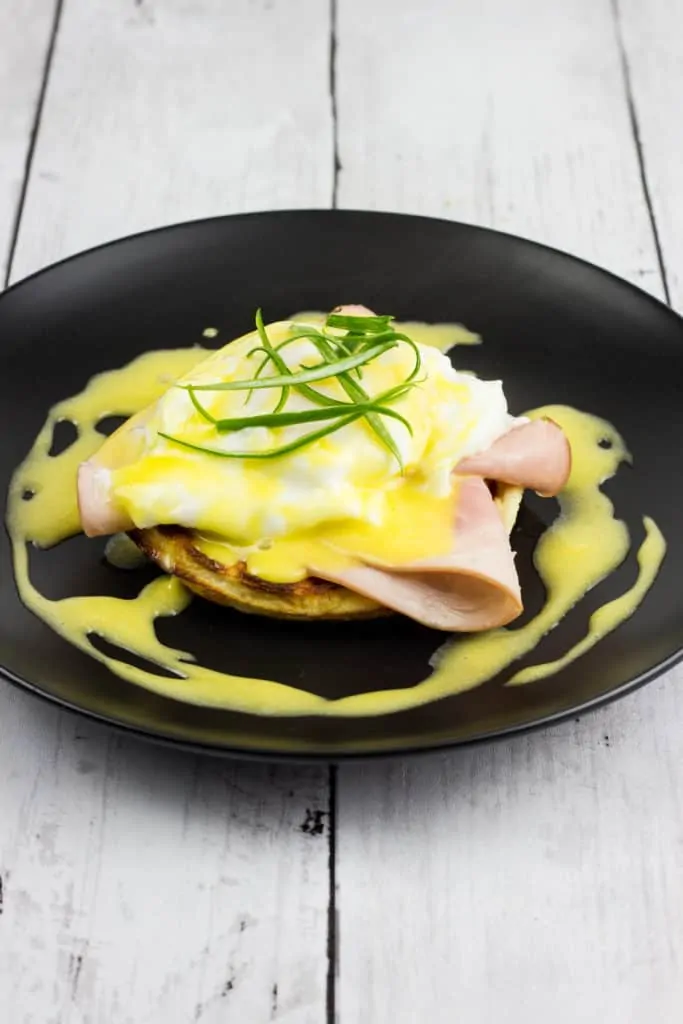 Skip expensive restaurant breakfasts and make your own stunning keto Eggs Benedict Chaffles at home this weekend!
Eggs Benedict is traditionally made with an English muffin, but restaurants are getting creative using biscuits, waffles, pancakes, and flatbreads as the base. But, you can go keto-style with a CHAFFLE!
This post may contain affiliate links. As an Amazon Associate, I earn from qualifying purchases. See Disclosures.
The chaffle I've used for this recipe is simple and straightforward. It is a blank canvas, and not too eggy. And, they can be made ahead. Instructions on that in a bit.
For the Hollandaise sauce (keto Benedict sauce), skip the packet! I know you might want the convenience of a packaged sauce, but blech. They're not very good, are loaded with carbs, and well, they're just not great in comparison to the real thing.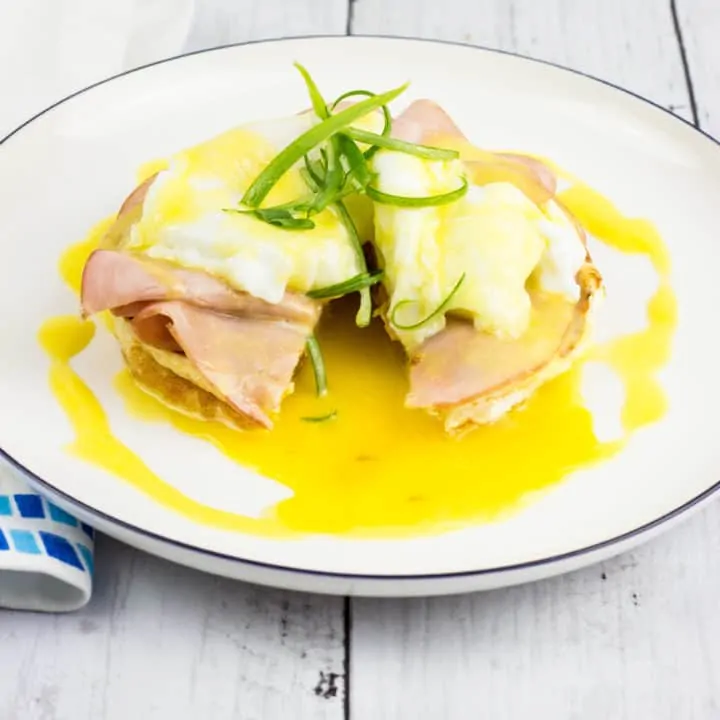 Poaching an egg doesn't have to be a big deal. If poaching an egg freaks you out, fry an egg in some butter. Keep it sunnyside up for a runny yolk, or fry the heck out of it. However you like it.
The final part of this keto Eggs Benedict dish is the ham. You can use nitrate-free smoked ham, deli ham, or whatever you're comfortable with.
Ingredients
For the chaffle:
Sour cream – whole fat
Almond flour – finely ground or even superfine is best
Mozzarella cheese – go for low moisture cheese if you can get it
Egg whites – to keep down the eggy flavor, we'll just use two egg whites in this chaffle recipe
For the Homemade Hollandaise sauce
Egg yolks – four of them, to be exact
1 stick of butter – that's half a cup of salted butter
Lemon juice – about 2 tbsp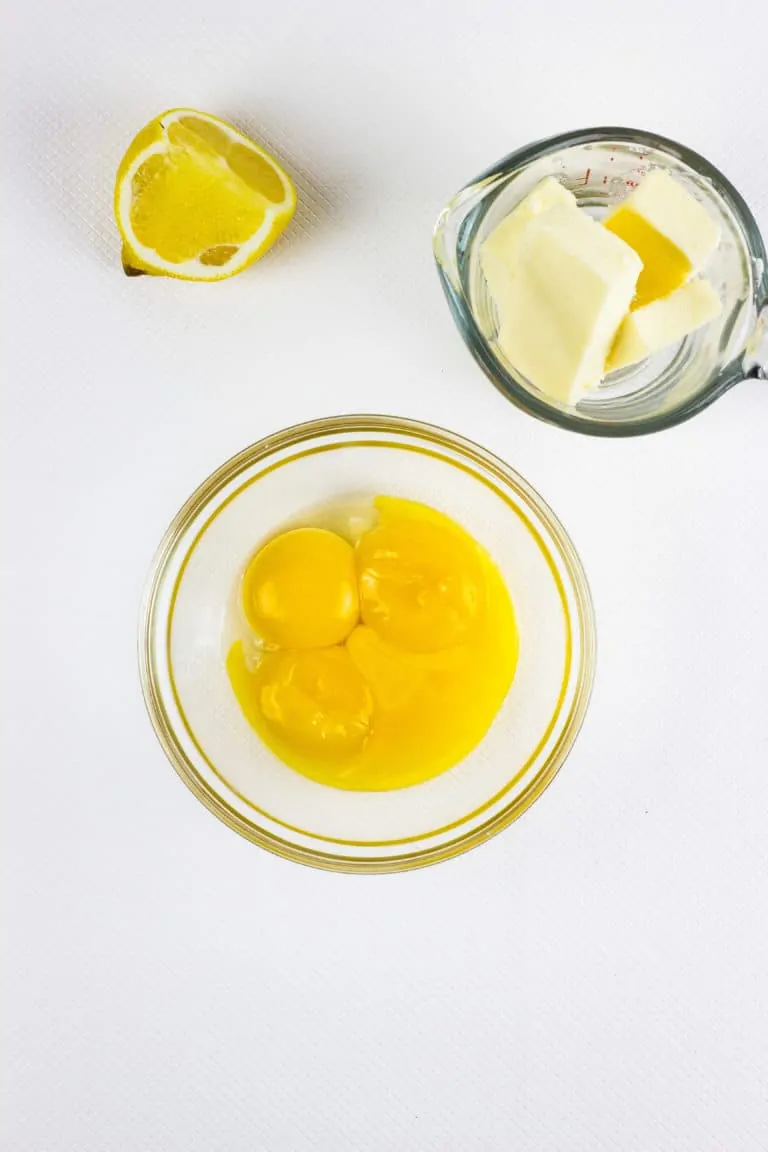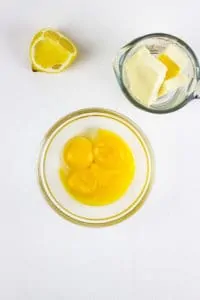 The other ingredients:
Eggs – whole large eggs
Ham slices – thin deli-sliced ham slices or Canadian bacon
Recommended
How To Make This Keto Eggs Benedict Recipe
Whip the egg whites with a fork or whisk until frothy. Then, mix in the cheese, almond flour, and sour cream.
Spray your Mini Waffle Maker with cooking spray or oil and preheat it. This recipe makes two chaffles. Make them and set them aside.
Set up a double boiler and get the water boiling (see below for tips on using a double boiler) to make the keto Hollandaise sauce.
Microwave the butter until it is very hot and melted (bubbling would be good). Watch it! Melted butter will boil over so make sure your container is much larger than the volume of butter.
Add the egg yolks to the bowl then set it on top of the double boiler and add the super-hot butter all at once.
Whisk like a madman, making sure the egg isn't cooking on the side of the bowl.
Take the bowl off of the pot if you need to control the temperature, or reduce the heat.
Whisk in the lemon juice when the sauce is hot to the touch and thickened.
Warm the chaffles in a toaster if you need to, then top the chaffle with some sliced ham, then your poached egg, and finally 2-3 tbsp of hollandaise sauce (keto Benedict sauce.)
What's A Double Boiler?
A double boiler is essentially a small pot and a separate bowl that fits inside the pot. Add enough water to the bottom pot so that it won't touch the bowl that's resting in the pot.
This allows you to heat the contents of the bowl over a gentle, indirect heat.
How to Poach an Egg
You can use the same pot you boiled water in, and even the same water. Make sure you've got at least 2 cups of water in there to poach the egg.
Add about 2 tbsp of white vinegar to the pot – this will help the egg set up.
Bring the water to a bare simmer and carefully crack an egg into the water-vinegar mixture. Without breaking the yolk!
Simmer, letting the egg cook, for about 90 seconds. Then remove the egg with a slotted spoon.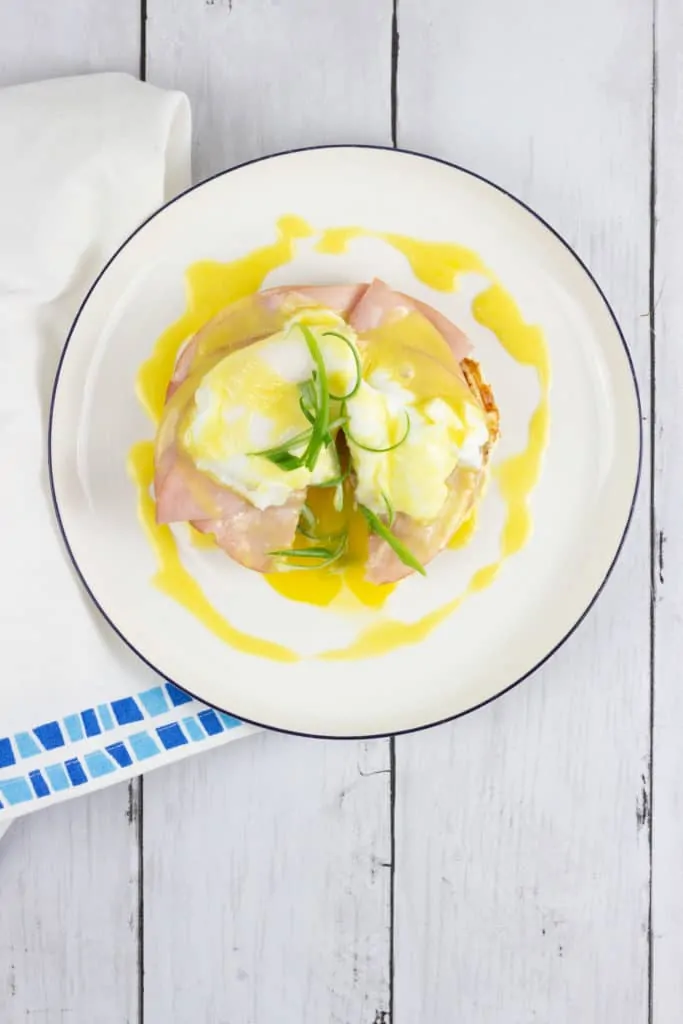 Variations
There are so many delicious ways to jazz up eggs Benedict. Here are some of my favorites:
Avocado – Add a few slices of avocado to make it a California Eggs Benedict.
Smoked salmon – Salmon eggs Benedict is delicious!
Spinach – Sauteed spinach turns this into a keto Florentine Benedict.
Make It A Brunch!
Keto Eggs Benedict is perfect on its own, or you can make it a part of a fancy brunch with other tasty eats like Keto Chocolate Chip Pancakes, Keto spicy chorizo baked eggs, keto cinnamon muffins or keto blueberry muffins, or blueberry chia seed pudding.
Storage
Leftover Hallandiase sauce (also known a keto Benedict sauce) will keep in the fridge for up to a week. Heat it gently in a double boiler to warm it back up – do NOT microwave it or you'll have buttery scrambled eggs.
Chaffles can be kept in the fridge or freezer. Pop them back into the mini waffle maker to reheat them, or warm them in a toaster or toaster oven.
Frequently Asked Questions
How many carbs are in keto Eggs Benedict?
There are 4 net carbs in this low-carb eggs Benedict recipe.
Is keto Eggs Benedict easy to make?
I won't lie – there are a few steps to this recipe, but the nice thing is they can all be made ahead of time so you just need to reheat the sauce and chaffles and then poach your egg just before eating.
Is eggs Benedict keto friendly?
The carbs in traditional eggs Benedict come from the bread – English muffin, croissant, biscuit, whatever. However, when you use a chaffle, you eliminate those carbs making this version of eggs Benedict totally keto! It is also a gluten-free eggs Benedict recipe.
Step By Step Process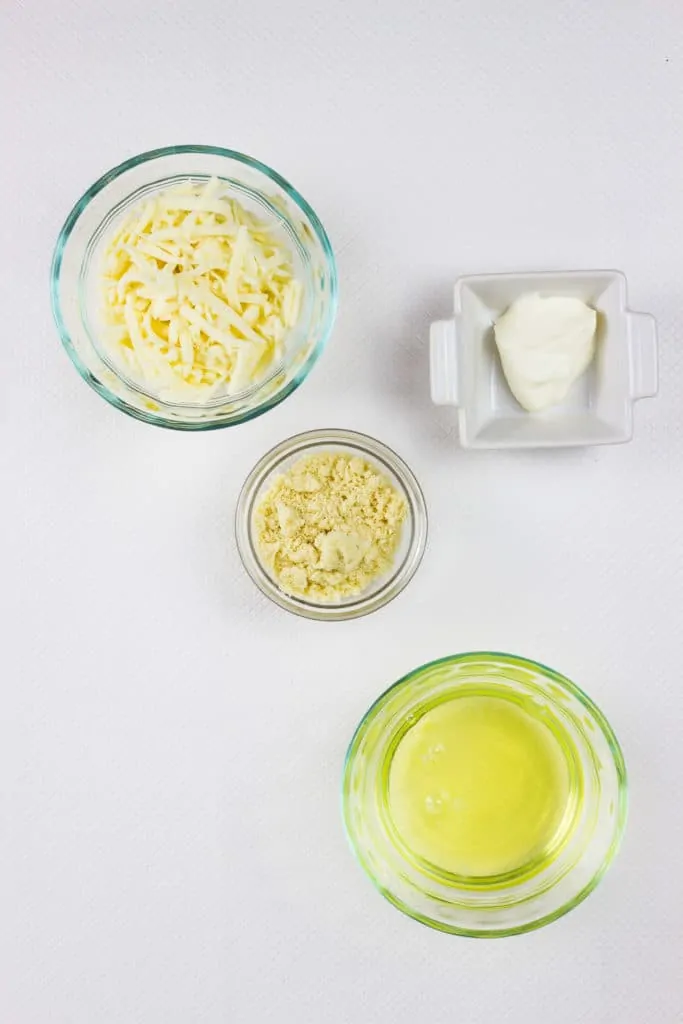 Keto Eggs Benedict
Delicious and decadent, this keto Eggs Benedict Chaffle is the perfect way to celebrate a weekend morning!
Ingredients
For the Chaffles
2

egg whites

2

tbsp

almond flour

1

tbsp

sour cream

1/2

cup

mozzarella cheese
For the Hollandaise
1/2

cup

salted butter

4

egg yolks

2

tbsp

lemon juice
For the Poached Eggs
2

eggs

1

tbsp

white vinegar

3

ounces

deli ham
Instructions
To prepare the chaffle: Whip the egg white until frothy then blend in the remaining ingredients. Preheat the Dash Mini Waffle Maker and add half the chaffle mixture. Spray the chaffle maker with non-stick cooking spray. Cook about 7 minutes until golden brown. Remove the chaffle and repeat.

To prepare the Hollandaise sauce: Assemble a double boiler (a pot with a heat-safe bowl that fits on the top). Put enough water in the pot to boil but so that it doesn't touch the bottom of the bowl.

Hollandaise cont: Heat the butter to boiling in the microwave. Add the egg yolks to the bowl of the double boiler and bring the pot to a boil. Add the hot butter to the bowl while the pot comes to a boil.

Hollandaise cont: Whisk briskly heating the mixture from the water beneath the bowl. Continue cooking until the water in the pot has boiled, the egg yolk-butter mixture has thickened and is very hot to the touch. Remove the bowl from the pot and add the lemon juice. Set to the side.

To poach an egg: Add more water to your pot if necessary (you need enough to completely cover an egg) and bring it to a simmer. Add 2 tbsp of white vinegar to the water. Carefully drop an egg into the simmering water and cook for 90 seconds. Remove with a slotted spoon.

To assemble: Warm the chaffle in the toaster for a few minutes. Top the crispy chaffle with half the ham slices, one poached egg, and about 2 tbsp of hollandaise sauce.

Enjoy!
Notes
This recipe only uses 4 tbsp of Hollandaise sauce. You'll have some left over. Store it in the fridge and warm it slowly in a double boiler. Do not microwave it or you'll make scrambled eggs.
Nutrition
Serving:
1
chaffle eggs benedict
|
Calories:
844
kcal
|
Carbohydrates:
5
g
|
Protein:
32
g
|
Fat:
78
g
|
Saturated Fat:
41
g
|
Cholesterol:
728
mg
|
Sodium:
1220
mg
|
Potassium:
292
mg
|
Fiber:
1
g
|
Sugar:
2
g
|
Vitamin A:
2402
IU
|
Vitamin C:
6
mg
|
Calcium:
247
mg
|
Iron:
3
mg
|
Net Carbohydrates:
4
g
A Note on Nutritional Information
Nutritional information for this recipe is provided as a courtesy and is calculated based on available online ingredient information. It is only an approximate value. The accuracy of the nutritional information for any recipe on this site cannot be guaranteed. Erythritol carbs (sugar substitutes) are not included in the carbohydrate counts as they have been shown not to impact blood sugar, and they have zero calories and zero carbs. Net carbs are the total carbs minus fiber.